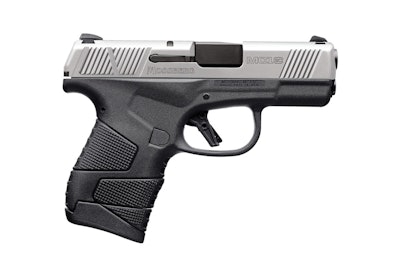 O.F. Mossberg & Sons Inc., a leading American firearms manufacturer, has announced the release of a new MC1sc (subcompact) handgun; the Mossberg MC1sc Stainless Two-Tone in 9mm; available in standard-frame and cross-bolt safety frame versions. The MC1sc Stainless Two-Tone subcompacts join the recently introduced family of four MC1sc models as Mossberg's first semiauto pistols in the company's 100-year history.
The MC1sc Stainless Two-Tone features a bead-blasted, stainless-steel slide over a matte-black polymer frame. The stainless-steel slide features aggressive multi-angle serrations that provide positive slide manipulation and is topped with dovetail-mounted, low-profile white 3-dot sights. The durable frame is glass-reinforced to provide high impact and chemical resistance combined with high tensile strength and stiffness. The 3.4-inch barrel, constructed of stainless steel, features a black DLC (Diamond-Like Coating) finish and a 1-in-16 twist rate. Optional cross-bolt safety is available and is reversible for right- or left-handed shooters.
Other standard features include a flat-profile trigger with integrated blade safety; short, tactile reset; reduced overtravel; and a 5- to 6-pound trigger pull weight. Trigger guards are oversized for ease of access and comfort. All MC1sc models come with a flush 6-round and an extended 7-round single-stack Clear-Count magazines. Constructed of a transparent, lubricious polymer compound, the magazines offer low friction and high wear-resistance, while providing quick at-a-glance assessment of the number of rounds loaded. MC1sc pistols also have a reversible magazine release, located behind the trigger guard. Featuring Mossberg's signature texturing, the grip has an added palm swell and grip angle, similar to a 1911, for a more comfortable, confident grip. And completing the MC1sc Stainless Two-Tone is the company's exclusive, patent-pending Mossberg STS (Safe Takedown System), which does not require the user to pull the trigger to dissemble for routine cleaning or maintenance.
Mossberg says superior ergonomics, innovation, and engineering expertise are at the core of the MC1sc family of 9mm pistols.
For more information on the MC1sc Stainless Two-Tone and the complete line of Mossberg MC1sc semiauto pistols, visit https://www.mossberg.com/category/series/mc1sc/.