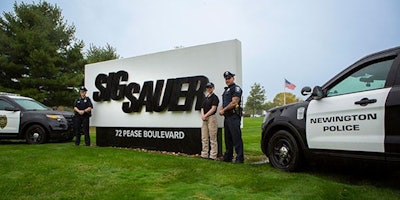 SIG Sauer Inc. announced that the Newington (NH) Police Department has transitioned to the SIG Sauer P320 (9mm) as its official duty pistol. The Newington Police Department is a full-service law enforcement agency responsible for protecting the citizens of Newington and the Pease International Tradeport, home to SIG Sauer Worldwide Headquarters.
"When it comes to quality, performance and safety the SIG Sauer P320 really delivers. Our officers appreciate the modularity and having the ability to fit the pistol to their grip," began Captain Michael Sullivan of the Newington (NH) Police Department. "We carry the SIG Sauer P320 with great pride because it's the premier pistol for law enforcement, and the fact that it's made right here in the community we are sworn to serve and protect makes it especially meaningful."
The P320 is a modular, striker-fired pistol available in full-size, carry, compact, and subcompact sizing. The serialized trigger group makes the P320 adaptable to multiple caliber, size, and grip options. The P320 is available in 9mm, .357SIG, 40S&W, and .45ACP, with a choice of contrast, or SIGLITE Night Sights. The company says the intuitive three-point takedown requires no trigger pull for disassembly, and safety features include a striker safety, disconnect safety, and optional manual safety.
"On behalf of everyone at SIG Sauer, I want to thank the men and women of the Newington Police Department for their service, and commitment to the safety of our community," added Tom Jankiewicz, executive vice president, law enforcement sales, SIG Sauer Inc. "We are honored to be the official duty firearm of the Newington Police Department, and have the opportunity to strengthen our partnership with the department as they transition to the SIG Sauer P320."
For more information about the company and product line visit: www.sigsauer.com.