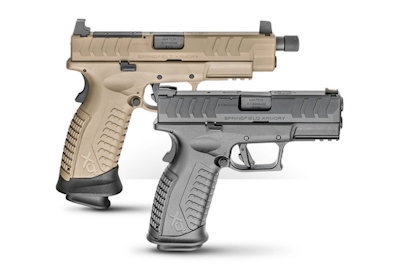 The new XD-M Elite from Springfield Armory is designed to represent the pinnacle of performance in factory striker-fired pistols.
At the heart of the new XD-M Elite is the Match Enhanced Trigger Assembly (META) system, a refined trigger designed to wring out the most from the pistol's most important interface with the shooter. Featuring a flat face and integral overtravel stop, Springfield Armory says the META system delivers the finest trigger pull available on a production polymer-framed pistol.
The XD-M Elite is further enhanced with a removable magwell, increased capacity of 22+1 (20+1 with short magwell models), and improved slide serrations.
The new XD-M Elite is available in four models, from full-size competition models to suppressor-ready versions to standard- and concealed carry-sized variants. They include the XD-M Elite 3.8", XD-M Elite 4.5", XD-M Elite 4.5" Tactical OSP, and XD-M Elite 5.25" Precision.
For more information, visit https://www.springfield-armory.com/xdm-elite-features.