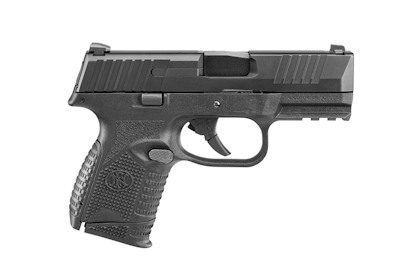 FN America, LLC has announced the release of the FN 509 Compact, the newest model in the FN 509 family of striker-fired, 9mm pistols.
"The FN 509 Compact model compliments the Compact MRD, equipped with our patented optics-mounting system, and offers users an all-new concealed carry option in the FN 509 family," said Chris Cole, vice president of sales and marketing for FN America. "The low-profile carry sights with high-visibility front sight make this an ideal choice for professional and civilian CCW users."
The FN 509 Compact has been designed for deep concealment with a 3.7-inch barrel and low-profile rear blackout iron sights. A high-visibility front sight aids in low-light target acquisition. The snag-free sight set combines with the included 12-round and 15-round magazines for discreet high capacity carry. With two interchangeable backstraps and advanced grip texturing, the 509 Compact offers the same ergonomics as the other pistols in the FN 509 family, in a more compact and concealable package.