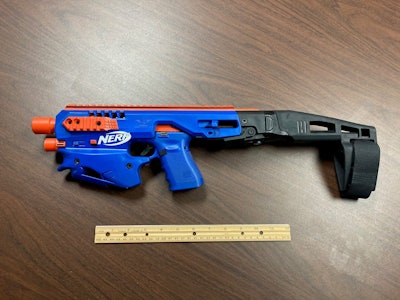 On Saturday March 13 narcotics investigators with the Catawba County (NC) Sheriff's Office, Hickory Police Department, and the Newton Police Department executed a search warrant at a residence in the town of Catawba where they found drugs and weapons, including a Glock 19 disguised as a Nerf gun.
During the search, investigators seized quantities of cocaine, psilocybin mushrooms and marijuana. Investigators also seized approximately $2,300 in cash and 20 firearms consisting of pistols, rifles and shotguns.
One of guns was the converted Glock model 19 pistol fitted with a 50-round drum magazine, and altered to resemble a Nerf toy.
The Catawba County SO said in a Facebook statement that it is not illegal to make such modifications to a pistol, but it raises concerns for law enforcement.