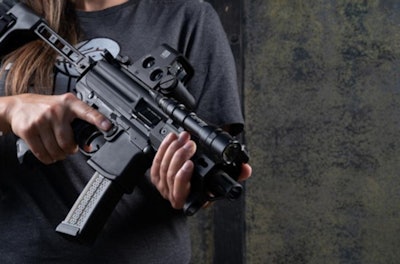 EoTech's Holographic Weapon Sight (HWS) comes in all shapes and sizes. One of the top-selling models is the XPS2, an operator-grade HWS built for close-quarter engagements and fast-moving targets. Like all EoTech products, the XPS2 is rugged, reliable, and dependable.
At only 3.8-inches long and a mere 9-ounces, shooters love EoTech's shortest and lightest HWS sight, EoTech says. The HWS XPS2 is mission-capable and includes a single CR123 lithium battery configuration and compact footprint that leaves ample rail space for rear iron sights or magni-fiers.
Shooters can choose from one of EoTech's many reticles for the XPS2. The most popular reticle is a 68 MOA ring surrounding a 1 MOA center dot, allowing the shooter to quickly pick up and lock on a target. A two-dot reticle adds a second aiming dot that provides an additional aiming point for longer shots. Other reticle options include a single 1-MOA dot (no ring) and two reticles for either FN or Sage less-lethal launchers. In all EoTech HWS systems, the reticle is focused at the same plane as the target which aides in rapid target acquisition while reducing eye fatigue.
The non-night-vision compatible XPS2 offers a rich feature set, including a waterproof housing, long battery life, and 20 daylight brightness settings. This battle-tested sight even works if the sight window breaks or becomes partially obstructed. The XPS2 offers peace of mind in high-stress environments and is made in the United States.
XPS2 Technical Specifications
• L x W x H: 3.8" x 2.1" x 2.5" (96.5 x 53.3 x 63.5mm)
• Weight: 9.0 oz (255g)
• Water-Resistant: 10 ft (3m) depth
• Mount: 1" Weaver or MIL-STD 1913 rail
• Windage and Elevation: 0.5 MOA per click
• Brightness: 20 daylight settings
• Power Source: 1 x CR123 battery
• Battery Life: 1,000 (600 for green) continuous hours at nominal setting 12 at room temp.
• Operating Temperature:
• Red Reticle: -40ºF to 140ºF (-40ºC to 60ºC)
• Green Reticle: -22ºF to 140ºF (-30ºC to 60ºC)
• Country of Origin: Made in the USA
XPS2 Features
• Fits 1-inch Weaver or MIL-STD-1913 rail
• Lightweight and compact
• Long battery life
• Reticles (5 options) –
• 0- 68MOA ring with 1MOA dot
• 1- 1MOA dot (no ring)
• 2- 68MOA ring with (2) 1MOA dots
• FN-Calibrated reticle designed for FN® Less lethal launchers
• Sage-Calibrated reticle designed for Sage® Less lethal launchers
Included in the box
• HWS XPS2
• Quick-Start Guide
• Warranty Card
• CR123 Battery
• Protective Case