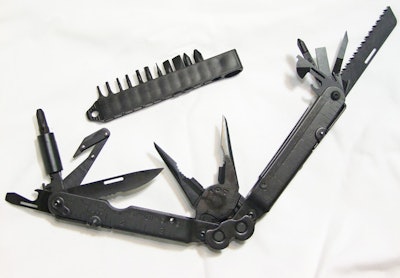 SOG Knives has been producing quality knives and innovative pocket tools for years. The most versatile and toughest of the pocket tools SOG offers is the PowerLock series. These tools have a geared opening action that ensures they open and close smoothly and uniformly. Without the gears one handle could open sooner than the other, making single-handed operations difficult.
I have noticed that the EOD PowerLock has improved in several ways. It now has a true needle-nose plier that will give you a fine point when you need it to grasp and pinch small items. This one won't disappoint. The other area of the PowerLock that has improved is the wire cutter. The one on the PowerLock truly clips wires clean; they also work well on zip ties. You will find the V cutter makes short work of zip ties, seat belts, clothing, and harnesses should you need to remove them quickly.
Other tools on the EOD PowerLock include a saw, Phillips head screwdriver, flat bit screwdriver, partially serrated drop-point knife, file, bottle opener, and a punch. These will meet most needs. But there are times you need other driver bits, and SOG has solved this problem.
One of the tool heads in the handle of the PowerLock EOD is a quarter-inch drive that you can now use to attach the bits from the optional Hex Bit Accessory Kit. This kit gives you Torx bits, small hex bits, and additional sizes of flat and Phillips head screwdriver blades. These additional tool bits fit most of the screws on radios, weapons, optics, and even operator-maintained items in your cruiser. While these will never replace the larger "real" tools, these bits do work well when you don't have your favorite Snap On or Craftsman tools handy.
SOG's new Hex Bit Accessory Kit expands the PowerLock's range of uses. The kit is versatile enough that I used it to ensure that the new gas block on my M4 was properly secured at the range. I had neglected to tighten and threadlock it in place. Had I not had the PowerLock with Hex Bit Accessory Kit, I wouldn't have been able to ensure that changing the forearm on my M4 did not affect the carbine's zero.
SOG's PowerLocks have been durable and corrosion resistant since their introduction. With the addition of the Hex Bit Accessory Kit, these pocket tools can be used to fix or correct most issues you will come across with your weapons, small equipment, and gear in the field or on patrol. And it will all fit into the pocket tool's sheath, keeping everything right at hand when you need it.
Length Closed: 4.6 inches
Overall Length: 7 inches
Weight: 9.6 ounces
Head Type: Needle nose
Steel: Stainless
Finish: Black oxide
Sheath: Nylon
Assembled in the USA
Price: $124.25; Hex Bit Kit $20