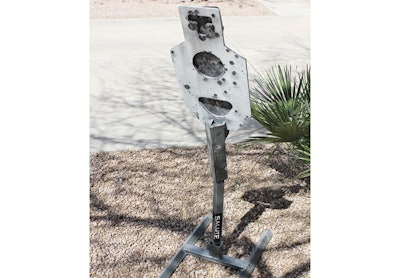 Last week I hit the range for a good day of training toting a new piece of training gear. A day at the range is good; a day at the range with new gear is better. Salute Products had sent me one of its Spartan steel targets for testing, complete with an armored DOD Mil-Spec base, and I couldn't wait to put some rounds down range.
First off, I would be surprised if anyone who had the opportunity to shoot steel would pass it up. It's just fun. What makes it better is when you have something more interesting than the same old steel discs or silhouettes to shoot. The Spartan is just over 20 inches tall and 11 inches wide and made of AR500 steel armor plate, which makes it rifle rated.
If that weren't enough the Spartan is sporting three separate moving target zones: the head, the heart, and the pelvis. Each one moves independently, flipping out to the side with good round placement. Follow-up shots can be used to flip them back again, eliminating the need to cease fire to reset them.
Because the target base angles the target slightly forward, gravity holds the moving plates in place in either position. This angle also helps deflect bullet fragments down to the ground, making the target safer for the operator and allowing closer engagements. When you're done shooting, the Spartan itself breaks down into four pieces and the base into two, making storage easy.
I ran several drills with this target with both pistol and rifle shots, most from a distance of about 10 yards. We were focusing on speed versus accuracy drills that day and the Spartan was perfect for that purpose. The size of the moving target zones made shots challenging but not so much that it wasn't fun for the average shooter. The plates are also heavy enough that only direct hits would move them, forcing better shot placement. Each hit scored would produce a very satisfying "ring," and only once did anyone catch a fragment from the splash back. Increase the distance and the Spartan is also great for precision shots.
After 10 shooters and about two hours of constant shooting, the only part of the target that suffered any damage was the paint job. Salute did its homework on this one. For close-range speed and accuracy drills to long-range sniper shots, the Spartan is definitely a target anyone should want to add to their arsenal of training gear.
Salute Products Spartan Target Specs:
Steel: .375-inch-thick AR500 armor plate steel
Dimensions: 20.75 inches tall, 11.375 inches wide
Weight: 21.5 pounds
Design: Based on IPSC A-C zone shape with 3 additional moving target zones (head, heart, pelvic areas) that pivot outward when struck; use with DOD-type target stand
Price: $339.95 for target, $149.95 for DOD Mil-Spec 3/8-inch Tall Base
A.J. George is a motor officer and firearms instructor for the Scottsdale (Ariz.) Police Department.