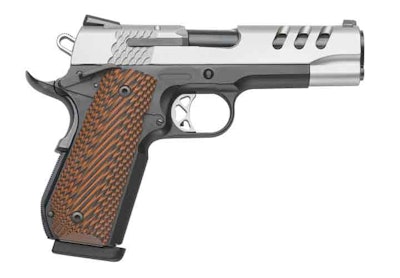 Editor's note: View our S&W's Performance 1911s photo gallery for extended coverage of these pistols.
It seems that you cannot pick up a firearms magazine today without seeing some incarnation of John Moses Browning's legendary 1911 pistol on the cover. I have lost count of the times I have heard fans of other pistols complain about this. But despite such complaints, the 1911 is still considered a star in the handgun world. And the reason is simple: despite being more than a century old, the 1911 is still one of the most popular pistol designs.
Over the last century, the 1911 has set the standard for reliability, ergonomics, ruggedness, accuracy, and shootability that every other designer of semi-auto pistols has strived to equal. And if the 1911's continuing popularity is any gauge to go by, today's designers still have some work to do if they want to challenge Browning and his venerable "Old Slabsides."
The 1911 is still a favorite of soldiers, law enforcement officers, and armed professionals around the world. When today's SWAT teams and Special Forces units want a pistol that will perform every time and under any conditions, chances are the 1911 is their choice. In addition—when allowed by their departments' service pistol guidelines—it is also a favorite of many uniformed officers for everyday duty.
The devotion that armed professionals and civilians alike have toward the 1911 is one of the reasons why so many manufacturers are keen on adding a version of this pistol to their product lines.
Old and New
Of course Smith & Wesson didn't have to add the 1911 to its product line; it did that long ago. But it did add two new models of Performance Center 1911s last year: the Performance Center SW1911 and the Performance Center Round Butt SW1911.
S&W's Performance Center pistols are carefully assembled from the finest components, using all of the traditional skills of the custom gunsmith. The results are handguns that are not only distinctive and attractive, but are eminently shootable and capable of extreme accuracy.
As their names indicate, both of the new Performance Center S&W 1911s have features that are irrevocably connected to the 1911 design, including single-action triggers, thumb and grip safeties, single-stack magazines, and excellent ergonomics. Both are chambered for the classic .45 ACP cartridge.
The classic design elements of the Performance Center 1911s have also been complemented by contemporary features that make these pistols even more practical as serious fighting handguns. These contemporary features include all hand-fitted internals, match grade barrels and triggers (the triggers are adjustable for overtravel), lowered and flared ejection ports, skeletonized hammers, external extractors, ambidextrous safeties, beavertail grip safeties, metal removed under the trigger guards for a higher grip, checked front straps and mainspring housings, aggressively textured grips, full-length recoil spring guide rods, and Briley Spherical muzzle bushings.
Distinctive Touches
The Performance Center SW1911 is a full-sized pistol with a five-inch barrel, and a stainless steel slide and frame. It features a fully adjustable rear sight mated to a serrated square blade front sight and Altamont G-10 grips that really aid in both recoil control and retention.
To me the slide is what really stands out on this gun. It has S&W's signature "fish scale" grasping grooves that give you a really secure purchase. But the feature that makes the Performance Center SW1911 unique among 1911s are the slots (three to a side) on the slide. While the uninformed might believe they are cooling slots, their main purpose is to lighten the slide slightly and give the pistol a distinctive look that really sets it apart from the competition.
To smooth out reloads the Performance Center SW1911 has a modest magazine well funnel, an accessory that I believe should be standard on all 1911 pistols.
The Performance Center Round Butt SW1911 is a Commander-sized pistol with a 4.25-inch barrel and a Scandium alloy frame that pares its unloaded weight to just under 30 ounces. It boasts the same features as its larger cousin but, as befits a pistol intended for concealed carry by undercover officers, or off-duty carry it has low mount, three-dot combat sights and smoother G-10 grips.
While the 1911's grip-to-frame angle is considered by many shooters to be one of the best, the bottom of the mainspring housing forms a sharp angle that protrudes through garments creating a "signature" and indicating that a person is carrying a concealed handgun. It can also gouge the wearer when he or she is getting in or out of chairs or automobiles. To rectify both of these problems, S&W's Performance Center rounded off the bottom of the frame and the mainspring housing. This reduces the grip signature and lessens the chances of it gouging the wearer while maintaining the same feel and control that are some of the 1911's most positive points.
The Briley Spherical bushing on the Performance Center SW1911s uses a titanium coated ring inside of a specially machined muzzle bushing that holds the barrel very securely. When the slide moves to the rear, the ring tips inside the bushing, allowing the barrel to tilt downward, unlocking it from the slide and ensuring smoother operation and consistent barrel/slide alignment and lock up for enhanced accuracy.
Range Drills
S&W sent me samples of both pistols to evaluate for POLICE. The quality of the materials used on these pistols and their construction was what I would expect from a Performance Center product and while the lightening slots on their slides gave them a unique appearance I discovered that they allow you to retract the slide with a forward grip even with wet or oily hands. In fact, even more securely than with the fish scale serrations at the rear of the slide.
Tolerances and fitting on both pistols were tight—really tight. When I pulled the slide back and released it, it went into battery with an oiled smoothness and a solid sounding "clack."
The triggers are especially excellent. Both had very little take-up before they broke crisply at 3.4 pounds on the Performance Center SW1911 and 5 pounds on the Performance Center Round Butt SW1911.
Both pistols were test fired for accuracy with four brands of factory ammo from 15 and 25 yards. I was especially impressed with the last target fired with the Performance Center SW1911 and the Remington Golden Saber ammo, as it had five rounds in three holes and measured a mere 1.5 inches. The Round Butt proved no slouch in the accuracy department either producing another 1.5-inch group with the fast stepping Hornady +P load.
Using a Safariland paddle holster I ran both pistols through a series of offhand drills at five, 10, and 15 yards. The Performance Center SW1911 handled beautifully, and I had no trouble at all placing the majority of my shots in the X ring with only a few of those I fired one-handed wandering out in the 9 ring. The lighter weight of the Round Butt resulted in heavier recoil, and I was not able to fire it as fast but it still kept all rounds inside the X and 9 rings.
I would like to make one suggestion. The magazines that come with the Round Butt have a finger rest base pad that extends approximately .5 inches below the grip and creates "signature" negating the purpose of the rounded off grip. I used this pistol as my regular carry gun for a week and used flush fitting magazines, which corrected the problem. I would like to suggest that Smith & Wesson ship this pistol with such magazines.
In conclusion I found both of these new S&W pistols accurate, reliable, and capable of performing any task one might require of them. The Performance Carry SW1911 would be suitable for use by tactical units or for holster carry by uniformed officers. And while the Round Butt SW1911 would be ideal for concealed/off duty carry, I feel it would be equally capable of doing double duty as a holster pistol.
Paul Scarlata has served as an auxiliary police officer and is a frequent contributor to POLICE.
Smith & Wesson Performance Center SW1911 Specs:
Caliber: .45 ACP
Overall Length: 8.7 inches
Barrel Length: 5 inches
Weight: 40.5 ounces
Magazine: 8-round single column box
Sights: Front: black serrated blade; Rear: square notch, fully adjustable
Slide and Frame: Stainless steel
Finish: Glass bead
Grips: G10 Custom Wood
Extras: Padded carrying box, spare magazine, lock, owner's manual
Price: $1,539
Smith & Wesson Performance Center Round Butt SW1911 Specs:
Caliber: .45 ACP
Overall Length: 7.95 inches
Barrel Length: 4.25 inches
Weight: 29.6 ounces
Magazine: 8-round single column box
Sights: Front: blade with white dot; Rear: low mount with dual white dots
Slide: Stainless steel
Frame: Scandium alloy
Finish: Two tone
Grips: G10 Custom Wood
Extras: Padded carrying box, spare magazine, lock, owner's manual
Price: $1,539