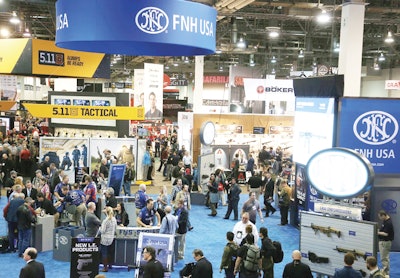 This year at the Shooting, Hunting, and Outdoor Trade (SHOT) Show in Las Vegas, law enforcement, military, and tactical products again permeated the aisles, spilling well beyond the area designated for law enforcement booths. Which means there's that much more for law enforcement officers to get excited about.
More than 1,600 exhibiting companies filled the Sands Convention Center. And although there were new firearms to be found, there were more gun accessories, and a lot of what was new for LEOs fell under the category of items to wear: armor, packs, and apparel.
Here's a look at some of the cooler stuff that was on display in Las Vegas.
FIREARMS
Beretta's M9A3 features a thin grip with a removable, modular wrap-around grip, MIL-STD-1913 accessory rail, removable front and rear tritium sights, extended and threaded barrel for suppressor use, 17-round magazine, and improved durability and ergonomics.
Colt came to SHOT Show 2015 with a few variations of its modular LE901 rifles, as well as two new variations of the LE6920 AR-15 rifle. The LE6920-OEM1 and LE6920-OEM2 are stripped down to their bare bones so you can start from scratch and add your own aftermarket favorites.
Daniel Defense unveiled a new 3-gun rifle and a version of the Navy's MK12 precision gun. But what was really cool was DD's new key-mod rail system for all of its guns; one smooth barrel shroud allows for many mounting points via the key-shaped holes milled into it.
The FNS series of striker-fired autoloading pistols are now available in a compact size for concealed carry. Standard on all models are ambidextrous manual safety levers, slide stop levers, and magazine release buttons. Both the slide and barrel are stainless steel, and the checkered polymer frame has two interchangeable backstraps with lanyard eyelets. A MIL-STD 1913 mounting rail on the underside accepts tactical lights and lasers.
Glock's new Glock Modular Optic System (MOS) platform was designed by Glock engineers to enable users to mount their preferred reflex sights to their pistols. The Gen4 models G34, G35, and G41 will now be available in the new MOS platform. Coming soon is Glock 40 Gen4 in MOS Configuration.
Developed for police and military use, LWRC's SMG-45 is a delayed blowback .45 ACP carbine that utilizes H&K UMP magazines. It is fully ambidextrous and has a folding stock that, when folded, reduces length by nearly 10 inches.
Magpul has released a complete stock for the Remington 700 action. The Hunter 700 machined polymer stock includes an aluminum bedding block and is available with a bolt-action mag well for use with box magazines. The buttstock's fully adjustable, M-LOK mounting slots on the front allow for a variety of accessories or sling points, and it requires no bedding.
POF-USA has taken its standard direct impingement rifle, The Olde School, and replaced the standard stainless steel gas tube with a straight Inconel gas tube. The Olde School is offered in either a .223/5.56 or .308/7.62X51 configuration.
SIG Sauer introduced its MCX rifle chambered in .300BLK and 5.56mm at SHOT. But what many will be excited about is the SIG MPX, which is scheduled to finally make it to production this year. This submachine gun operates with a fully closed and locked rotating bolt system, employs the SIG Sauer gas-operated short stroke piston system, and allows you to change barrel length, caliber, and stock configuration in the field.
S&W's new M&P Performance Center Ported pistols are available in 9mm and .40 S&W, with 4.25-inch or 5-inch barrels. They're ported to prevent muzzle flip, which competitive shooters tend to appreciate. The pistols also feature an adjustable trigger stop.
OPTICS AND CAMERAS
Burris Optics recently went through a rebranding campaign and with it has released several new optics. Its XTR II line of tactical rifle scopes now includes upgrades such as new competition reticles and improved adjustment knobs on higher-magnification models.
At SHOT, FLIR Systems released its LS-X and LS-XR handheld thermal cameras for law enforcement. They feature enhanced high-resolution color displays, extended range performance and video output for recording, and external displays. The LS-X has a 320 x 240 sensor and up to 4X e-zoom, while the LS-XR has a 640 x 480 sensor with up to 8X e-zoom.
Leupold's distinctively z-shaped D-EVO (the Dual Enhanced View Optic) add-on magnifier delivers 6X magnification without the need for you to move your head or change cheekwelds. Simply look down a few inches for a clear sight picture. The D-EVO can also be used on its own as a primary optic
Among Meprolight's new products for 2015 at SHOT were two new families of Tritium night sights for pistols. FT sights are designed with Tritium (T) on top of Fiber (F) for a bright aiming point day or night, and have a single dot at the rear sight. Designed by Special Forces veterans, Mepro R4E sights have a distinctive design of multiple horizontal and vertical alignment lines for a clearer sight picture and faster shots.
Micro 1 and Micro 2 thermal monoculars from Night Optics USA are small enough to fit in the palm of your hand. The full-featured Micro 1 has a 19mm fixed focus germanium lens system and is available with 336x256 and 640x480 resolutions. The Micro 2 has a 20mm variable focus germanium objective lens system. Both will be available in the spring.
Part of its brand-new Electro-Optics division, SIG's Romeo miniature open reflex sights are waterproof and built to be tough while maintaining a confident zero. Romeo 1 is built to be integrated directly onto the slide of your handgun while Romeo 3 is slightly larger and optimized for MSR/AR and shotgun applications.
LIGHTS
Elzetta Design released its first true dedicated weapon light line at SHOT. The new Mini-CQB Modular Weaponlight, developed through a collaboration with Impact Weapon Components, delivers 315 lumens of diffuse neutral-tint light in a beam pattern optimized for close-quarters battle engagements. The Mini-CQB is available with any of six tailcaps and with two ambidextrous attachment mechanisms.
First-Light's new Torq runs on 2AA batteries and delivers 155 lumens of white light. It also has a 320-degree rotating head to direct light where you need it, a safety beacon and secondary task colors, and the patented finger loop that allows for a two-handed grip on a handgun while keeping the light secured to your hand.
Streamlight launched the rechargeable Stinger HPL and Strion HPL (High Performance Lumen) lights at SHOT. These are the first entries in the company's line of new high-lumen, long-range lights with an ultra-bright hotspot for illuminating a broader area on targets.
SureFire's new Titan is a professional-grade keychain light. It's compact at three inches long and puts out 15 or 125 lumens with the company's MaxVision Beam. The Titan Plus version is made of brass instead of aluminum, allowing it to provide a whopping 300 lumens of white light.
ARMOR
The new Raven tactical carrier from Armor Express features Trilogrid laser cut MOLLE webbing and an aggressive structure to make it a high-speed, fully customizable tactical carrier solution. The Raven features an efficient single-point quick release system. But what's really notable is that it's designed to be as easy to reassemble as it is to release.
Among Point Blank Enterprises' new products at SHOT was a modular plate carrier aimed at patrol officers and first responders for active shooter situations. Designed by an active duty patrol lieutenant, it can split into two halves for use by two officers. The front plate is retained by the original wearer but the back plate can be quickly detached and strapped to the front of another officer in seconds.
Protech Tactical unveiled its Shift 360 scalable armor system at the SHOT Show. In its simplest form, it is a sleek plate rack armor carrier. By adding accessories such as panel inserts, outer cummerbund, yoke, and lower abdomen/spine protection for a variety of configurations, officers can fully customize their armor.
At SHOT, Survival Armor introduced a tactical vest designed from the ground up for female officers, based on input from the officers themselves. Called Woman Warrior, the vest is cut narrower all around, including around the neck, and features curves not found in traditional tactical vests designed for men's bodies.
APPAREL
The new Next Level Uniform collection of gear from 5.11 Tactical includes the Stryke Patrol Duty Uniform (PDU), Stryke Tactical Duty Uniform (TDU), EVO Boots, and Stryke Motor Pant.
Propper's new Summerweight Tactical Pant, Short, and Shirt are designed to keep officers cool and comfortable in hot weather with durable yet lightweight fabrics. All are available in black, khaki, olive, and LAPD navy.
Tru-Spec's new Polar Fleece Jacket is made of 100% polyester microfleece and features several pockets and a hemmed waist with drawstring cordlocks. It can be worn as a standalone jacket but is also compatible with the H20 Proof Gen2 ECWCS Parka and the LE Parka.
Vertx showed its new 37.5 Combat Shirt at the show. The soft, breathable, and form-fitting shirt features the company's exclusive 37.5 Active Particle Technology, which provides more comfort under body armor by capturing and releasing moisture vapor. Available in black, navy, Smoke Grey, Desert Tan, and OD Green.
XGO went back to basics by introducing a new line of 100% Montana Wool garments for 2015. The line is moisture-wicking and contains AG-47 silver to help kill odor-causing bacteria. The New Montana Wool Crew and Pant will be available this spring.
FOOTWEAR
Bates introduced a whole line of motorcycle boots inspired by motor officers at SHOT this year. The Moto line incorporates Poron XRD impact-absorbing foam, as well as molded TPU protectors and breathable waterproof membrane lining.
Danner's new Lookout series of tactical boots features the all-new Danner Comfort System; patent-pending, ultra-plush footbed; and Danner Lookout slip-resistant outsole with pentagonal lug pattern. Available in 5.5" or 8".
Expanding its HAWK series of footwear, Original S.W.A.T. was showing its new waterproof H.A.W.K. 9" WP in Coyote as well as a waterproof 9-inch H.A.W.K. and a H.A.W.K. with polishable toe, both in black.
Propper's new Series 100 boot consists of the Black 6" Side Zip LE Boot, Black 8" Side Zip LE Boot, and Coyote 8" Military Boot. The leather and 1,000-denier nylon upper can be pulled snug with a quick and easy speed lace system.
Made in the U.S.A. and scheduled to hit stores in spring, the new Reebok KRIOS is a tactical boot designed to keep feet cool and comfortable in hot environments and dry in wet conditions. Instead of the traditional Gore-Tex bootie, fused protective layers reduce bulk, minimize absorption, and dry quickly, preventing added weight in wet conditions.
Ridge Footwear's new affordably priced Nighthawk boots include Oxford, Mid, and 8" models. All feature leather and polyester uppers, removable insoles, molded one-piece outsoles, and shock-absorbing heels.
PACKS
New for SHOT, Blackhawk has added to its under-the-radar Diversion line of bags and packs a wax canvas series. The new Wax Canvas Messenger Bag in earth or slate features hidden, easy-access compartments including a loop-lined handgun and accessory storage compartment with ambidextrous access through the back of the bag.
Flambeau Outdoors' new weapon case offerings include an AR‐specific gun case in the company's Tactical Series as well as an HD line of cases with heavy-duty reinforced exterior and beefed-up closures and internal padding.
Fox Tactical has new covert packs, including its Advanced Universal Tablet/Component Case. This oversize case is designed for transport of electronic tablets or hook-and-loop-backed accessories, but is also suitable for concealed carry.
Tru-Spec's Stealth Backpack is constructed of 1,050-denier nylon with air mesh for ventilation. It features an easy-access hidden tabbed pistol pocket with a loop for a holster and a padded tablet sleeve. A concealed padded zipper pocket is built into the kidney pad, with a covered centered hydration tube/earphone pass-through.
TSSI introduced its new TACOPS Active Response Bag at SHOT. Designed for use by law enforcement, it features high-visibility interior fabric, modular pistol magazine and water bottle pouches for ambidextrous carry, and magnetic closures on rifle magazine flaps.
Voodoo Tactical's upgraded Mini Tobago pack features more pouches on the outside for storage and room to attach accessories. And the new Voodoo Tactical Camouflage (VTC) pattern is now available on a wide range of packs and other gear.
OTHER COOL GEAR
ASP's new AutoKey is a folding handcuff key. It's longer and therefore easier to use than a traditional key but because it folds it doesn't get in the way. The AutoKey can be hung on a traditional keychain or carried in a pocket.
In partnership with Morgan Composites and Defense Systems, Point Blank debuted a new lightweight "bomb suit," which is available to U.S. law enforcement agencies exclusively through PBE. The Ergotec 4025 Explosive Ordinance Disposal (EOD) Suit combines the highest level of protection with dynamic user mobility required for successful EOD missions.
The Silynx Clarus Fx (fixed lead) tactical headset comes with a single, permanent radio connection. This durable, low-profile headset system enables the user to transmit using either in-ear mics or an optional boom mic and is compatible with most LE radios.