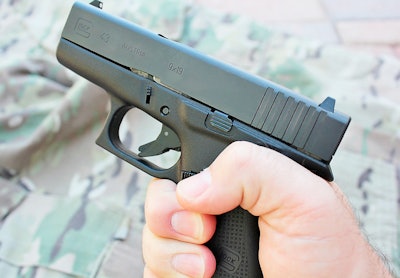 I'm fairly certain that most people would not put Glock in the category of firearms manufacturers known for producing a wide variety of designs and a constant stream of new products.
Glock will make you any kind of pistol you want, as long as it is a polymer-framed, striker-fired semi-automatic, in black. I'm not saying Glocks are boring; it's just the company sticks to what it does best. I admire this in any firearms manufacturer; especially one that has, in my humble opinion, perfected the combat pistol. Now for those of you who, like me, depend on a Glock to get you home safe every day, there is little argument about the utilitarian nature of these pistols. They just work, every time, no matter what. They are tools, not showpieces, and reliability is key. I don't want a Glock in some exotic caliber or one with a fancy finish or a gold-inlay. I want Glock to keep doing what it has done best for decades, with maybe a few tweaks here and there.
Super Subcompact
One thing I have wanted to see Glock tweak for some time is the size and weight of its subcompact pistols. Having carried the G27 for several years as a backup pistol, I have to say the gun, although technically a "subcompact," is a bit of a boat anchor. When the .380 ACP G42 came out not too long ago, I was the first in line to pick one up and was nothing short of impressed. My only desire was a bigger caliber, like maybe a 9mm? I must not have been the only one wishing for a 9mm single-stack Glock because the G43 was unveiled just a few short months ago and it has been an instant hit.
The G43 is a super subcompact, single-stack 9mm semi-automatic pistol and the newest of Glock's "Slimline" family of guns. It is a true Glock, only smaller. Fully loaded it carries seven rounds of
9mm Luger in a frame that is super slim yet just large enough for the average guy's hand to get a good wrap around it. The texture on the frame is Glock's Gen 4 design with a more aggressive grid pattern for optimal grip, even with gloves or wet hands. The backstrap features a more aggressive "beavertail" design, which allows for a high and tight grip and helps with controlling recoil.
First Impressions
Right out of the box the G43 features the standard Glock polymer sights. And I actually like Glock's standard sights. My only complaint would be their lack of night visibility. The aftermarket is quickly catching up though and there are already a few sight options out there, including some with illumination.
Glock's standard coiled trigger spring gives the G43 a crisp brake at about 5.5 pounds, the same as almost every Glock rolling off the assembly line. For training purposes, having the same trigger feel across your duty arsenal is a good thing. And even though this is a much smaller gun, the trigger reach is dimensionally equivalent to the full-size 9x19 pistols in the Glock family. Oddly enough this means if you're used to carrying a Glock G17, the G43 will feel familiar.
Range Time
I had no doubt about the reliability of this gun; it's a Glock. I also had no unanswered questions about the grip or feel of the gun when firing.
At a little over 6 inches long and 4 inches tall, the G43 is not a big gun by any means. Considering the G43's size and short barrel I was a little curious about accuracy so I picked up a variety of 9mm ammunition and hit the range to see what the G43 could do.
Let's set some ground rules before we go down this road. My testing is anything but scientific. I picked the ammo because it was the best variety of practice and duty grade rounds on hand at my local sporting goods store, not because there is some distinct difference between them. And I chose my "methods" based solely on how I felt like shooting that day, not to produce data I could put on a chart and bore you to death with. Come on, we're cops. We don't care about things like that. We want to know if the gun can perform in a deadly force encounter, function reliably, and hit what we intend it to, right? I thought so. Sorry to all you ballistics gurus out there.
My five choices of ammo were:
Hornady Critical Defense 115-grain
Remington UMC 115-grain
Federal Premium Personal Defense HST 124-grain JHP
Speer Gold Dot 124-grain JHP
HPR 124-grain JHP
I set my target at 15 yards. This is what I would consider the high-end average distance of most police shootings and where accuracy would be paramount. I shot some five-round groups, unsupported, with no time limit. I then shot the same groups from a supported position, similar to lying prone over the hood of a patrol vehicle. At the end I mixed up the variety of rounds and shot them at a rapid pace to check cycling reliability. As I suspected there were no issues with cycling.
Checking my groups, I found that I was able to keep almost all of them under 2 inches, with the occasional flyer here and there attributed to the monkey, not the machine. Considering the G43 is a super subcompact designed primarily as a backup combat weapon and not a competition gun, I was very impressed.
Glock's barrels have always been known for their accuracy and the G43's barrel was no exception. When I ran my G42 through the paces in an earlier test and review I saw similar results.
Carrying the G43
My next test (again, not scientific) was to put the G43 to work as it was intended, as a concealed backup gun. I have a simple kydex holster that rides inside my waistband and the G43 was able to snap into it nicely. I carried it around for a few days in this configuration and was pleasantly surprised at how manageable it was.
The grip, although smaller than most, is very well designed and allowed me to get a positive grip on the gun while drawing. After a couple of days of carrying the G43 to the grocery store, post office, and gym, I was convinced this was a gun I could see myself carrying all the time. In fact, my .380 ACP G42 has already been retired to the gun safe to make room for its new 9mm sibling.
The Glock G43 comes from the factory with the standard Glock sights, a cleaning rod and brush, speed-loader, and a couple of magazines, one with a grip extension, packed neatly in Glock's fantastic hard plastic case. If you throw down your law enforcement credentials, you can pick one up through Glock's "Blue Label" program for a steal.
So here are the questions you have to ask to determine if the G43 is for you. Do you carry a 9mm auto as a primary weapon and want the continuity with your secondary pistol? Or are you convinced the 9mm round is the best thing out there and wouldn't want to think of carrying anything else? If the answer to either question is yes, then the G43 may be the backup or concealed carry gun for you.
Considering the success of its slightly slimmer G42 in .380, I'm sure the G43 will be wildly popular.
A.J. George is a patrol sergeant with the Scottsdale (Ariz.) Police Department who also serves as the SWAT team's crisis negotiation supervisor.
Glock G43 Subcompact Pistol Specs:
Caliber: 9mm Luger
Capacity: 7 rounds
Weight: 22.36 ounces fully loaded
Width: 1.02 inches
Height: 4.25 inches
Length: 6.26 inches
Barrel Length: 3.39 inches
Barrel: Octagonal rifled
Finish: Polymer with Tenifer-coated slide
Trigger: Safe-Action with 5.5-pound pull
Sights: Fixed, standard Glock polymer sights
Price: $580