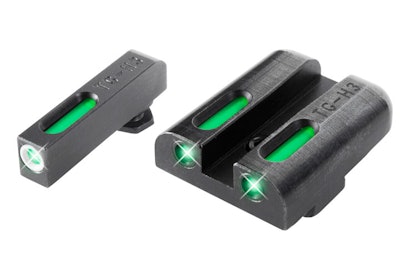 TruGlo's patented fiber-optic and tritium combination sights are tried and true. The company builds a great product and are well respected in the professional shooting world. That's not to say there isn't room for improvement. Not one to shy away from user feedback, TruGlo recently took its pistol sights to the next level with the new TFX, or "Tritium Fiber-Optic Xtreme" sights.
Made of machined steel and finished with a smooth anodizing that TruGlo calls a "Fortress Finish," the new TFX sights feature a longer sight radius and a more compact design with rounded edges to eliminate snagging on clothing or gear. The illumination is via three tritium and fiber-optic capsules that produce excellent light in both day and night environments. The front capsule is even highlighted with a white ring for faster target acquisition.
Installation on my Glock 43 was a breeze. Unlike some sights, the TFX sights don't use a press-fit design, which means you don't need a special sight tool to install them. Simply slide the rear sight into the dovetail slot, get it centered, and torque the set-screw in the center of the sight body. With a little thread locker and a small allen wrench I had them installed in no time and was confident they were locked in place. The front sight is just as easy, secured with a single flush-mount screw through the slide.
Once the thread locker had time to dry I hit the range to see if the TruGlo TFX sights lived up to the hype. Drawing from concealment in an appendix carry position I had no trouble clearing clothing and no snags from the sights. This might seem like a small improvement but I've actually had other sights snag my clothing in concealed positions, so I can appreciate the TFX sights' smooth, compact design. After several weeks of them riding around in my waistband I've had no issues whatsoever.
Target acquisition was quick and I had no trouble picking up the front sight. The white ring around the impressively bright tritium and fiber-optic capsules caught my eye's attention immediately no matter what the lighting happened to be. The tight tolerances between the front and rear sights also made for more precise aiming than with other "combat sights" I've used in the past. Overall the TFX sights performed beautifully and met all of my expectations.
If you're shopping around for a good set of combat sights for your pistol, I suggest you check out TruGlo's new TFX line and the even more recently introduced TFX PRO line. Made for virtually every handgun out there, you're sure to find a set to suit your needs.
A.J. George is a sergeant with the Scottsdale (AZ) Police Department assigned to the Technical Operations Unit, Special Investigations Section. He has more than a decade of law enforcement experience in patrol, field training, and traffic enforcement.