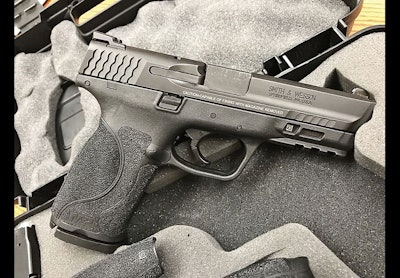 The polymer pistol market has welcomed many newcomers over the years and for good reason. If you're looking for a functional, durable tool for duty use or even recreational shooting, there is no better form factor than a simple, semi-automatic polymer pistol. The beautiful and brilliantly designed (albeit heavy and complicated) 1911's of years past have largely been retired in favor of these newer, high-capacity plastic pistols. Sorry, John Browning.
Smith & Wesson is a plank holder in the firearms industry but relatively new to the polymer pistol game. S&W introduced its M&P line of polymer-framed duty pistols in 2005. Not being content to rest on this initial success, the company listened to the feedback from its end-users and made a few improvements to the trusty M&P. The new version is coined the M&P 2.0 and it is definitely fit for duty.
First Impressions
I'll be honest; my first impressions of the original M&P were mixed when I first put my paws on one over a decade ago. I loved the ergonomics and the way the gun felt in my hand, both in the grip and during shooting. It has a low bore-axis and great 18-degree grip angle, which make for reduced felt recoil and less muzzle rise. Unfortunately the mushy and unpredictable trigger was a deal breaker for me, and I quickly passed it over in favor of my trusty Glock 22.
That said, let's look at the M&P 2.0.
My example was the standard M&P 2.0 chambered in 9mm without the thumb safety. As I flipped open the rigid plastic case, I had zero knowledge of what the new 2.0 pistol brought to the table. But I did have a list in my head of what I liked about the original and the improvements I wanted to see.
The first thing I noticed was the grip. Even though I really liked the original, the new 2.0 has a more aggressive texture for better traction with wet or gloved hands yet isn't so rough that it'll leave your paws raw after a few hours on the range.
One of the M&P's best features has always been the interchangeable backstraps and this has improved as well with the addition of a fourth included option, a size just between medium and large, dubbed (obviously) medium-large. Whatever size you choose can be quickly slapped onto the back of the pistol and secured with a twist-lock pin up the rear of the magwell. No tools required.
Likely the most obvious, and to me most welcome, improvement was the trigger. The original M&P had what I would call a "less than desirable" trigger. I'm not the only one who felt that way; in fact aftermarket upgrading of the trigger on an original M&P was about as common as putting a sling on a rifle. The original Pro-Series M&P's had a great trigger, coaxing many M&P lovers to upgrade to the higher-end series of guns. Smith & Wesson now drops the Pro-Series triggers in all M&P 2.0s. In my opinion, that simple modification takes the M&P from a good duty gun to an excellent one. It's also proof that Smith & Wesson listens to its customers.
In addition to these great improvements, Smith & Wesson has shaved some weight off the slide and added small but functional front slide serrations.
Form/Function/Trigger
That's the new stuff. Now on to the features that carried over from the original and helped make the M&P the popular duty, sporting, and personal defense pistol it is today.
The M&P's sights are a traditional three-dot pattern installed via dovetail cutouts on the slide, front and rear, and the rear is secured in place with a set screw. I am a big fan of this design as it allows for the installation and adjustment of the rear sights without a press-tool and virtually eliminates the odds of marring the finish, a common result of swapping out the friction-fit sights found on some other pistols. You'll still have to press in the front sight though.
I found the M&P's stock irons to have a wider "gap" of visibility between the front and rear, which allowed me to get a better sight picture. My targets showed it as I was able to hold fantastic groups out to the 25-yard line; more on that later. If you don't care for the factory sights, there are several aftermarket options out there that will fit the M&P perfectly.
The slide is a beautifully profiled, hard anodized steel specimen with the aforementioned serrations at the front and rear, providing excellent grip no matter how you choose to run the gun. The vastly improved trigger has an exaggerated arc and integrated trigger-safety that cups your trigger finger nicely, and the trigger guard is large enough to allow you to comfortably shoot with a gloved hand.
The controls have carried over from the original and include a simple take-down lever, ambidextrous slide stop lever, and a reversible magazine release. The slide stop is rather small, and I found it difficult to manipulate. I would've liked to have seen a larger or more aggressively textured example here. There were several instances where I had to make a few attempts at locking the slide to the rear with both my trigger finger on my primary side or my thumb on the reverse. The same is true about the magazine release. Although it protrudes far enough to require a solid push to activate, a feature I appreciate, the surface area is small and I found myself hunting for it a few times. Considering the popularity of these pistols for competition use, I would imagine there will be aftermarket upgrades available for both.
The lower frame not only features the enhanced texturing and interchangeable backstraps, but also provides a small segment of 1913 rail at the front that will accept a wide variety of lights and lasers. Finally, the magwell has been flared slightly to make magazine insertion a breeze.
Field disassembly and cleaning of the M&P is a breeze via the simple and easy-to-use take-down lever. Simply lock the slide to the rear, flip the lever, pull the trigger, and the slide comes off easily. Lift out the captured recoil spring and the barrel comes out as well, leaving you with only three items to clean. A stiff nylon brush, a few bore patches, and a rag can knock this out in minutes. The lower requires no disassembly and almost no lubrication. As I do with my other polymer duty guns, I just blow it out with compressed air and wipe it down with a cleaning rag. It doesn't get much easier than that.
On the Range
I'm not a competition shooter nor do I necessarily care about home defense, carrying comfort, or how "pretty" any given weapon system is. I'm a cop and my duty weapon is a tool. I need it to be accurate and dependable. So when I test weapons I only test those that would have a law enforcement application, and I test them in a manner consistent with how a law enforcement officer will use them. So, in the case of the new M&P, I spent no time shooting from a bench, using a chronometer to test muzzle velocity, or proned out at the 100-yard line to see how well I could hit a target from extreme distance. The reality is none of these things matter for a gun that lives in a duty holster. What does matter is how well it is able to hit targets and run reliably under extreme stress and in the most adverse conditions. In other words, it needs to take a beating and keep on ticking.
Hornady, Federal, and Speer were gracious enough to provide me with an incredible variety of 9mm ammunition for my test; some duty-grade and some practice. Between the seven different kinds of 9mm ammunition I was given for this review, there were four different bullet-weights; 115-grain, 124-grain, 135-grain, and 147-grain. (See "Ammo Used in This Test" on page 20.) Generally speaking, lighter bullets have greater muzzle velocity but a shorter maximum effective range. The opposite is true with heavier bullets. This is much more significant in rifles than pistols but does become important when evaluating felt recoil, especially between standard and subcompact pistols. I generally favor a lighter bullet for my subcompact guns, as that just makes them easier to shoot. For a duty gun such as the M&P, I'd lean toward a heavier bullet. The large frame can handle the larger bullet weight, and the additional mass helps terminal ballistics. That said, whatever you choose for your gun should be thoroughly vetted at the range.
All of my shooting with the M&P was done from the 25-yard line and in. Those are the distances of our AZPOST pistol qualification and for good reason; they're where we're going to encounter the vast majority of our gunfights.
Starting off at the 25, I spent several minutes dry-firing to get a good feel for the trigger. I then moved on to manipulations of the gun and magazines to also get a feel for the operation of the gun. This way, when I finally started shooting I could focus on other aspects of the pistol. The flared magwell and intuitive controls of the new 2.0 made for a very comfortable mastery of the pistol.
Having developed a good feel for the M&P, I loaded a magazine with Speer Lawman and took my sweet time putting together a good group of headshots from the 25. The low bore axis and exceptional trigger of the M&P made for an impressive grouping of about 5 inches with no "flyers." I repeated the same with the American Eagle with similar results. Both of these being what I'd consider "range ammo" I was very happy with my target.
I progressively moved up from the 25 and began to mix in movement drills, magazine exchanges, and multiple target engagements to push not only my abilities, but test the M&P's ability to keep up. I shot several magazines of each ammo brand to see if I could tell a difference either in accuracy or felt recoil, then I shot through a few magazines of mixed ammo at a rapid pace to see if the variations would cause the 2.0 to stumble. Although I was able to tell the difference between the lighter practice ammo and the heavier duty-grade rounds, none of them were able to make the M&P choke.
One of the biggest considerations for choosing any ammunition is your gun's ability to eat it without getting it stuck in its throat, for lack of a better term. Some guns just don't like some bullet designs. It doesn't mean either is faulty, it just means they aren't the most compatible. I noticed this most when I was choosing a duty round for my Glock 43 and have since put a premium on testing how a bullet feeds as much as how it shoots. With the examples above, I am happy to say I experienced zero issues, which tells me the M&P's tolerances are well within what I would consider "duty-spec."
The Verdict
As far as accuracy goes, the M&P is an absolute rock star. I'll be honest, for a stock, duty-grade pistol the 2.0 is an absolute tack-driver. The 5-inch group from 25 yards I mentioned earlier was only the tip of the iceberg. I repeated the same from the 15 and the 10, the latter of which resulted in an entire magazine dumped through one ragged hole. Now I would like to think these results were due, at least in part, to the incredible shooting abilities of the guy pulling the trigger (insert laughter here) but I'm giving the majority of the credit to Smith & Wesson's ergonomics and trigger. This gun just feels like an extension of your hands and makes shooting a breeze.
At the end of the day the new M&P 2.0 had definitely changed my opinion of Smith & Wesson's pistols for the better, and I can tell you without hesitation I would put this gun in my duty holster in a second.
The M&P is available in several configurations, sizes, and features in 9mm, .40 S&W, and .45 ACP. The one I tested is probably the closest thing to a "standard" duty pistol and comes in at just under $600, which puts it in line with its competition. Holsters and duty gear are widely available, and Smith & Wesson offers plenty of support with an excellent warranty, great customer service, and armorer's courses.
A.J. George is a sergeant with the Scottsdale (AZ) Police Department assigned to the Technical Operations Unit, Special Investigations Section. He has more than a decade of law enforcement experience in patrol, field training, and traffic enforcement.