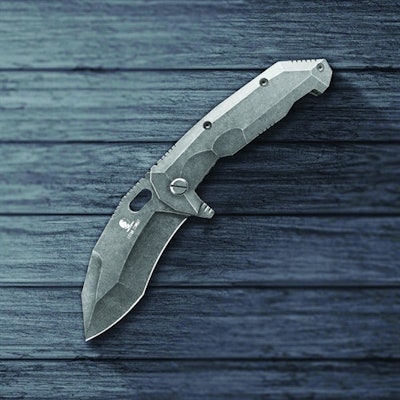 Most law enforcement officers I know have some sort of folding knife that they carry with them off and often on duty. They mostly use these tools to cut mundane things like cords and tape and slice open evidence bags. Most probably don't even think about their knives as possible lifesaving weapons so they never practice drawing them and using them in defensive moves. And to be truthful, many of the knives carried by American law enforcement officers are not designed to be used as defensive weapons. But there are some folders on the market, like those made by Lotar Combat, that are designed to be weapons.
I stumbled upon Lotar Combat and the picture of its Akrav folder on Instagram purely by accident and was awed and a little shocked by the design. The Akrav is a fighting knife; it's designed to be the backup to your backup.
The Akrav was designed by Nir (that's the only name he gives on the company's website), a veteran of Israel's counter-terrorism units and also the Israel Border Police. Nir's covert military and law enforcement experiences led him to create a folding knife designed to be simple, rugged, and extremely deadly.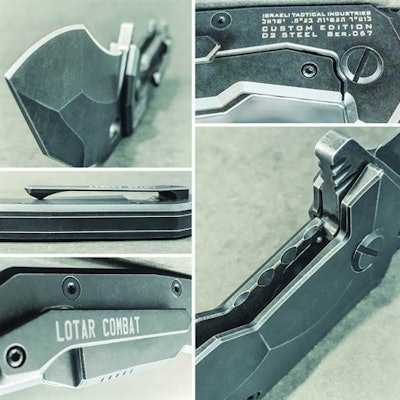 Beginning with titanium scales for ruggedness and weight savings, the user's hands benefit from the ergonomics of the design, which keeps the hands and wrist from being twisted. The ergonomics provide an ideal hold on the knife to be used as a weapon. Grip is intuitive for the index finger and thumb.
The blade itself is made from hollow-ground D2 steel formed into a recurve/modified Tanto point. It looks exceptionally large for a folder blade, but it is both razor sharp and incredibly rugged. Coated with a titanium coating, this blade is all business and bad ass.
The blade is deployed via a military-grade ball-bearing system that requires one hand and doesn't even require the user to flick their wrist. The blade opens smoother than any folder I have ever seen.
Lotar Combat Akrav Gen II Knife
Blade Material: Hollow grind D2 steel blade
Blade Hardness: 59-60 HRC
Overall Length: 8.14 inches
Blade Length: 3.5 inches
Blade Thickness: 0.16 inches
Blade Style: Recurve/modified Tanto point
Features: ball bearing pivot system, slip-resistant flipper, titanium scales, low-profile titanium clip, titanium framelock with steel insert, BattleHarden titanium coating on blade and grip
Price: $319
Even the clip on the Akrav is top of the line. It's much like those found on Parker pens. The clip holds the knife securely to a pocket, waistband, belt, MOLLE gear, or whatever else you want to attach it. The clip held my knife in place during some foot pursuits, and I even clipped it to the waistband of my shorts when I went for runs, since it's somewhat difficult to run with a concealed handgun. Even though the clip is secure, it provides lightning fast deployment, and the knife is so slim and lightweight you almost forget it's there.
And the Akrav is one tough knife. I have deliberately tried the limited lifetime warranty. I ran the knife over with my truck with no damage, pried open some crates, chopped a limb off a dogwood tree, skinned a few fish, and even used the titanium scales to bust out some windows of a junk car.
Knife defense is a dying art, but I believe knife tactics and techniques should be more prevalent in police training. My academy experience included about 15 minutes on knife takeaways, and not once in the 14 years since have I had any agency training on deploying a knife as a defensive weapon. Despite the lack of training, many police departments nationwide allow their officers to carry a knife.
Which I do. I have carried a fixed-blade knife in an ankle holster for about 12 years and have worked with various defensive tactics trainers over the years on how to deploy the knife from the guard position. Even with that, I can't access the fixed-blade on my ankle easily while standing up or when facing an armed suspect three feet in front of me. Which is why I like the Akrav folder. I can easily access the Akrav that is now clipped to my pocket.
The Akrav is not cheap. It lists for $319. But we live in dangerous times when many of our conversations revolve around officer safety. Having the right tools and training is paramount to our success as police officers. Instead of going to your local big box store and picking up a made-in-Taiwan knife with a seat belt cutter and glass breaker (have you ever actually used these?), I recommend you invest in a quality, rugged, well-designed defensive weapon like the Akrav. We won't skimp on our firearms, ammunition, or body armor, so why settle for junk for our last line of defense? Our profession dictates we be armed and ready for anything.
Rich Portwood has been a police officer for 14 years, is a competitive shooter, and is a head instructor at Blue Line Combatives.