Streamlight TLR-7
I've been carrying a Streamlight TLR on my duty pistol my entire career. Sure, I've upgraded it a few times but the form factor and proven durability have remained constant over the years. I recently got my hands on their newest addition to the TLR weapon light family, the TLR-7, and I am beyond impressed.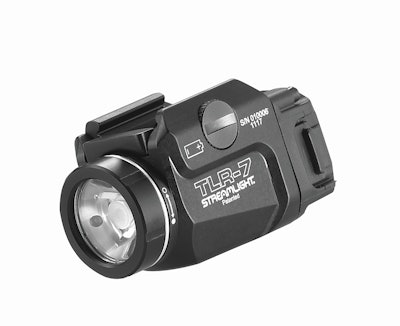 The new TLR-7 is a compact version of its older siblings. Powered by a single CR123 lithium battery, this weapon light puts out 500 lumens of very well focused, blinding white light with a runtime of about 90 minutes. The anodized aluminum body measures just over 2 inches in length and weighs a mere 2.4 ounces. For comparison, that's more than an inch shorter than the TLR-1 and almost half the weight. Not to mention the additional 200 lumens of output.
The TLR-7 is designed to be the perfect accessory for compact and subcompact pistols but will fit just about anything with a rail attachment point via the array of inserts that come with it. Secured with a single knurled thumb screw, the TLR-7 mounts solidly with absolutely no play. Battery swaps can be done through the front bezel, eliminating the need to remove the light as with previous generations. This is a welcomed design change and makes it much easier to recharge in the field.
I mounted my TLR-7 to my Glock 19 and it fits perfectly with the front bezel almost flush with the muzzle of my gun. The profile is also much narrower than a TLR-1 thanks to the single battery and is also nearly flush with the width of my Glock. For those of you who carry concealed, this light is nearly perfect.
Operation is simple via the rubberized push buttons on either side of the light. One quick press and the light is activated for constant-on, while shorter press and hold durations enable momentary activation. Unlike the TLR-1's rocker switch, the TLR-7's controls are truly ambidextrous and operate identically regardless of which finger you use.
MSRP for the new TLR-7 is $215. Even at full retail price they're amazing lights and worth every penny. Take a look at www.streamlight.com.
A.J. George is a sergeant with the Scottsdale (AZ) Police Department assigned to the Technical Operations Unit, Special Investigations Section. He has more than a decade of law enforcement experience in patrol, field training, and traffic enforcement.