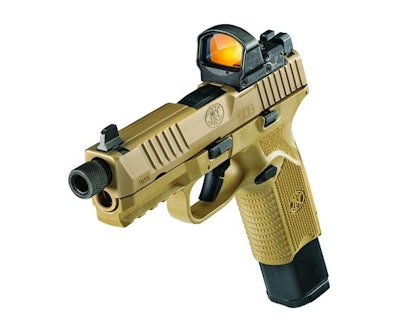 Because of the annual Shooting Hunting and Outdoor Trade (SHOT) Show, January is a good time to get a look at the newest firearms for law enforcement operations.
Here's some of what we expect to see at the show and in your arsenals this year.
Dynamic Munitions
Dynamic Munitions' line of AR-variant rifles includes a wide variety of models. The DM-15 is the company's flagship precision rifle in 5.56mm NATO. Features of the DM-15 include: a titanium gas block/stainless steel gas tube, a Mil-Spec lower receiver, Mil-Spec upper receiver with M4A4 flat top and M4 feed ramp, 16-inch stainless steel cryogenically frozen barrel, JMT Saber trigger, Magpul CTR buttstock, Magpul MOE+ pistol grip, and 15-inch Dynamic Munitions aluminum free float M-LOK handguard.
The top-of-the-line rifle in the Dynamic Munitions line is the DM-6.5. Built to get the most out of the 6.5mm Creedmoor cartridge, the DM-6.5 is a high-performance precision rifle designed to be accurate to 1,000 yards or more out of the box, the company says. https://dynamicmunitions.com/
FN
In November, FN America released the FN SCAR 20S precision rifle, which is based on the FN MK20 SSR or Sniper Support Rifle currently fielded within USSOCOM. The 7.62x51mm-chambered rifle has been purpose-built to achieve superior long-range accuracy. FN says the new precision rifle achieves 1-MOA (minute of angle) accuracy to 100 yards with match-grade ammunition out of the box. The 20-inch, 1:12 twist, heavy profile barrel and barrel extension, and extended, monolithic receiver add the additional rigidity that reduces fluctuation or movement between shots while the extended receiver provides rail space for optics. The custom-designed MK20 SSR buttstock adjusts to length of pull and comb height to customize the fit to each shooter while in the prone firing position, and the factory-installed, double-stage Geissele Super SCAR trigger achieves a 3.5- to 4.5-pound trigger pull.

On the handgun side, FN has expanded its line of FN 509 pistols with a tactical model. The FN 509 Tactical has a threaded barrel for suppressors and features the company's patent-pending Low-Profile Optics Mounting System. FN says the Low-Profile Optics Mounting System enables the platform to accept most commercially available miniature red dot optics and remain adaptable to future optics releases with no requirement of direct milling of the slide.
Late last year FN also announced a new 509 Training pistol. The training pistol is a completely non-firing red-framed version of the 509 that can be used to acclimate new shooters to safe firearm handling, presentation, and holstering before they move to a live firearm. It features a redesigned fire control assembly that resets the trigger each time it is pulled without having to continually rack the slide. The FN 509 Training model shares the same ergonomic features as the functional FN 509, including grip angle and textures; slide weight and profile; four-inch barrel; and operating controls. www.FNAmerica.com
Glock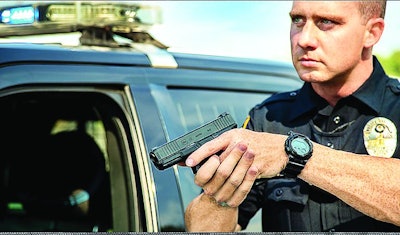 Glock unveiled its G45 duty pistol at this year's International Association of Chiefs of Police Show. The new duty pistol is a crossover, sharing aspects of a full-size and a compact. It has a full-size frame and a 4-inch compact slide. Chambered in 9mm, the G45 has a standard magazine capacity of 17 rounds. Features include: the company's proprietary coating on the steel components and the Generation 5 grip style and pattern with finger grooves, an enlarged and flared magazine well for faster reloading, forward slide serrations useful for press checks, ambidextrous slide release levers, and an accurized barrel.
In addition to the G45, Glock has introduced two new optics ready MOS models: the G17 Gen5 MOS and G19 Gen5 MOS. www.glock.com
KelTec
The big news from KelTec for 2019 is the KS7 shotgun. A smaller version of the company's KSG bullpup shotgun, the KS7 is a 12-gauge pump-action shotgun that holds seven 2.75-inch or six 3-inch shells. It has an 18.5-inch barrel and 26.1-inch overall length that makes it easy to handle in tight spaces. Features include: KelTec's patented downward shell ejection system; a cross-bolt safety; and M-LOK slots on the carry handle, forend, and stock. www.keltecweapons.com
SIG Sauer
SIG is expanding its MCX Rattler line of rifle-caliber pistols with the MCX Rattler Canebrake. SIG says the MCX Rattler, with a 5.5-inch barrel and overall length of 23.5 inches (16 inches folded), is the shortest 5.56mm platform on the market. Features include: a free-floating M-LOK handguard, two-stage Matchlite trigger, a folding pivoting contour pistol brace (PCB), and a 30-round polymer Magpul Gen 3 magazine. The MCX Rattler Canebrake is a .300 Blackout suppressor-ready version that is new for 2019. It has a 29.5-inch overall length and SD handguard. Features include: a two-stage flat-blade match trigger, Cerakote E190 finished upper and lower, a folding coyote-tan PCB Brace, and a 30-round polymer Magpul magazine.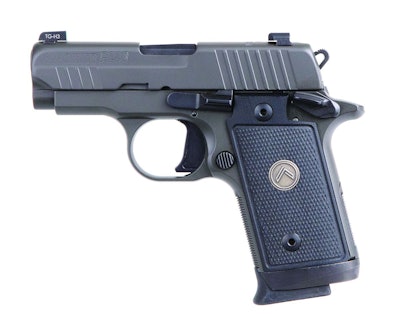 On the handgun front, SIG has added two new models to the Legion Series, the P938 and P238 micro-compact pistols. Legion is a line of pistols the company developed for elite shooting professionals. The Legion Series P938 and P238 micro-compact pistols are hammer-fired pistols, equipped with X-RAY3 Day/Night Sights. These pistols are all-metal with a Legion-gray coated slide and frame, a precision machined aluminum trigger, and custom high-checkered black G10 grips with a Legion medallion. Like all Legion Series pistols the P938 and P238 feature a reduced and contoured beavertail, which allows for a higher grip, but a reduced profile to eliminate printing. The Legion Series P938 and P238 pistols come standard with three 7-round magazines. www.sigsauer.com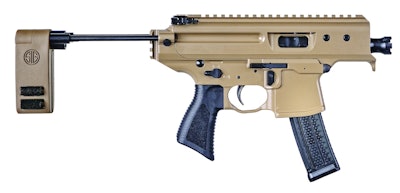 Springfield Armory
Last summer Springfield Armory added a new ultra-compact 9mm, the XD-S Mod.2, to its line of striker-fired XD pistols. The XD-S Mod.2 is one-inch wide and has an overall length of 6.3 inches with a 3.3-inch barrel. It's so small that Springfield says it doesn't print on the wearer even in the lightest clothing. The XD-S Mod.2 comes in three versions, including one fitted with a Viridian laser sight.
In November, Springfield added a pistol to its Saint line of 5.56mm NATO firearms. The new Saint Edge sports a 10.3-inch barrel and has a collapsed length of 24.6 inches, which makes it very suitable for covert carry in situations where it's best for your mission to keep the guns out of sight. Features include: M-LOK Aluminum SA handguard, Bravo Company Mod. 3 pistol grip, and Maxim Defense CQB adjustable forearm brace. www.springfield-armory.com
Yankee Hill Machine Co.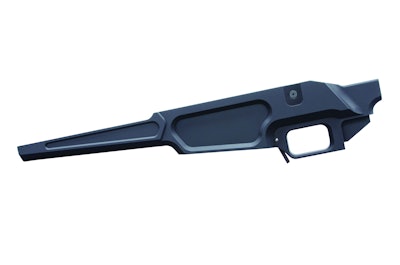 Yankee Hill Machine Co. (YHM) has entered the bolt-action market with its MARC Chassis. The MARC is constructed of 6061-T6 aluminum with a type III class 2 hardcoat anodize, making it lightweight. The chassis is compatible with Remington and Savage platforms in both short action and long action setups. It features an ambidextrous design for bolt operation along with a provided block-off plate to fill in the unused bolt handle cutout. The MARC comes with a carbine or A2 stock adapter for a variety of stock options to custom tailor to the shooter's needs. It accepts AICS magazines, utilizes a Melonited magazine catch, accepts standard AR grips, and fits most aftermarket triggers. Buyers can add an optional M-LOK handguard. www.yhm.net