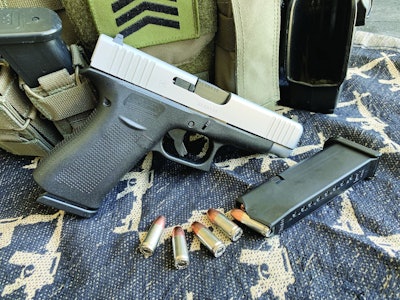 Despite its rather utilitarian history, Glock has been busy doing quite a bit of innovating in the past couple of years. One of these innovative products is the Glock Model 48 9mm compact pistol.
First Impressions
My first impression of this pistol is: "Wow! This is exactly what I've been looking for."
Crack open the G48's trademark Glock box and you'll see everything you'd expect to see with any other Glock; a pistol, a couple of magazines, a bore brush and cleaning rod, some paperwork, and a gun lock. The first thing that'll likely grab your attention though is the new matte-stainless nDLC finish on the G48's slide. A clear departure from the Glock standard, the new stainless finish actually adds a stunning contrast to the flat black frame and is what I would consider a welcome addition to the Glock lineup. The finish itself has a smooth yet easily gripped texture and the cocking serrations front and rear make for easy manipulations.
Featuring the perfectly functional yet basic plastic Glock sights, the slide is dovetail-notched to accept a wide variety of aftermarket options. Glock knows you're going to replace them anyway so why bother shipping the gun with expensive iron sights.
In the hand the new G48's Slimline heritage makes for a very comfortable fit yet it is still large enough to get a commanding grip on the gun, even with larger hands. Coming in at 6.85 inches in length, the G48's slide is just under an inch longer than the G43 and about the same as a G19 double-stack pistol. Frame size is nearly identical to the G19 too with the biggest difference between the two being the width of the gun.
The G48 is only about an inch wide, same as the G42, G43, and even the new G43X pistols. All of these similarities make for interesting mix-and-match options. If you currently own a Glock 43 and Glock 48 yet find yourself with a burning desire to own the new G43X you're in luck. Mate the G48's frame with the G43's slide and you've got one.
Aggressive texturing on the G48's handle (the standard for the latest generations of Glock pistols) makes for a commanding grip, even with wet or greasy hands, and there is a smaller beavertail contour to the back for added grasp and to prevent the dreaded "slide-bite." The slide lock is a standard-sized flat panel on the left side of the gun, same as you'll find on any other Glock pistol, and the slide release is no different.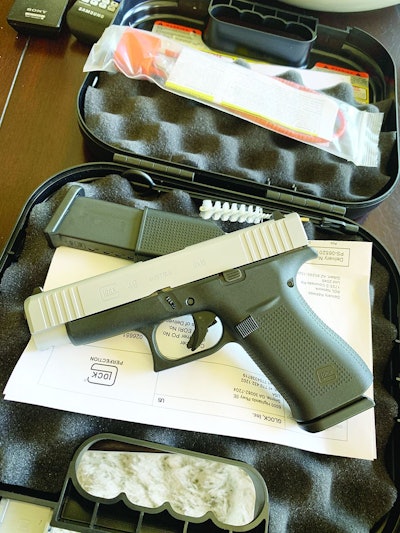 The magazine release is a large rectangular button on the left side as well, similar in size to those of the G48's full-size brethren. Using full-sized controls on a compact pistol is a very smart move by Glock and I'm sure it will be appreciated by shooters as it allows for continuity of training across the Glock line.
The G48's magwell isn't flared on the sides—likely to keep the profile as slim as possible—but it is flared slightly in the front to allow for easier magazine insertion. Considering the front of the magwell is where I index my magazines anyway, I think this is an excellent use of space.
My only disappointment with the G48's design is the lack of ambidextrous controls. I shot this way for decades until the later generations of Glocks began featuring ambi-controls but now that I've become used to them, going back is admittedly difficult. On top of that, I'm a lefty so having controls on the right side is much appreciated. I'm sure this was done to keep the G48 as slim as possible but I'd be willing to give up a smidge of streamlining for easier manipulations.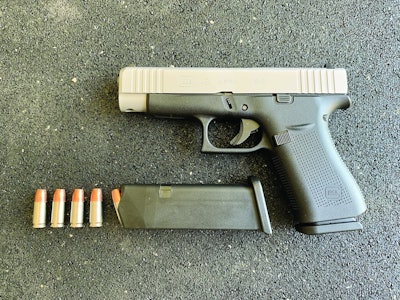 Shooting/Handling
My approach to this evaluation, as with any other combat pistol, was to run it hard and fast. I want to see it fight, down and dirty, without hesitation and without fail. That's what matters in the real world.
The G48 is a single stack, 10+1 capacity pistol. Magazines are Glock polymer with a baseplate that features a small lip at the front, similar to current Gen 5 larger framed pistols, that makes for a solid grip. My example shipped with two of these and extras are readily available. There are also several aftermarket magazine extensions available if you're after higher capacity.
---
Glock G48 Pistol Specs:
Caliber: 9mm
Magazine: Slim 01 mag
Magazine Capacity: 10 rounds
Barrel Length: 4.17 inches
Overall Length: 7.28 inches
Weight (empty): 20.74 ounces
Price: $580 ($359 for individual officers)
---
I began my live-fire time with the G48 at my agency's indoor range, which is a lead-free range that requires frangible ammunition. Although considered to be generally safer than standard ammo, the frangible bullets have gained a reputation for being less reliable in some pistols. This is somewhat of a blessing in disguise for testing a pistol, as it exposes weaknesses not often seen with traditional ammo. It also makes shooters really good at clearing malfunctions. Training value? 10 out of 10.
Kicking it off I loaded up both of the G48's "10-round" magazines. Why do I put that in quotes, you ask? Because these 10-round mags actually accommodate 11 rounds and you don't have to break your thumbs to get them in there. Now, I know you're all thinking, "But it can't possibly run with that many rounds in it." You'd be wrong, as mine ran like a champ, although every pistol is different so I would imagine not all G48s will run as reliably as mine with a similar loadout. Would I carry it this way? No, because it isn't designed for that, but I feel it is important to note, as it stresses the importance of paying attention to the condition of your gear. Not only should you be inspecting each and every round of duty ammo you put in your gun, you should also be counting the number of rounds you put in your gun as well.
Squaring off at the 25-yard line I squeezed off the first of many 9mm rounds. The first thing I noticed was how familiar the G48 felt compared to my everyday carry G19. Even though the frame is noticeably slimmer my hand placement and felt recoil were nearly identical. This is something not present with the G43 and its much smaller frame. After 10 careful rounds from the 25, I switched to my G19 and did the same thing for comparison. The result? Nearly identical groups of about 8 inches, perfectly acceptable center-mass hits. I moved up to the 5-yard line and went through two full magazines of slow and methodical shots on a small bullseye. The result here was one ragged hole. In my book this is the kind of accuracy I would expect out of a fine combat pistol.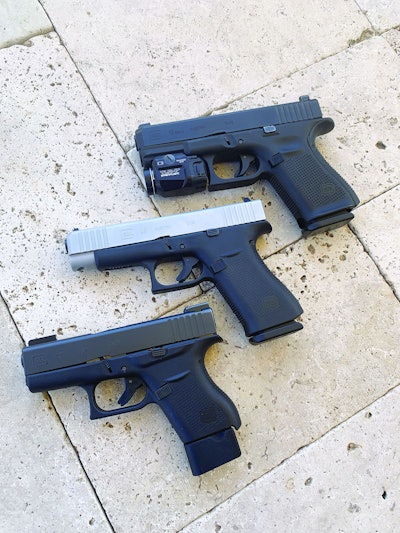 I put another 100 rounds or so of frangible ammo through the G48 hoping for a hiccup and trying to expose any of its quirks and weaknesses but none were found. Satisfied with indoor performance I transitioned to the outdoors and mixed up the ammo a bit to see if there was anything the G48 wouldn't chew up.
Our current duty ammo is the Speer Gold Dot 124-grain jacketed hollow point 9mm Luger +P round. As an agency we've run thousands of rounds through our arsenal of Glocks with great success. The G48 proved no different. Next up was the equally popular Hornady Critical Duty Flex-Lock +P rounds in 124-grain and 135-grain. Both were winners. Add a couple hundred rounds of our Speer Lawman 147-grain FMJ practice ammo and the G48 just refused to let me down. With well over 500 rounds of varied ammunition through the gun at a fast and furious tempo, the G48 certainly lived up to the Glock standard.
Chambered in the tried and true 9mm Luger (or 9x19) cartridge, the G48 will fit in comfortably with the majority of law enforcement agencies as a concealed or secondary pistol. The move back to 9mm from .40 cal and .45 cal is becoming increasingly popular as of late and Glock knows this, hence the reason we're not seeing those options in many of their latest pistols. Although I realize many agencies allow officers to carry more than one caliber, I am a huge fan of consistency with duty weapons and have always carried one and only one cartridge.
My test example won't be returning to Glock. It has found a new home as my concealed weapon of choice, replacing the trusty G43 that served me with distinction since it made its debut a few years ago.
If you're looking for that perfect balance of size, capacity, caliber, and ease of concealment without sacrificing the combat-proven abilities of a Glock, then look no further. Available now through the Glock Blue Label program you can snag your very own G48 for well under $400 out the door and I'm confident you'll be glad you did.
A.J. George is a sergeant with the Scottsdale (AZ) Police Department who is assigned to the Technical Operations Unit, Special Investigations Section. He has more than a decade of law enforcement experience in patrol, field training, and traffic enforcement.