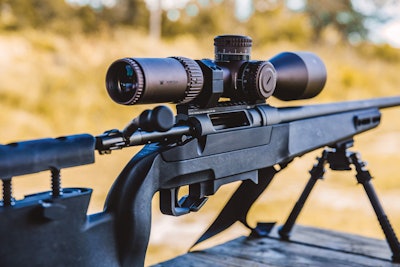 My first experience with Daniel Defense came several years ago while at a media event in Brunswick, GA. I was there to cover the products of an optics company, but they made the smart decision to pair their new glass with a host of Daniel Defense AR-15 rifles. Quite frankly I can't tell you which one impressed me more. The Daniel Defense guns were some of the highest quality ARs I had shot in a long time and I made a point to keep tabs on the company from that day forward. Over the years I have owned, reviewed, and shot just about everything they make and have yet to be disappointed.
In a clear departure from the company's heritage, Daniel Defense recently introduced a bolt-action rifle—the Delta 5—to its extensive line of gas guns. The market has shifted to semi-automatic rifles for most mid-range accuracy work, but when it comes to precision, there is really no replacement for a bolt-action rifle.
Innovative Design
Available in both .308 Winchester and 6.5 Creedmoor, the Delta 5 is a very lightweight five-round bolt-action rifle with a carbon fiber reinforced stock, a mechanically bedded action, and a cold hammer forged barrel.
The Delta 5's stock alone is worth the price of admission. It is incredibly light, especially considering how complex it is, yet it is very rigid and supports the action nicely. The rear is adjustable for height and length of pull with extra spacers included. The cheek weld offers incredible range and will surely fit almost any shooter.
For attachment points, the Delta 5 features the popular M-LOK system with 14 points of attachment on the forend and one at the bottom of the butt stock. Additionally, there are three M-LOK quick detach sling points for both right and left-handed shooters. With the wide range of accessories and adapters for the M-LOK system, the options for customization are nearly endless. I limited mine to a sling and a Harris bipod.
The firing grip contour of the Delta 5 is reminiscent of the legendary McMillan A3 but with a much more modern, edgy design. It creates a grip that is nearly upright, keeping your wrist in a natural position and allowing your firing hand to relax. The reach from the grip to the trigger is average and should fit most shooters just fine. The two-position safety and ambidextrous magazine release are also in the ideal positions and I had no trouble manipulating either without adjusting my master grip.
Daniel Defense matched the Delta 5 with a single stage Timney Elite Hunter trigger that is adjustable from 1.5 to 4 pounds. This trigger is a fine upgrade not often seen on an out-of-the-box rifle, and it was impressive to say the least. I didn't feel the need to adjust it and best I could tell it was about a 2-pound pull with zero creep and an extremely crisp break. Every subsequent pull was identical so there were no surprises.
The action of the Delta 5 is Daniel Defense's design completely and not a Remington 700 copy commonly seen in many custom bolt-action rifles. The biggest difference I noticed immediately was the relief contour on the left side that no doubt shaves weight, yet the front and back of the action were kept robust to support the bolt and barrel. The 3-lug bolt features a 60-degree throw and floating bolt head. Because of the large bolt knob, manipulating the bolt was easy and very smooth with very little play between it and the receiver. Pairing a little grease with the tight tolerances made for effortless cycling of the action but it locked into battery firmly. Locking and unlocking the bolt gives a very positive click, so there was never a question about the condition of the gun, even without looking. Topping off the receiver is an integrated picatinny rail providing 20 MOA of elevation, ideal for mounting most optics.
Daniel Defense spent a ton of R&D time on the Delta 5, and it shows in the barrel. The 20-inch stainless steel barrel of the Delta 5 isn't machined like most precision guns; it is cold hammer forged like those found in most combat weapons, including the Daniel Defense line of ARs. It is contoured nicely to save weight, yet the chamber end is very robust to increase rigidity. The rest is free-floating along the stock. The Delta 5's barrel is reportedly 95% as accurate as a heavy bull barrel yet 64% lighter.
Where most precision bolt-action rifle barrels require extensive gunsmithing to mate to the receiver, the Delta 5 is designed to be user interchangeable with a large exposed barrel nut. Similar to an AR-15 but without the gas system, barrels can be swapped in minutes virtually anywhere with a basic barrel nut wrench. This makes going from the 20-inch .308 barrel with a 1:10 twist to the 24-inch 6.5 Creedmoor barrel with a 1:8 twist effortless. The tolerances are set from the factory and there is no headspacing concern.
Daniel Defense Delta 5 Bolt-Action Rifle Specs:
Caliber: .308 Winchester
Magazine: Magpul PMAG
Magazine Capacity: Five Rounds
Overall Length: 40 inches
Barrel Length: 20 inches
Barrel: User-interchangeable, stainless steel cold hammer forged to contour
Action: Mechanically bedded stainless steel action with integral recoil lug
Bolt: Three-lug bolt with a 60-degree throw and floating bolt head
Trigger: Adjustable single stage Timney Elite Hunter with two position safety (1.5 to 4 pounds)
Attachment: 14 total M-LOK points along forend with one point on bottom of buttstock
Picatinny Scope Base: 20 MOA/ 5.8 MRAD of elevation with four #10-32 bolts
Price: $2,199
Testing Method
My .308 caliber Delta 5 arrived new in the wrapper, and I wasted no time prepping it for the range day ahead. Tapping into my agency's cache of sniper gear, I topped the Delta 5 with a Leupold MK4 3-10x scope and a SilencerCo direct-attach suppressor. The Delta 5 comes standard with a threaded barrel so I wasn't going to pass up the opportunity to see how it ran with a can. When not running suppressed, the Delta 5 comes with a recessed cap that protects the crown and threads.
If you've read any of my previous weapons reviews in POLICE, then you know my general approach is to run them hard and fast with the ultimate goal of simulating real-life combat conditions. In law enforcement guns are tools, not toys. We need them to function as intended every time no matter what kind of use and abuse they're exposed to.
That said, guns like the Delta 5 are not just tools but also precision instruments and really can't be flogged like some of their more combat-oriented brethren. So my approach here was a little different.
Similar to the way we test and evaluate any new precision weapon system, the testing approach for a bolt-action rifle has to be methodical and somewhat scientific. For example, we shoot one type of round and one type of round only. Why? Because if you change the round, you change the performance and all of the dope you've collected is now worthless. Not only are we exclusive about our ammo but we limit it to the same lot from the distributor. Different runs of ammo will often perform a little differently so every time we get a new batch of bullets we hit the range all over again to verify and adjust our data. Sometimes we see no change, sometimes it is significant. When you're talking a game of inches this stuff matters.
For this test, we used 168-grain Hornady TAP .308 ammo. As a team we've been using it for years with outstanding results.
In Expert Hands
Keeping with my non-traditional approach to weapons testing, I decided to solicit a little help on this one from one of my agency's veteran SWAT snipers. I've done my share of precision shooting over the years but there is no substitute for current experience. "Detective G" as we'll call him is a veteran officer, Army pilot, detective, firearms instructor, and sniper with hundreds of hours behind an optic. His initial impressions were every bit as positive as mine, and I was confident he would squeeze every drop of potential out of the Delta 5.
Zeroing from a prone position was easy, and it took only a few rounds to get it dialed in. From there Detective G worked on five-shot groups, being careful to compare the "cold bore" shots to the others. Surprisingly there was very little variation between the two. This is indicative of a barrel design that efficiently manages and dissipates heat.
The best groups were well under 1 MOA with the average being consistently 1 MOA at 100 yards. In real-world terms this means we were putting up to 8 rounds through one ragged hole. Moving to various positional shooting the Delta 5 was even more of a rock star. The incredibly light construction and short barrel made for a very handy rifle. Detective G spent several more days on the range with the Delta 5, and I received nothing but glowing remarks.
The Verdict
With a suggested retail price of $2,200, the Delta 5 packs a ton of quality, innovation, and high-end features into a very light, refined, and well-performing package.
In all my years in the gun world I have only come across a couple guns that even come close to this kind of value. If you're a hunter, a tactician, or just a weekend shooter obsessed with performance, I would strongly encourage you to make room in your safe for the Delta 5.
A.J. George is a sergeant with the Scottsdale (AZ) Police Department who is assigned to the Technical Operations Unit, Special Investigations Section. He has more than a decade of law enforcement experience in patrol, field training, and traffic enforcement.