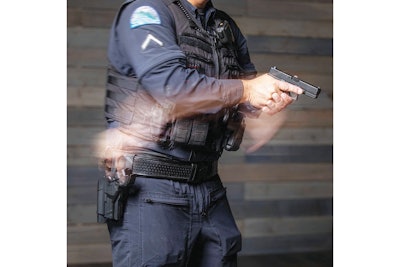 When Alien Gear Holsters—a company best known for its Modular Holster System—decided to make a duty holster its product developers decided to consult some experts.
Specifically, the company consulted with working law enforcement officers. "We did a lot of surveys and focus groups where we invited groups of different officers to talk about what they like about the holsters they've used in the past and what they would like to see changed," says Drew Stephens, Alien Gear's director of research and development. Stephens says the development process for Alien Gear's new Rapid Force duty holster involved 18 months of research, prototyping, and fine-tuning based on customer requirements.
The Rapid Force is a Level 2 or 3 retention holster made of a proprietary injection molded plastic. It's available in matte finish or basket weave to meet the uniform needs of different agencies. There are two models: one for handguns fitted with lights and one for handguns without lights. Versions will be available for a number of popular duty pistols.
Stephens says the officers consulted by Alien Gear during its focus groups wanted a Level 3 retention holster that facilitated a quick draw with a natural grip for better accuracy.
The Rapid Force holster features a back strap that covers the handgun for retention. It is released when the wearer pushes a button. A second retention system grabs the pistol by the ejection port and is deactivated as the wearer moves to grip the pistol and draw.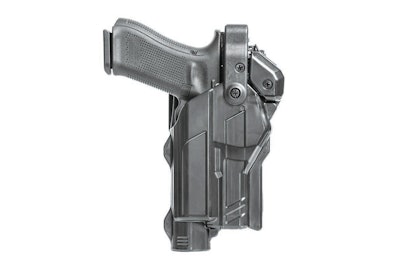 Stephens says the draw process from the Rapid Force is based on gross motor skills that are easier to perform under stress. "Your fine motor skills go out the window when you're in a stressful situation," he says. "You've got to be able to deactivate the devices and get the gun out pretty fast. So gross motor response was our big focus. This holster has two different retention devices to deactivate, and it's all done in one motion where your thumb drives a button down to open up the back strap and you then swipe your thumb down into your standard grip, which opens up the locking mechanism on the holster, releasing the gun." Officers who have tested the holster have achieved remarkable improvements in speed of draw and accuracy of shots fired from the draw, Stephens adds.
In addition to faster draw times, the officer focus groups wanted better mechanical defense against gun grabs. "We've subjected it to over 400 pounds of force in a static pull test," Stephens says.
The Rapid Force was subjected to a variety of tests in addition to the static pull. It was subjected to jerks and pulls of over 300 pounds of force in six directions. The holsters are also tested for impact, crush, and pull forces under many environmental conditions such as freezing, heating, and sand binding in the mechanisms. Stephens says it survived all of these tortures.
The retention controls on the Rapid Force can be adjusted to fit the size of the user's hand. Stephens says the holster comes with three sizes of buttons for releasing the back strap and the user can choose the one that works best for them. The holster also fits pistols with red dot sights and has an optional protective RDS cover.
Alien Gear says the Rapid Force duty holster is available now, as are test-and-evaluation holsters for interested law enforcement agencies.