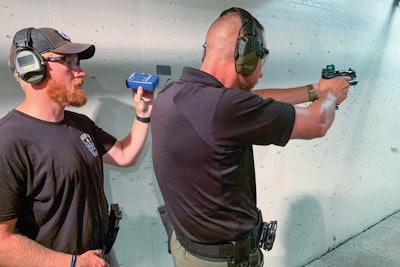 An optic on a handgun can provide many benefits for a police officer involved in a shooting. It can help that officer acquire the target faster, fire more accurately, and make quicker and better follow-up shots. So in the last year or so, more and more law enforcement agencies have been allowing officers to carry duty pistols equipped with handgun optics, commonly known as red dot sights (RDS).
But before an agency can permit or require an officer to carry an RDS on his or her duty pistol, it needs to establish a policy. That policy should cover training requirements, what equipment is permitted, and how the officer will qualify with the duty pistol and optic. To learn about the specific content of some duty handgun optics policies, POLICE spoke with experts on the subject and with trainers from a major agency that is teaching all incoming recruits to shoot with optics on their duty pistols and requiring that these new officers carry optics-equipped pistols on the job.
Training
Learning how to shoot accurately with a red dot on a pistol requires instruction and practice. It's an art that can be particularly difficult for experienced shooters to master. "When I was transitioning to red dots, it took me a long time to stop looking at the front of the gun. I had to make myself focus on the target," says Sgt. Bill Campbell, a firearms instructor with the Gilbert (AZ) Police Department.
---
Related: Starting a Duty Pistol Red Dot Optic Program
---
Campbell, who is an NRA expert on the duty use of handgun optics, says the Gilbert PD requires 20 hours of training divided into two sessions for its officers to use optics on their duty pistols. Other agencies commonly require 10 hours or 16 hours of training with handgun optics before authorizing their use on duty.
Recruits and Red Dots
The Houston Police Department is one of the few that is now training all incoming officers to shoot their duty pistols with red dots. The agency's policy specifies the pistol, the holster, and the red dot. And the trainers have taken the somewhat unusual step of training cadets to shoot with the optics before teaching them with the iron sights.
"When you teach dot you're teaching target focus. And if you try to teach sights first, you're teaching front sight focus. Trying to go back the other way and teach target focus after teaching front sight focus actually makes it more difficult," Houston PD firearms trainer Sgt. Robert Sandoval says.
Equipment
Your policy needs to specify what handguns, what optics, and what holsters will be used by officers authorized to use pistol optics.
Handgun makers are producing optics-ready versions of many of their duty pistol models. So your agency may be able to give officers a list of approved weapons. Some agencies, however, prefer to specify a single make and model of pistol for all of their officers.
Holsters were until very recently one of the holdups for officers who wanted to carry optics on their pistols. But as with optics-ready duty pistols, the number of suitable duty holsters that can accommodate pistols fitted with optics is increasing fast. Such duty gear in Level III and Level II retention was a common sight at this year's SHOT Show.
The final piece of equipment that your policy needs to address is the optic itself. There are numerous models to choose from. What's most important is that you want an optic that can endure the rigors of law enforcement use. It's going to get banged around and beaten up, so it needs to be rugged. It also has to be capable of doing everything that the officer's iron sights currently can do on that gun. A critical concern is one-handed firearm operation, says police trainer Jim Dexter, who serves with the Lisle (IL) Police Department. Agencies that issue handgun red dots often require them to be tough enough and mounted well enough that officers can use the optic and a hard edge to rack the slide of their pistols with one hand.
There are also features of the optic that you probably want to specify in the policy. Some RDS automatically adjust the brightness of their dots. The experts contacted by POLICE say it is not a good idea to use optics with the auto adjust feature for law enforcement operations. It's better to let the officer manually adjust the brightness, according to Campbell. "The problem with auto adjustment is the optic is reading the light around it" and not the light around the target, he explains.
Qualification
One issue that comes up very quickly in any discussion of police handgun policies for new equipment is qualification protocol. For handgun optics, the issue is whether to have officers qualify with the optics or their iron sights or both.
"What I tell departments is they should copy their rifle policy, regarding qualification," says Dexter. "If you allow officers to qualify with red dots on their rifles, you should do the same for pistols because the red dot is that officer's primary sighting system."
Writing the Policy
Gilbert PD's Campbell says it's best not to write an overly complicated policy on handgun optics. He characterizes the policy he wrote for his agency as two paragraphs that have been added to the overall firearms policy.
"What it says basically is the optics we authorize. The size in minutes of angle (MOA) of the dot for the optic. The training requirement you have to meet to carry it. The holster that you can use. And it says the officer must meet all the state's same qualification standards," Campbell says.
David Griffith is editor of POLICE/PoliceMag.com.