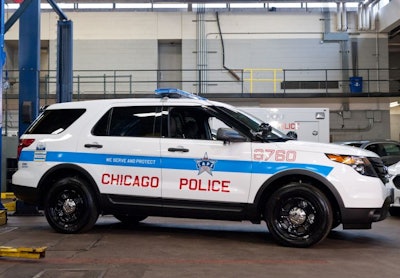 The Chicago Police Department has taken delivery of 51 new Ford Police Interceptor Utility and sedan vehicles from its initial order of 500 patrol vehicles built within city limits.
The department committed $15 million to the new patrol vehicles in February, after using an online reverse auction.
The full order of vehicles, which will be build at a Ford assembly plant on Chicago's South Side, are expected to be delivered within five years, according to a release from Mayor Rahm Emanuel.
The new vehicles feature all-wheel drive and a stability control system that provides officers with a safer driving experience. In addition, the interior is designed to accommodate officers and their equipment, and the engine provides a better estimated fuel economy, according to the release.
"Whether they are responding to calls or driving their beats, our officers will know their vehicles will safely meet the demands of police work," said Superintendent Gary McCarthy.
The 51 vehicles are a mix of marked and unmarked utility vehicles and sedans. More vehicles will be arriving each day, until the first order of 95 is complete.
The department expects to receive a second delivery of 90 vehicles in March. A Bensenville Ford dealer is providing the vehicles to the city.
Related:
Using a Reverse Auction To Buy Patrol Vehicles