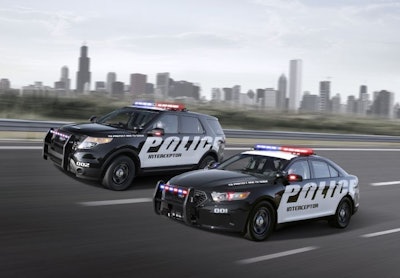 Chicago police officers will be driving Ford's 2013 Police Interceptor as their new patrol vehicle, city officials announced Friday.
Chicago will purchase 100 P.I. sedans and SUVs initially and add as many as 500 in the future through the city's Department of Fleet and Facilities Management, Mayor Rahm Emanuel announced.
The city will spend $3.5 million on the initial purchase, which resulted from an open, online reverse auction, according to a release.
Chicago is the largest police agency to adapt Ford's new patrol car to begin replacing its fleet of mostly Crown Victoria Police Interceptors. The city plans to buy 100 vehicles a year for five years at a cost of $3.5 million per year.
The vehicles, which will be purchased through the Roesch Ford dealership in Bensenville, will be on the streets by the end of the year.
One of the benefits of the purchase is that it contributes to the local economy, because the vehicles will be assembled at the Torrence Avenue Ford plant in Chicago, Emanuel said.
Ford announced that nearly 2,000 new jobs and a third shift were being created at the plant. Of those, 230 jobs were created to support the production of the new interceptors. Additional manufacturing and support jobs are expected to be created at the plant over time, according to the release.
Related: