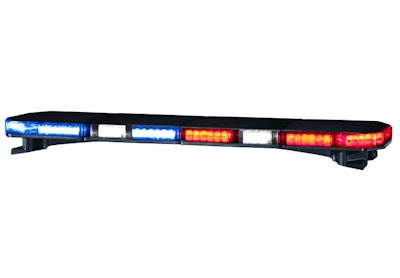 Code 3 has introduced the Defender TC2, an upgraded version of the Defender that offers enhancements to its dual color capability.
The lightbar offers several different dual-color TC6 lightheads that can flash two full distinctly different color signals—red/blue, red/white, blue/white, red/amber, blue/amber, and amber/white.
The dual-color lighthead can also operate in single-color mode to be compliant with any state or local color requirements.
Officers can flash a dual color red/blue lighthead and then switch to a takedown function that mixes the two colors to produce a powerful white takedown/scene light, or if in a corner position an additional alley/side light.
The lightbar also enables operation of a red/white or blue/white lighthead in a single red or blue flashing mode, a multi-color mode that flashes both colors, or a takedown function that steady burns the white signal to create additional takedown/scene lighting. This can also be done in the corner position of the Defender to create additional alley/side lighting.
When TC2 red/amber or blue/amber lightheads are used in the rear of the Defender, they can instantly change to a full size amber NarrowStik for traffic direction.