As a response to the growing domestic terror and violence seen over recent years, Plasan is launching a new variant of the SandCat Stormer for police and counter-terrorism units.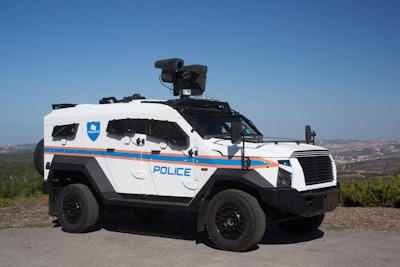 It is fitted with Plasan's all-new SCAT (Safe Crowd Attenuating Technology) system to control crowds using non-lethal means, preventing civilian casualties. SCAT is a roof-mounted remote system with night and day cameras, light and sound dazzler, and smoke launchers.
The SandCat offers optimization between protection, payload, and cost, to defeat threats once only encountered in warzones, but now seen in attacks on city streets. It is the lightest tactical armored vehicle providing such a high protection level, according to the company. It is designed to serve in various mission profiles requiring a highly maneuverable and protected vehicle, such as urban law enforcement or site security.
Low cost of ownership is achieved by using a commercial Ford F550 Super Duty chassis with a powerful engine and four-wheel-drive, and staying safely within the Ford certified GVW.
The armored cabin is made to comfortably accommodate up to 10 passengers with great attention to the design and ergonomics to allow the team to fulfill their missions safely.
The Plasan SandCat Stormer is made to be the ultimate armored SUV.
For more information, visit https://www.plasan.com.