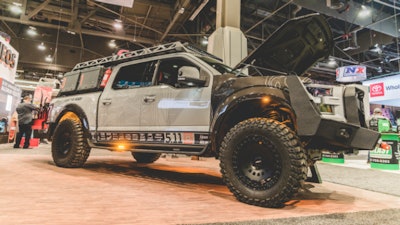 5.11 has partnered with Ernie Manansala, Doug Nagy, and the Kolab Agency team to complete a custom build-out of a Ford F-150 Raptor truck. The world's first 2017 Ford Raptor complete with a custom one-off design is being built in partnership with Doug Nagy of Streetwise Motorsports, Alec Ossenmacher in the new e-commerce venture overland911.com and rendered by Chong, Paolo, and Ernie's new design firm, Phrenetic, says 5.11 Tactical. The build of the, appropriately named, F-511 is an extension of the 5.11 Always Be Ready brand campaign. The vehicle debuted at the 2017 SEMA Show in Las Vegas, NV last week.
5.11 makes purpose-built gear for tactical professionals and outdoor enthusiasts to help them prepare for any mission. The 5.11 and Kolab agency teams worked together to create the ultimate cobranded display of readiness in one of the fastest and strongest 4x4 trucks on the planet in the Ford F-511, according to the company.
Integrating this readiness mentality into the build of the F-511 truck was a major priority for the 5.11 and Kolab teams. By including numerous interior modifications to the F-511 including MOLLE on the seatbacks holding various 5.11 pouches and attachments, 5.11 packs, bags, hardcases, and 5.11 breaching tools on the exterior racks, 5.11 and Kolab built a truck to prepare a driver for any mission.
"We wanted to create a vehicle that embodies the same level of readiness that our product does, and Ernie and his team nailed it," said Willem Driessen, Vice President of Global Marketing for 5.11. "Readiness, foremost, is a mentality. You work toward it with your training, then it expands to your gear, and can certainly be extended to your vehicle – be it in the Ready Bag behind your back seat, or the seat fabric itself." Driessen continued, "It took some serious teamwork to complete this truck, and it has really been an honor working on the F-511 with Ernie, Doug and the entire Kolab Agency crew."
"This year, we wanted to devote a build for SEMA to the servicemen and women of America," said Kolab Agency owner, Ernie Manansala. "I grew up in a town where I grew up knowing all the firemen, police officers, and armed service members." Manansala continued, "To provide them with the most authentic vehicle possible, and one that could meet the demanding needs of those in public service, I knew early on that 5.11 was our ideal partner. With their heritage rooted in producing gear for servicemen and women, they understand the importance of innovation and preparedness – two of the aspects that really drove the design of the F-511." Manansala concludes, "It has been an amazing experience working alongside the 5.11 team on this project."
For more information on the Ford F-511, visit the Tactical360 Blog. To learn more about 5.11's Always Be Ready campaign, visit https://www.511tactical.com/AlwaysBeReady.