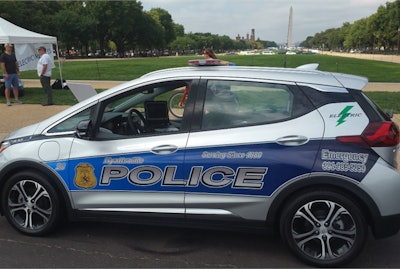 The Hyattsville (MD) Police Department is using a Chevrolet Bolt for law enforcement patrol duty.
Sgt. Richard Hartnett, technical services manager for the Hyattsville PD, wrote a note to General Motors Chairman and CEO Mary Barra extolling the virtues of the five-door electric Chevy as a police vehicle. "Yes, we know the Bolt was not built as a 'police package' car, but we are experimenting with it in everyday police work. Despite its small size, so far it has been a winner We are proudly displaying it everywhere we go, and it has been getting lots of attention in magazine articles and the local press. Who knows, maybe our experimentation will one day show that there is a place in the future for all-electric emergency vehicles."
Hartnett told Government Fleet Magazine that to reduce the initial cost of the electric vehicle, the agency found a reimbursement grant offered by the Maryland Energy Administration that requires agencies to "trade in" one gasoline vehicle to receive funding for an equivalent battery-electric vehicle. The Police Department traded in two vehicles and received enough money to cover 80% of the price of a Chevrolet Bolt and two Level 2 charging stations. Through its Electric Vehicles Project, the city also plans to install six more charging stations at public parking lots around the city.
The Bolt has not been involved in a pursuit yet, but the electric vehicle can accelerate to 60 mph in 6.5 seconds with a top speed of 93 mph. And Hartnett believes backup will be the deciding factor in a chase involving the Bolt.
"We are located in a very urban area, with what seems like a police car on every corner, so chases are becoming few and far between for us," Hartnett said. "Even when they do happen, it's hard for the violator to 'outrun the radio,' so most times the actual length of a chase is very short."
Hartnett is such a believer in the Bolt that he uses one as his personal vehicle.