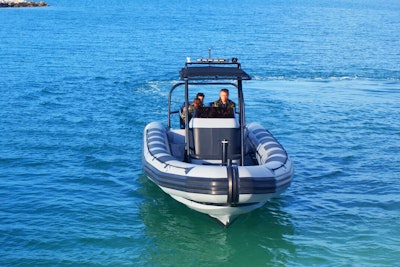 The Armored Group LLC (TAG) announced it has entered the maritime vessel market and is now manufacturing armored boats to provide the highest level of protection and versatility for the military, Homeland Security, Navy, Coast Guard, and maritime law enforcement, as well as those that need ultra-fast, multi-role utility and patrol vessels. With the addition of TAG's armored marine vehicles, the company believes it is well-positioned to become one of the premier international armored vehicle and vessel manufacturers.
The first of several new TAG marine vessels is the I 9.5 N (Navy) Rigid Inflatable boat. TAG says this inshore vessel is a smaller, versatile, agile, and easily transportable by fixed or rotary-wing airlift.
The TAG I 9.5 N is manufactured to meet the mission-specific requirements of the end user. These boats are built using some of the most complex specs for individual mission requirements. They are designed for shore-based and ship-board operations. They can be manufactured in various sizes and above-deck configurations and can be fitted with the latest shock-mitigation seating and C4ISTAR technologies as well as various weapons systems and ballistic protection.
Base specs on the TAG I 9.5 N:
• Constructed using Military GRP Structure or Aluminum Collar; Hypalon 1670 dtex, air or foam
• Dimensions:
o Length 9.5m
o Beam 3.17m
o Weight 145kg
o Draft 690mm
o Displacement 2,900kg
o Max Payload 1450kg
o Maximum of 20 crew
• Can run on diesel fuel or petrol; has a tank size of 205 gallons (780 liters)
• 700 horsepower
• Travels up to 70knts (dependent on configuration)
• Outboard/Inboard propulsion
These vessels come with a wide array of basic equipment but are easily customized to meet the specific needs of the end user.
"The Armored Group team is happy to expand into the global maritime vessel industry. This was a natural expansion for TAG as our goal is to provide innovative products that keep peacekeepers safe while protecting their homeland while on the ground and in the water," said Robert Pazderka, President and founder of The Armored Group. "TAG is in an aggressive growth mode. In the last year we have made new alliances across the globe and continue to develop and manufacture new innovative products designed to protect military, SWAT teams, and first responders. The new TAG I 9.5 N is just the first in a long line of new products we plan to launch in the upcoming months."
For more information, visit these company websites: https://www.armoredcars.com and http://www.swat-vehicles.com.