There is no one-size-fits-all vehicle solution for law enforcement. Some officers work in urban centers while others cover rural areas. Some agencies rely on SUVs, motorcycles, and helicopters, and others favor ATVs, boats, and fixed-wing aircraft to meet their requirements. No matter your jurisdiction, you'll encounter different types of terrain that will no doubt require multiple types of transportation. Not to mention tactical transport and mobile command centers customizable for everything from hostage negotiation to DUI checkpoints.
Here is a look at the wide range of vehicles available to meet the needs of today's law enforcement officers.
PATROL VEHICLES
Not long ago the subhead for this section of this article would be "patrol cars." But with each passing year, the prevalence of the SUV in the pursuit-rated police vehicle market has required the use of a more generic term. Sedans are still important in law enforcement patrol operations, but they are becoming a smaller segment of the market, even in urban areas.
The reasons why so many law enforcement agencies are favoring the SUV as a patrol vehicle are easily understood; they need bigger vehicles for all the equipment patrol officers now have mounted in their rolling offices, and the performance of SUVs now rivals that of sedans.
The law enforcement patrol sedan is not going away anytime soon. But some vehicle companies are now focusing most of their efforts in the law enforcement market on sedans. Which brings us to a discussion of Chevrolet.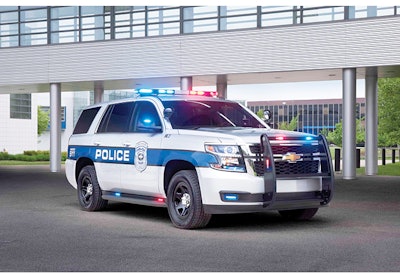 Chevrolet— Two years ago Chevy had two police sedans, the Impala and the Caprice PPV. Now the company has discontinued the patrol version of the Impala and General Motors has announced that 2017 will be the last model year for the Caprice PPV. It's not known if GM is planning a replacement for the Caprice PPV, but what is clear is that the company is betting its Tahoe PPV SUV will continue to grow in popularity.
If your agency wants a Caprice PPV, they are still being made for 2017. The Caprice PPV is available in two versions, a 3.6-liter V-6 and a 6.0-liter V-8. Both have a six-speed automatic transmission, heavy-duty, four-wheel disc brakes with a police-calibrated antilock system, and fuel-efficient power steering. New features for 2017 include a full-size spare tire, vinyl rear seats, a limited slip differential on the V-6 model, and the Chevrolet MyLink infotainment system.
With no known police sedans in its pipeline, Chevrolet is betting the Tahoe PPV SUV can maintain and even grow its law enforcement market share. The Tahoe PPV is available in a standard and a four-wheel-drive model. Both are powered by 5.3-liter V-8 engines and boast pursuit-rated suspension. One of the selling points of the Tahoe is its fully integrated electrical system that facilitates the installation of police equipment such as light bars and radios. Standard features include a 4.2-inch infotainment display, rear-vision camera, backup sensors, and an auxiliary battery.
http://www.gmfleet.com/overview/police.html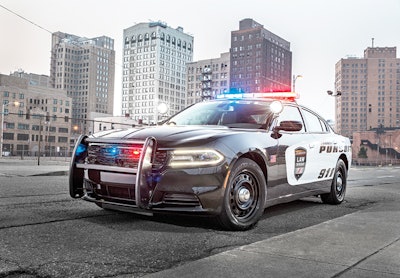 Dodge—For 2017 the Charger Pursuit sedan is available in three versions: a V-6, a V-8, and a V-8 with all-wheel-drive. The newest feature from Chrysler is the company's innovative Uconnect 12.1-inch, dash-mounted display screen. Uconnect allows agencies to mount their computers in the trunks of their vehicles instead of the cockpit, freeing up valuable real estate and eliminating the possibility of officers being injured by computers during an accident. Standard features include performance-tuned suspension, load-leveling shocks, pursuit-rated brakes, performance tires, stability control, and steering wheel buttons that can be used to activate police equipment. Agencies can also add optional ballistic door panels that provide Level IIIA protection. https://www.fleet.chrysler.com/FleetHome/Page/Specialty.aspx?SpecialtyID=lawenforcement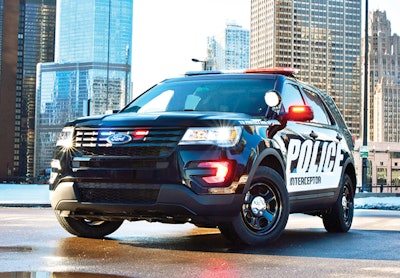 Ford—For some time now, Ford has been a dominant player in the law enforcement market. Its Ford Police Interceptor Utility is the most popular patrol vehicle in America.
For 2017 the Ford PI Utility is available in two versions, a 3.7-liter all-wheel-drive (AWD) V-6 and a 3.5-liter Ecoboost AWD. Options for the 2017 models include Level III and even Level IV rifle armor in the door panels. Other options new for 2017 include: engine idle that allows officers to remove the keys from the ignition at stops, front and back low-profile lighting, and door panel switches that can lock and unlock all doors and the rear lift gate.
Ford also continues improving the Police Interceptor Sedan. Buyers can choose from three different versions: a 3.5-liter V-6 with front-wheel drive, a 3.7-liter AWD V-6, and a 3.5-liter Ecoboost AWD. All Ford PI Sedans are also now available with Level III or Level IV rifle protection for the doors. Other options new for 2017 include: silent mode, which turns off all lighting; and engine idle, which allows officers to remove the key from the ignition and keep the engine running at stops.
http://www.fleet.ford.com/showroom/police-vehicles/

ALTERNATIVE VEHICLES
Sometimes you need a vehicle that isn't a standard patrol vehicle or a motorcycle. You might need to go off road or move through a crowd during a special event. These vehicles are designed to meet those needs.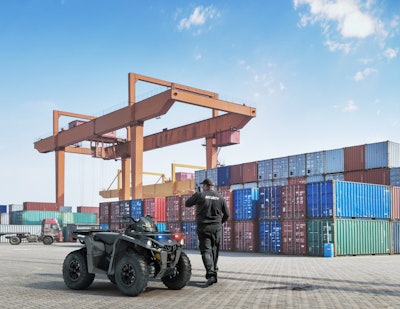 BRP— BRP manufactures three Can-Am off-road vehicle models for law enforcement. The Can-Am Outlander L DPS and Outlander Max XT all-terrain vehicles and Commander XT side-by-side vehicles are adapted to fulfill the needs of police and sheriff departments as well as border patrol. All units are powered by BRP's Rotax engines. These law enforcement units come with black painted plastic panels with matte finish, red and blue emergency lighting, 25 selectable flash patterns, and an audible warning device. Accessories are activated with controls integrated into the handlebars for ease of use.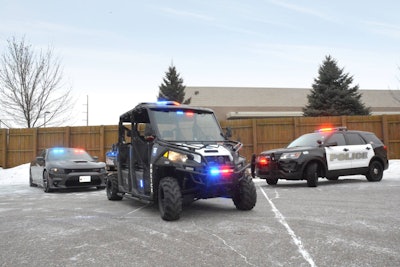 Polaris—Polaris' Ranger off-road utility vehicle is engineered to transport people and equipment in hard-to-reach areas where patrol cars can't operate. It can help officers navigate beaches, frozen water, and off-road trails for everything from parks and trails patrol to tactical missions to search and rescue. Its small size and open layout also make it an ideal vehicle for community events like marathons and parades, crowd control, and event security. The Polaris Ranger Crew XP 1000 EPS customization options include lighting, cabs, cargo systems, heat, tracks, and winches. Police departments can purchase the Ranger through Polaris Government & Defense, or via established contracts with GSA or NJPA.
Xtreme Green— Xtreme Green all-electric vehicles for law enforcement include the Sentinel PMV (Personal Mobility Vehicle), Transport Pro UTVs, and ATVs. They are all designed to last all day and can be customized for each department's needs, including custom colors and lighting and siren and PA systems. The Transport Pro Police UTV (Utility Terrain Vehicle) side-by-side can travel at speeds up to 40 miles per hour and offers a range of approximately 80 miles on a single charge. The larger Transport Pro Extended UTV has an extended wheelbase that provides room for two seats up front, three in the middle, and a bed area in back. It can be highly customized, including adding an enclosure to the back seat for transporting prisoners or containing K-9s.
https://xgev.com/industry-law-enforcement/
TRUCKS, BUSES, AND COMMAND VEHICLES
Specialized missions require specialized vehicles. And sometimes those vehicles need to be very large. To satisfy these needs, companies create customized solutions featuring heavy-duty construction, advanced technology, and even department colors and graphics to meet agency specifications.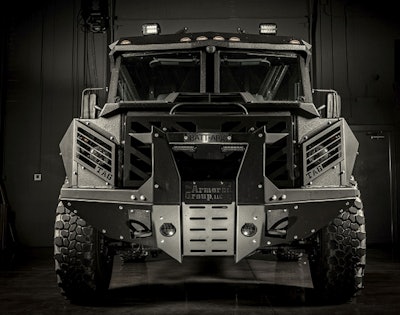 The Armored Group—The Armored Group provides a selection of SWAT trucks, BATT patrol vehicles, and SWAT vans engineered and designed to agency specifications, as well as prisoner transport vehicles, multi-passenger vans, protected buses, and tactical command centers. The Armored Group has now also introduced the first model in its new line of discreet armored vehicles. The Protector vehicles offer rifle round rated personnel protection, a blast/ricochet rated floor, and a run flat tire system. The line features light-weight ballistic materials and multiple exterior sizes and interior layouts.
Farber—Farber Specialty Vehicles custom builds mobile units to the exact specifications of its customers in a broad range of styles featuring the latest technologies for hazmat vehicles, bomb response units, SWAT vehicles, crime scene vehicles, DUI and blood alcohol testing (BAT) vehicles, and mobile command posts. Customers have the option of providing the operating systems, or Farber Specialty will provide a "turn-key" vehicle, fully operational upon delivery of the vehicle.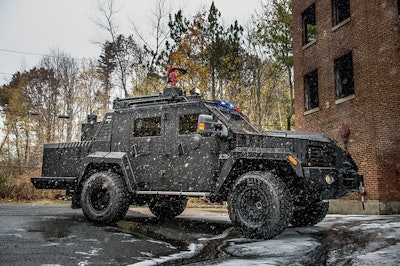 Lenco—Lenco's popular BearCat may be used as a S.W.A.T. or Military Counter Attack and Rescue Vehicle and is often used in hostile urban environments. It also comes in many variations. The new Lenco BearCat X3 "FireCat" is a rapid response armored vehicle with self-contained water deployment capability. The fully protected, onboard water tank and roof-mounted nozzle can address civil disturbance scenarios and small structure or car fires before they turn into large scale property damage. The vehicle can also hook direct to a main water line or pumper truck for continuous water flow. The X3 FireCat comes standard with Lenco's proven .50 caliber armor protection, rotating roof hatch, and tactical breaching tools, including the RAM Bar, Gas Injector, and 4-Way RAM Camera.
Mobile Specialty Vehicles—Mobile Specialty Vehicles creates mobile command centers fully customized to an agency's specifications. These centers generally have at least four workstations, a meeting room, a kitchen/refresh area, and a washroom, in addition to a number of different wireless communication options. Once the centers are up and running, they can be used for a variety of different purposes, depending on the department's needs at that point in time.
http://www.mobilespecialtyvehicles.com/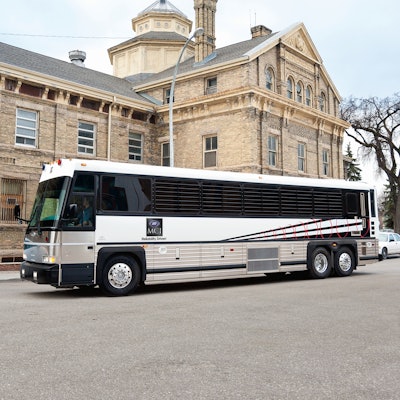 Motor Coach Industries—MCI designs its Inmate Security Transportation Vehicle (ISTV) with seating for up to 69 inmates, and each vehicle is custom-fitted with whatever features a specific agency might need. These may include inmate containment barriers and cells, window bars, a rear officer position, code 3 lights, siren, external public address system, bullet-resistant materials, a mid-coach emergency door, half-inch shatter-resistant windows, a movable barrier system, and an embossed stainless steel interior. http://www.mcicoach.com/public-sector/publicPrison.htm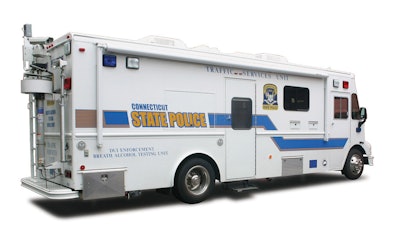 Sirchie—Freightliner-Based Mobile DUI Enforcement vehicles from Sirchie are designed to help officers deploy easily for sobriety checkpoints and/or for mobile processing and booking at large public events. These DUI vehicles are equipped with interview, breath testing, holding, and processing areas with additional safety measures designed in the holding and processing areas. Depending on the scope of your mission, Sirchie can create a multi-purpose vehicle, for Mobile Command/DUI Enforcement in one vehicle. www.sirchie.com
Summit Bodyworks—Summit designs and builds high-quality tactical vehicles for law enforcement, including mobile command centers, SWAT rapid deployment vehicles, EOD/bomb squad vehicles, mobile crime labs, dive rescue vehicles, DWI checkpoint vehicles, and mobile negotiation and dispatch units. From design collaboration to financing, building, and delivery Summit Bodyworks works with the agency throughout the entire process. And later on, the company offers support, service, and parts to keep the vehicle on the road.
www.transwest.com/summit-bodyworks/tactical-law-enforcement
Supreme Corp.—Supreme Corp. has a wide range of customizable vehicles for law enforcement including bomb squad vans, crime scene units, first aid and recovery vans, first responder equipment trucks, mass casualty response vehicles, prisoner transport, search-and-rescue vehicles, SWAT Rapid Deployment vehicles. Supreme Corp. can also outfit vehicles with the TerraHawk manned mobile surveillance tower system, through a partnership with the company.
http://supremecorp.com/law-enforcement
SVI Trucks—SVI Law Enforcement vehicles are designed to meet each department's specific needs and IT requirements. Law Enforcement vehicles can be built in a range of sizes with aluminum walk-around bodies in lengths from 10 to 14 feet; or as a walk-in design with an optional walk-around style on a medium day commercial or custom cab/chassis. SVI can customize a design containing one, two, or three slide-out walls for more interior floor space and create custom interior cab and body layouts for communications, command, and conference areas with an optional bathroom or galley.
AIRCRAFT
Fixed-wing aircraft and helicopters aid in search and rescue, surveillance, and speed enforcement. These airborne vehicles are also used to transport officers and prisoners.
Air Bear Tactical Aircraft LLC—Air Bear Tactical Aircraft LLC builds special police airplanes for state and local law enforcement to meet their airborne surveillance needs. The company provides custom fixed-wing surveillance solutions and mission equipment tailored to an agency's requirements. The company's staff of aviation and law enforcement professionals with decades of experience is dedicated to providing complete, cost effective surveillance solutions.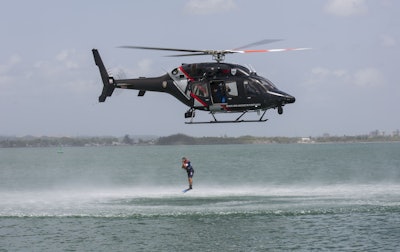 Bell Helicopter—Bell Helicopter's 429 can be configured for helicopter emergency services, search and rescue, and airborne law enforcement. The Bell 429 is distinctive in that it is a light twin-engine helicopter with true two-litter capability, featuring enough cabin space for two medical attendants and two crewmembers. The Bell 429 also features a fully integrated glass cockpit, advanced drive system, WAAS navigation, and IFR capability. The Bell 412EP is also used by law enforcement. It's known for being roomy, flexible, and cost effective. The Bell 412EP can be configured to an airborne command center, air ambulance platform, special operations or homeland security base. It can also be equipped with an optional hoist and cargo hook for search and rescue and mass evacuations.
www.bellhelicopter.com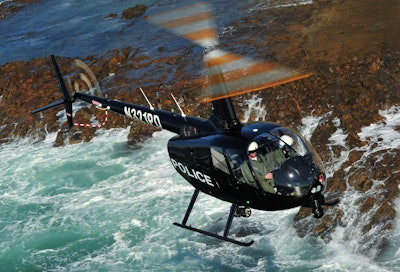 Robinson Helicopter Company—Robinson Helicopter Company produces two helicopters for law enforcement, the R44 Raven II Police Helicopter and the R66 Turbine Police Helicopter. Both arrive with specialized equipment including infrared imaging system, searchlight, monitor, and dual audio controller for police radios, already installed and FAA-approved. While retaining many of the features of the R44 Police Helicopter including a two-bladed rotor system and open cabin configuration, the R66 Turbine Police Helicopter provides additional seating and cargo capacity, increased reserved power, and improved altitude performance. (R66 Turbine Police Helicopter pictured)
Textron Aviation—The Beechcraft G58 Baron ISR from Textron Aviation provides the combination of a state-of-the-art surveillance camera and data link with multi-engine safety and 4- to 6-hour mission persistence. The Beechcraft Baron is certified for flight into known icing and comes standard with a full avionics package for IFR flight including radar.
BOATS
Watercraft can aid law enforcement in patrolling lakes, rivers, and oceans. They are also useful for conducting search-and-rescue missions on water, including flood waters.
Brunswick—Brunswick Commercial & Government Products (BCGP) now sells both aluminum and fiberglass boats for law enforcement. Its new 8.5-meter 850 Aluminum Impact RHIB is the introductory model from a line-up that features five variants ranging in size from 7.5 meters to 12 meters. The aluminum hull is a mill-finish welded structure designed by BCGP, fabricated by a local aluminum contractor, and assembled at the company's Florida headquarters. Notable features include dual 350 HP Mercury Marine Verado outboard engines, a hard-sided urethane-coated polyester fabric collar system by CPI, shock mitigating SHOXS Seats, a Raymarine electronics package, and a Boatmaster heavy duty aluminum trailer.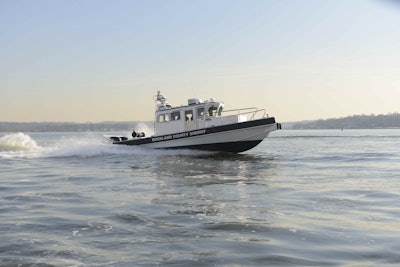 Lake Assault—Lake Assault patrol boats are designed and built for patrol, rescue, and search/recovery operations by an experienced team of naval architects, engineers, and AWS-certified welders. Custom-built on the shores of Lake Superior with a high-performance, V-hull design for optimal speed and maneuverability, each craft is made to deliver proven performance for inland lakes, intercoastal, and offshore environments. Lake Assault patrol boats come in a wide range of models and styles. All are built to be fire resistant and come with durable weapons and evidence lockers to secure objects and substances as needed. Optional advanced technologies include the Mercury Skyhook Digital Anchor system and the Mercury Joystick Piloting system.
www.lakeassault.com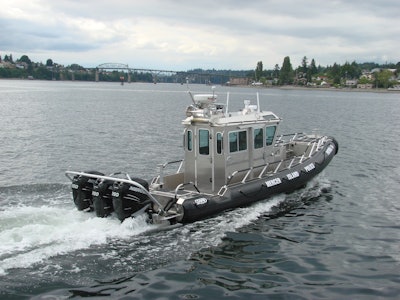 Safe Boats International—Safe Boats International's newest model is the 35 Multi-Mission Interceptor (MMI), designed with a proven hull. The cabin version of this boat is known as the USCG Special Purpose Craft – Law Enforcement (SPC-LE). Other Safe Boats models popular with law enforcement include the Safe Interceptor, Safe Full Cabin, Safe Walk Around Cabin (WAC), and Safe Center Console. Popular features available in these boats include FLIR marine cameras, crew shock mitigating seating (SHOXS), CBRNE detection equipment, side scan sonar, comprehensive navigation suites, high-horsepower engines, and wireless communication equipment. Safe Boats reach speeds reaching 50+ knots, provide extreme cornering ability, and feature a 100% foam collar system for flotation and stabilization.
www.safeboats.com