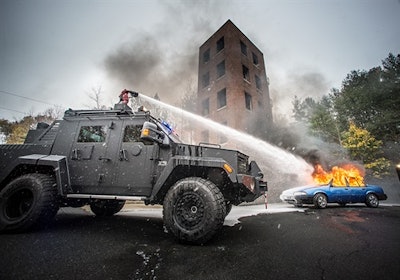 Lenco Industries Inc., known for its design and manufacture of armored police vehicles, will highlight a new armored variant – the BearCat X3 FireCat at the 2017 SHOT Show, January 17-20 at the Sands Expo Center in Las Vegas, NV. The BearCat X3 FireCat will be on display at booth #1261 on the lower level. Over 700 Law Enforcement and Special Response Agencies in the U.S. alone rely on Lenco BEARs and BearCats every day, with a fast-growing International client list.
The Lenco BearCat X3 'FireCat' is a rapid response armored vehicle with self-contained water deployment capability. The fully protected, onboard water tank and roof-mounted nozzle can address civil disturbance scenarios and small structure or car fires before they turn into large scale property damage. The vehicle can also hook direct to a main water line or pumper truck for continuous water flow. The X3 FireCat comes standard with Lenco's proven .50 CAL armor protection, rotating roof hatch and tactical breaching tools, including the RAM Bar, Gas Injector and 4-Way RAM Camera.
Based on the newly introduced BearCat Utility Variant, the X3 allows end users to deploy a variety of vehicle types on a common base platform. The X3 comes standard as a 'pickup' style APC with rear configurations for Urban Response, Elevated Tactics, Off-Road Perimeter Security, as well as Medical Evacuation, Border Surveillance, and Troop Transport.
Lenco U.S. and International Sales Reps will be on hand to discuss the BearCat X3 FireCat and other Tactical Law Enforcement or Military Special Forces BearCat variants. These include: the BearCat G2 or G3 SWAT variant, the MedEvac, designed specifically for interoperability between SWAT and Tactical EMS personnel, and the BearCat EOD, a design driven by the needs of bomb response and explosive mitigation operations. Additional law enforcement and military variants can be found online at www.LencoArmor.com.