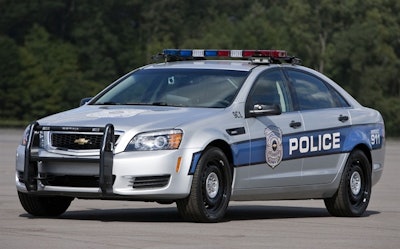 General Motors will cease production of its Chevrolet Caprice police sedan after building the front-wheel drive patrol car for six model years in Australia.
Law enforcement agencies can submit orders for 2017 Caprice PPV (Police Patrol Vehicle) sedans through the end of February, said Rita Kass-Shamoun, a GM Fleet spokesperson.
The Caprice PPV has been a top performer at Michigan and California police vehicle testing, but has seen slower adoption since its introduction as a 2011-model-year vehicle due to longer order-to-deliver times. A typical timeframe was about four months in 2012.
Law enforcement agencies also began a shift toward purchasing pursuit-rated SUV models, and the Caprice PPV lagged behind sales of the Tahoe PPV. GM only sold a fleet version of the Caprice, but sold the Chevrolet SS sister vehicle to retail buyers. The SS will also be phased out.
General Motors has been producing the Caprice PPV at its Holden manufacturing plant in Adelaide, Elizabeth, Australia. It was known as the Holden Caprice in that country. GM is ending vehicle production in Australia, and will remain in the country with sales and marketing operations, spare parts organization, design studios, and an ongoing engineering department, the company said in October.
This originally appeared on www.government-fleet.com.