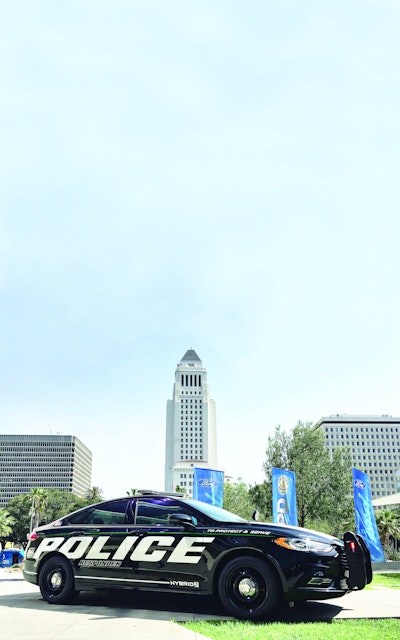 In April, Ford revealed its all-new Police Responder Hybrid Sedan at the Los Angeles Police Department headquarters. This hybrid concept car is part of Ford's $4.5 billion global push for electrification. The Police Responder will be the first pursuit-rated hybrid vehicle and was designed for urban or local patrol work.
Economical Performance
Public agencies looking to reduce greenhouse gas emissions, or with mandates to purchase cleaner vehicles, usually exclude emergency response vehicles from any rules regarding fuel efficiency. With the hybrid patrol vehicle available, however, police departments may now be included in the mix.
Greening initiatives aside, the main draw of a hybrid vehicle is to reduce fuel costs. The Police Responder is projected to get an EPA-estimated 38 mpg combined (40 mpg city/36 mpg highway), which Ford says is more than double the EPA-estimated rating of 18 mpg combined for the 3.7L Police Interceptor AWD gasoline sedan. The vehicle also reduces fuel consumption at idling—it powers its electrical load using the lithium-ion hybrid battery, allowing the gas engine to run less at idling as it is used to intermittently top off the battery.
With better mpg and more fuel-efficient idling, the vehicle can save 1,550 gallons of gasoline per year, according to Ford. (Fleet managers can use an online calculator at www.fordpoliceresponder.com to estimate savings for their fleets.) Ford also highlighted fewer fill-ups, and hence less downtime, as an advantage for officers.
The Police Responder features a 2.0L I-4 Atkinson-cycle engine, an 88-kW electric A/C motor, and a 1.4-kW lithium-ion battery. The front-wheel-drive vehicle is based on a Fusion platform and is calibrated specifically for police use, says Tony Gratson, national government sales manager for Ford.
"When the officer goes into his pursuit, it will provide max power," Gratson says, "It's not set up like a retail vehicle. It's calibrated for police. The engines work together. There will be times when you're running gasoline and electric or electric only. And at idle, the vehicle will be able to save fuel."
The vehicle has been designed to offer a pursuit mode that kicks in when an officer mashes the accelerator, said Allen Magolan, Ford's police vehicle engineering manager. Ford uses a continuously variable transmission (CVT) so the sedan won't downshift to a lower gear in a turn and lose momentum.
"The CVT is best because it's able to adjust based on the vehicle's speed, engine speed, and cornering," Magolan said. "You want the engine to be in a peak area, so the CVT can adjust to the right ratio."
Designed for City Patrol
Ford worked with its 25 Police Advisory Board members to get input on the vehicle, and there was a consensus that municipal police departments would most benefit from the hybrid. In fact, some of the biggest municipal police departments in the country are considering the addition of hybrid vehicles to their fleets or currently fielding hybrids in non-patrol operations.
The LAPD recently added 100 BMW i3 battery-electric vehicles to its fleet for non-patrol work. In a city known for its gridlock traffic, a hybrid vehicle would be very useful for officers.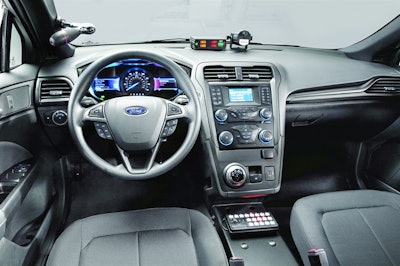 "The highlight of the pursuit-rated vehicle [is] you can go on pursuits. But that's a very small portion of what our police officers are doing every day. They're in traffic, they're driving the streets—this is their office every day. In a place like Los Angeles where we have the amount of traffic that we have, the amount of roads, the expanse that we have in our city here, this is the kind of vehicle that we want," says Josh Rubenstein, public information director II for the LAPD.
LAPD officials say they plan to meet with Ford and learn more about the vehicle to see if it's a good fit, Rubenstein added.
The New York Police Department is one of the few agencies currently using hybrids for patrol. In 2010, the NYPD began buying retail Nissan Altima Hybrid and later Ford Fusion Hybrid sedans for patrol duty. The department passed along feedback to Ford that was incorporated into the Responder.
So far the NYPD's experience with hybrids has been positive. "Very dependable, low maintenance, things like brake life is greater, use less fuel, less oil changes," says Robert Martinez, deputy commissioner of the NYPD's special services bureau. "We add things like rubber mats, and special seat covers and limit the number of them that have cages."
The agency plans to test the new model and "add it to some patrol and non-patrol operations, both marked and unmarked," Martinez said.
Features of the Police Responder Hybrid Sedan
Fusion-based platform
Front deflector plates to help prevent vehicle damage
Police-tuned regenerative braking system with 17-inch rotors and twin-piston calipers
Heavy-duty suspension components
102.8 cubic feet of interior space, comparable to the Ford PI Sedan
Police-specific, rugged cloth front seats with slim bolsters to assist officers with a duty belt
Unique police instrumentation with pursuit mode indicator
Auxiliary power distribution box in trunk, plus rear power lug
Load-bearing battery cover that provides extra storage space in trunk.
Future Plans
For those worried about hybrid vehicle performance, the Police Responder will be tested like every other pursuit vehicle. The sedan will be the first hybrid pursuit car to be tested at the annual Michigan State Police Vehicle Evaluation and the Los Angeles Sheriff's Department testing program this fall. Ford also tests the vehicle to ensure it handles police pursuits for longer periods at different speeds and over obstacles such as curbs and flooded intersections.
Ford explained that the vehicle is specifically designed for patrol use.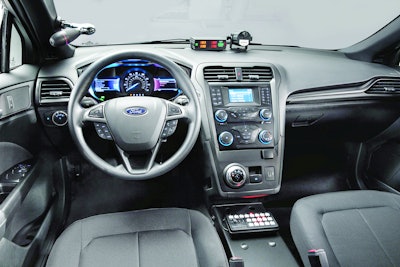 "When it came to the pursuit vehicle, our approach was we wanted to maximize power when the driver demanded it, for a pursuit situation, and that's what led to tuning adjustments, a lot of it in calibration," says Ford's Magolan. "When the vehicle is driven hard, it would use both the gas motor and the e-motor. And when you're off the gas, or braking, it would regenerate as much as possible so that it would build the charge back up."
Vehicle pricing has not yet been announced, but it's expected to be slightly higher than the gasoline Police Interceptor Sedan. However, a Ford representative said, with fuel savings, the payback is expected to be within a year.
Ford plans to release another hybrid-electric pursuit-rated vehicle by 2020.
Thi Dao is executive editor of Government Fleet Magazine.
Paul Clinton is the senior web editor for Automotive Fleet, Fleet Financials, Government Fleet, Green Fleet, Vehicle Remarketing, and Work Truck.
A version of this article originally appeared in Government Fleet (www.government-fleet.com).