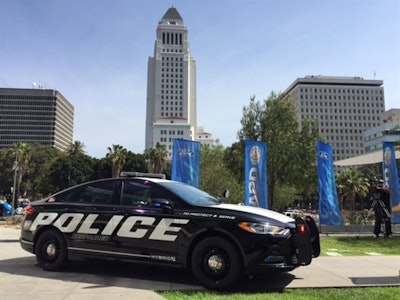 Law enforcement agencies in New York and Los Angeles will begin using a new pursuit-rated hybrid-electric police sedan that the automaker unveiled on April 10. Agencies can order the Police Responder Hybrid Sedan this spring, and Ford will begin delivering it next summer.
The Police Responder Hybrid Sedan uses an Atkinson 2.0-liter engine with an electric motor fed by a lithium-ion battery. The vehicle is calibrated for law enforcement's unique duty cycle and will run in battery-only mode up to 60 mph. The car automatically switches to maximum performance — with the engine and battery working at peak acceleration levels — when needed, according to Ford.
While driving, the vehicle is projected to provide EPA-estimated combined gas mileage of 38 miles per gallon. While idling, the Police Responder Hybrid Sedan's lithium-ion battery helps power the high electrical loads of a police vehicle, reducing engine run time and saving an estimated 0.27 gallons of fuel per hour, according to the company. The Los Angeles Police Department showed its version of the sedan to the media during a press conference at the agency's downtown headquarters.
For agencies interested in learning how a hybrid pursuit vehicle could save money, Ford has posted a fuel calculator, allowing customers to determine how much fuel they could save by making the switch.
This announcement is part of Ford's $4.5 billion investment in electrified vehicles. In addition to this, the automaker is producing a second hybrid-electric police vehicle, which has not been announced yet. Ford is also working on a suite of services to make electric vehicle ownership easier, including an ultrafast charging networks and wireless recharging technology.