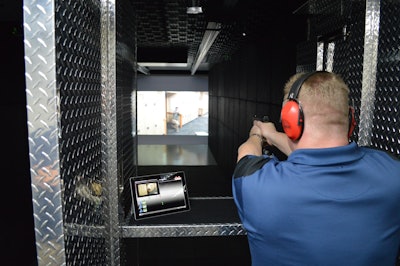 One of the greatest infrastructure challenges faced by law enforcement agencies is providing a place for their officers to practice with their firearms. Building a shooting range or even maintaining an existing one is difficult and expensive, as agencies must follow federal, state, and local regulations regarding lead contamination, noise, and other issues. There is also the "not in my backyard" (NIMBY) factor, which has pushed many municipal and county ranges far away from residential areas.
The result is that officers and deputies often have to drive long distances to find a place to shoot, or they have to beg, borrow, and steal range time at another agency's facilities. Some officers have no choice but to use commercial ranges. The time involved in driving to ranges, often reduces the time that officers can train and it is a disincentive to training. Worse, the ranges available to the agency may not give instructors a suitable venue for working with a recruit or with in-service officers.
MILO is now offering an interesting solution to the problem of disappearing law enforcement training ranges. The MILO Ready Range is a modular live fire shooting range that agencies can set up anywhere they have space available at a fraction of the cost of building a traditional range.
Demonstrations of the capabilities of Ready Range were recently held in Las Vegas at the 2023 Shooting Hunting and Outdoor Trade (SHOT) for the second year in a row. Robert McCue, executive director of MILO, says that when the SHOT Show returned from its COVID break in 2022, the organizers at the National Shooting Sports Foundation (NSSF) asked the company if it could set up some of the ranges on the patio of the show's Caesar's Palace annex.
"We were able to set up eight lanes of live fire shooting at the last two SHOT Shows," says Robert McCue, executive director of MILO. "Last year was the first time in all these years of SHOT Show that anyone has been able to fire a live round at the show."
Quiet and Clean
MILO was able to achieve that feat of setting up live ranges at SHOT because of the innovative design, engineering, and construction of the Ready Range. These factors are also why the company believes the Ready Range is well suited for law enforcement training.
The Ready Range is a transportable steel rectangular box that offers modularity and bullet containment. It looks a lot like a shipping container, and it can be set up for shooting distances of five meters (16.5 feet) to 100 meters (330 feet), and for weapons ranging from handguns to .50 caliber BMG rifles. Each module offers two lanes of fire, and the range can be expanded two lanes at a time to accommodate an agency's needs. The ranges can also be relocated or resized as needed. The interior of the Ready Range is fully ventilated with heating and cooling.
Air quality, lead mitigation, and noise reduction for the Ready Range meet or exceed EPA, NIOSH, and OSHA standards. It also reduces travel pollution. "More city councils are pointing toward green initiatives," he says. "With Ready Range, the officers don't have to drive to the range for training. You can bring the training to the officers. You can drop it off at the academy for six months, then move it somewhere else, saving on fuel usage." He adds that the range is self-contained, and users can safely dispose of the contaminants from the ammunition.
The noise reduction that Ready Range provides vs. conventional outdoor ranges is remarkable. Walking across the patio outside of Caesar's Palace at January's SHOT Show, I could not hear any sound from inside the ranges. It was only when I got up close that I could hear someone banging away at targets inside. "If you are standing outside within a foot or two of the range skin, it sounds like someone is dribbling a basketball inside," McCue says. "From 10 or 15 feet away it's absolutely silent."
The noise of small arms fire on shooting ranges is one of the reasons that so many agencies have had their facilities shut down. Originally, the range was set up in a non-residential area, then homes were built, and the new residents were not fond of their noisy neighbors. "It doesn't take much for that to happen either," McCue says. "Someone writes a letter, someone calls, someone sends an e-mail or a text, and the chief is in front of the city council as they discuss shutting down the range for 45 days so the problem can be investigated. Soon 45 days turns into six months. And then it never reopens, and the officers are driving two hours away to train."
Not only is Ready Range quiet. It also doesn't look like a gun range. "It's totally covert," McCue says. "People drive by and they won't know that it's a training facility because it looks like storage containers."
Shooting Virtual and Live
Inside, the Ready Range looks nothing like a storage container. The climate-controlled range can be outfitted with a variety of sophisticated equipment, including a MILO Live live-fire simulator system so that officers can train in making use-of-force decisions with their actual sidearms and the ammunition they carry on duty.
Running the simulations with live fire is a very different experience for officers than training with a laser-firing replica, McCue says. "Your brain very quickly will suspend disbelief that it is a virtual simulation," he explains, adding that MILO has measured and compared officer stress levels in both situations, and it's clear that the live fire takes the training to another level. "Live fire simulation is really the ultimate simulator training," McCue says.
MILO recommends that officers and recruits train with the laser-firing replicas before using live fire on the simulator. "With the laser you can demonstrate to the instructor that you know how to safely and properly use your duty weapon," McCue explains. "If someone can't qualify on simulated targets with the laser, it's unlikely they will do so on live fire."
The MILO simulator records live fire accuracy and laser accuracy by different methods. When a trainee is using the laser-firing firearms replicas, the system's camera looks for infrared light striking the target. Instructors can very simply switch live fire scoring by pushing a button on their controller. That command tells the software to use the system's thermal camera. "It's scanning the [self-sealing rubber] screen looking for a nice, hot signature and the software plots the location of the hot pixels and tells the software what to do," McCue says. According to MILO, the system can determine accuracy within 2 millimeters of impact.
While the Ready Range can be outfitted for simulator training, it is first and foremost a fully functional shooting range and officers are not limited to training on virtual targets. Buyers can have the Ready Range equipped with the MILO Live Pulsar wireless target retrieval system.
The Pulsar is a fully wireless, self-propelled target retrieval system. It can be used with handguns, rifles, and submachine guns and is rated for projectiles moving at 3,600 feet per second and for 3,800 foot-pounds of energy. The target system can be independently operated by each shooter or from a master control by an instructor. Features of the Pulsar target retrieval system include 90-, 180-, and 360-degree turning; patented wireless charging; LED lighting, preloaded qualification courses of fire, and a quick-change target clamping system.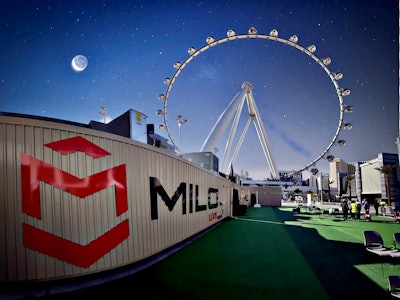 Setting It Up
McCue says Ready Range can offer a lot of capability for agencies without the need for costly construction and other costs associated with building an outdoor range. "When you place a modular range product, it's not fixed," he says. "You're not using construction, which generally takes a long time to be approved."
In contrast, MILO says it can set up a Ready Range solution and make it operational at the average agency in as little as 180 days. "You can drop one of these behind a building, use it there for a couple of years and then move it. We installed the four modules (8 lanes) at SHOT Show this year in a couple of hours, " McCue says. One of the reasons that MILO was able to set up the Ready Range modules so quickly at SHOT Show in 2022 and 2023 is that they are made in Las Vegas, not far from the show site.
Setting up Ready Range at an agency is mostly about having the budget for purchasing the product and the space available for locating it. "You can set these up in the parking lot or behind your building," McCue says. "The only things you have to do are run electricity to it and prep the ground. You also have to make sure it is level, and most agencies do that with gravel."
MILO has installed Ready Range solutions for a wide variety of municipal, county, state, and federal law enforcement agencies. The Ready Range is also in use with all branches of the U.S. military and with military and law enforcement clients in allied nations such as Japan and Australia.
McCue says MILO started working on modular ranges about 10 years ago when the Michigan-based simulator company was contacted by Las Vegas-based Shooting Range Industries (SRI) about integrating live fire simulators into their range products. In 2020, MILO's parent company acquired SRI and a new brand MILO Live was established.
"That acquisition allowed us to better integrate our technology into the ranges," McCue says. "We're now under one ownership group, one management team, and one branding team." He adds that law enforcement agencies are a primary focus for the company's outreach this year.
Training Tool
McCue believes the Ready Range can be a valuable training solution for law enforcement agencies.
The Ready Range offers numerous training options. For example, it can be used for shooting from a static position or for tactical training. Agencies that acquire the system typically order more than one, often as many as five to seven for 10 or 14 lanes across. This gives teams of officers enough room to work drills or scenarios together.
One of the greatest advantages to the Ready Range over a traditional range is its accessibility. Most agencies do not have firing ranges right outside their stations or inside of their headquarters buildings. The Ready Range can give them a firearms training facility right outside their door. Some officers are taking advantage of the opportunities presented by having a range so close to actually practice before their shifts.
"They are going out and getting some reps in before they go on patrol," McCue says. "They can run a couple of scenarios on MILO and make sure they're in the right frame of mind and make sure that their equipment is good to go."
Another benefit law enforcement agency users of Ready Range are discovering is that the modular ranges are making it easier for officers to train so they are more willing to train. Not having to drive to a range helps overcome "training hesitancy," McCue explains. "They are volunteering to use these systems."
McCue adds, "One veteran officer told me, 'I wish we had had this when I was coming up. I would have been doing this all of the time.'"