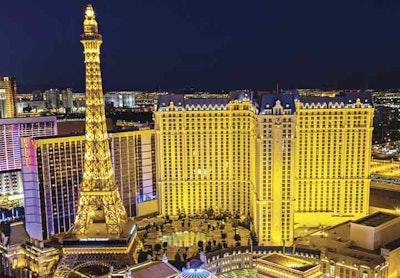 The history of the Nevada Gaming Control Board is intertwined with the history of Las Vegas and the city's notorious ties to the mob.
Nevada legalized gambling in 1931, and it wasn't until 1959 that "gaming" enforcement began. Prior to the arrival of Los Angeles mobster Benjamin "Bugsy" Siegel in 1945, smallish local casinos in downtown Vegas entertained tourists and locals mostly with table games and off-track betting. Casinos obtained licenses and paid levies to the Nevada Tax Commission, but enforcement was lacking.
Siegel and his "partners" were drawn to Las Vegas. The national crime syndicate saw the near limitless potential for graft and agreed to allow him to explore the territory. Siegel first purchased the El Cortez on Fremont Street, and later turned his attention to a luxury casino hotel being built by Billy Wilkerson, owner of the Hollywood Reporter and several Sunset Strip nightclubs.
Wilkerson had run over budget and welcomed Siegel's financing offer, which was backed in part by mobsters Meyer Lansky and Charles "Lucky" Luciano. The mob bought a two-thirds share. Contractors who sold building materials to Siegel, only to steal them at night and sell them back to him the next day, caused even higher cost overruns. When the yet-completed Flamingo Hotel & Casino opened on Dec. 26, 1946, it was a flop. It eventually began generating revenue, but Lansky (the "mob accountant") accused Siegel of skimming at a major mob meeting in Cuba.
Bugsy wouldn't live to see the success of his venture. He was gunned down in his Hollywood bungalow on June 20, 1947.
The 1950s brought an era of federal enforcement of mob activities and greater state regulation of gambling in Nevada. Sen. Estes Kefauver held a series of hearings, including one in a Las Vegas courthouse that now houses a mob museum, to investigate organized crime.
Taking On the Outfit
To stave off greater federal oversight, the Nevada Legislature passed the Nevada Gaming Control Act, which created the Nevada Gaming Commission in 1959. Any casino operator must now secure a gaming license from the commission and agree to comply with extensive rules of conduct. These rules are enforced by the sworn agents of the Nevada Gaming Control Board, which was set up, in part, to "eliminate the undesirables," says Dave Salas, one of the agency's three current deputy chiefs statewide.
The gaming control board took on its biggest case in the mid-1970s, when agents set their sights on the Argent Corporation, which operated the Hacienda, Stardust, Fremont, and Marina (where the MGM Grand now stands) casinos. Frank "Lefty" Rosenthal, a sports handicapper, secretly ran the casinos for an organized crime group called the Chicago Outfit. With the help of mob enforcer Anthony Spilotro, Rosenthal "skimmed" millions in casino profits for mobsters in Chicago, Kansas City, and Milwaukee. Martin Scorsese's "Casino" (1994) is a thinly veiled documentary of this period.
Gaming control agents went undercover as casino employees and worked with auditors, federal authorities, and Las Vegas Metropolitan Police officers to build a case against Argent, which was eventually forced out of the casino industry in the late 1970s. Argent founder Allen Glick helped prosecutors make their case by becoming a cooperating witness. In 1983, charges were filed against 15 individuals, including Spilotro, in the skimming operation.
Experience Required
Today, Nevada's gaming agents serve as state peace officers. They work in plainclothes with a mission to observe and are not generally identifiable until enforcement action is required. More than 90 agents are assigned to the Gaming Control Board's Enforcement Division. Agents meet Nevada's P.O.S.T. Category 1 certification, meaning they complete the same 26-week police academy required by other uniformed officers in Nevada.
Officers often join the agency as lateral transfers because previous law enforcement experience carries the day in job interviews. However, applicants with criminal justice or related degrees have also landed jobs. Applicants must be 21 years old, have a four-year degree, clean background, and be willing to abstain from gambling and "comps" from casinos if hired. Agents can earn $45,000‒$69,000 annually.
The Enforcement Division, which operates five Nevada offices, is organized into two sections—an Investigative Services Bureau comprised of field services, special investigations, and intelligence units and a Support Services Bureau comprised of intelligence analysis, background investigations, operations, and clerical units.
The Field Services Unit responds around the clock to calls such as theft or embezzlement by casino employees or cheating at gambling by patrons. Field Services agents frequently arrest suspects at the time of the incident, but additional investigation can sometimes be required before an arrest, Salas says.
"If you can make an instant arrest, great," Salas explains. "If you can't, you may have to conduct follow-up yourself. Then make the arrest if PC can be established, or write an affidavit for an arrest warrant. It's a little bit different from a basic patrol job. They're on-call detectives essentially."
Agents are issued a Glock 19 sidearm, tactical vest, baton, handcuffs, raid jackets, and blacked-out sedan.
Rich Targets
Hollywood has entertained us with plenty of movies about casino heists, including "Ocean's 11." Despite extensive private security and a top-notch video surveillance blanket, casinos remain a target for ambitious thieves.
In September 1992, Bill Brennan was a cashier working at the Stardust Resort and Casino's sports book. One day, Brennan walked past security guards at the start of his lunch break with more than $500,000 in cash and chips stuffed in a backpack. Brennan, who appeared on the FBI's most wanted list, remains at large.
"Any casino on the Las Vegas strip has more money exposed than any bank anywhere in the world," Salas says. "There's always somebody taking a shot, whether they are internal, external, or a combination of the two."
High-Tech Operations
The Gaming Control Board maintains the "Black Book," a list of known gambling cheats considered unwelcome in Nevada casinos. The list now includes 33 people; many have ties to organized crime.
Agents are seeing an increase in crimes involving the use of technology and computers to fraudulently obtain money or property from casinos. A thief who gets hired in the casino's IT department and learns the security protocols "could do a lot of damage," Salas says.
When investigating these crimes, agents often coordinate with federal law enforcement agents or officers in other areas of the country.
Gaming agents also investigate the myriad ways patrons attempt to cheat at tables. Counting cards is frowned on, rather than illegal, but a patron who uses a device (including smart phone apps) to help has committed a felony. Other felony cheating can include card marking, switching cards, and manipulating wagers.
Investigations of casino employees, including dealers, keep agents busy. Agents often pose as patrons to watch dealers dump games by paying losing hands or manipulating cards so certain patrons win.
Agents also investigate complaints of rigged slot machines. Nevada state law requires that each slot machine pay 75 cents of every $1 gambled. Salas says many machines pay out as much as 90 cents. Agents often serve as third-party arbitrators between a patron and the casino concerning gambling winnings or losses.
To obtain a gaming license, casinos must agree to a slew of regulations and can face stiff fines if they don't comply.
In July, Harrah's agreed to pay a $100,000 fine after agents investigated claims of underage gambling in Caesar's Palace.
Gaming agents investigate multi-faceted crimes that also include narcotics procurement such as the agency's 2009 probe of the Hard Rock Hotel & Casino's Body English and Vanity nightclubs, where casino hosts and security guards offered marijuana, ecstasy, and cocaine to undercover agents. Hard Rock operators HRHH Gaming agreed to pay a $500,000 fine in January 2011.
The operational rule book is extensive. Card games are covered under Regulation 23. Regulation 5 covers operations, including strict requirements for video surveillance systems.
"For crimes that occur in casinos, there's a very good chance they are going to be on video," Salas says. "That's pretty much indisputable evidence in a lot of cases … In Las Vegas, you never know who is watching."