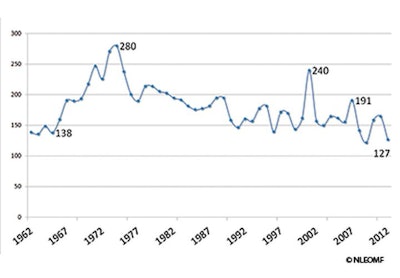 The number of law enforcement officers who died in the line of duty fell sharply in 2012, marking a year that ranks among the lowest for officer fatalities since 1960, according to the National Law Enforcement Officers Memorial Fund (NLEOMF).
The year saw a 23% drop in officer fatalities to 127 line-of-duty deaths, reports the Memorial Fund. In 2011, 165 officers died on duty. This year was only the second since 1960 with less than 130 officer deaths.
Traffic-related fatalities were once again the leading cause of officer fatalities, with 50 officers killed in 2012. Thirty were killed in automobile crashes; 14 were struck and killed; and six officers were killed in motorcycle crashes. Overall, traffic-related fatalities decreased by 17% from 60 officers killed during 2011.
Firearms-related fatalities follow closely with 49 officers killed, dropping 32% compared to 72 deaths in 2011. Ambush attacks were the leading circumstance of fatal shootings, with 15 officer fatalities, followed by nine officers killed feloniously during traffic stops or pursuits. Drug-related matters and robberies in progress each had five fatalities.
"The loss of any officer is unacceptable and devastating to their family, their community and our nation," said Craig W. Floyd, the Memorial Fund's chairman and CEO. "However, I am encouraged to see a significant decrease in the number of law enforcement officers killed in 2012 after two years of alarming increases in the number of fatalities."
View the full NLEOMF fund, "Law Enforcement Officer Deaths: Preliminary 2012 Report."