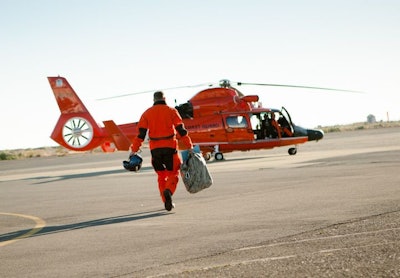 For more than two centuries, the U.S. Coast Guard has served diligently every day as America's leading maritime law enforcement agency. In cop talk, the expression to describe constant preparedness is, "24/7." In Coastie, it's "Semper Paratus," Latin for "Always Ready." Unfortunately, many Americans are unaware of what the Coast Guard stands "Always Ready" to do.
Consider some of these law enforcement stats. The Coast Guard is responsible for more than 50% of all cocaine seizures by the U.S. government. In fiscal year 2002, Coast Guard drug interdiction operations led to the seizure of cocaine with a street value of $3.9 billion. Since FY2009, the Coast Guard engaged in 1,602 drug interdictions; 724 migrant interdictions; 54,374 ports, waterways, coastal security operations; and 8,917 search and rescue missions. Oh, and the Coast Guard patrols 6 million square miles of water.
The Coast Guard has earned a remarkable reputation as the nation's premiere maritime search-and-rescue agency. Perhaps lesser known is its success in deterring illegal substances from entering the country through drug interdiction operations. While patrolling the vast waterways that surround our country, the Coast Guard engages in high-risk law enforcement operations, effectively intercepting and capturing drug smugglers.
This can be a very dangerous mission. On Dec. 2, 2012, Chief Petty Officer Terrell Horne was killed when the cutter he served on was rammed by a vessel suspected of engaging in illegal activities. CPO Horne's sacrifice epitomizes the honor and bravery exemplified by Coast Guard personnel.
In addition to drug interdiction operations, the Coast Guard does an excellent job enforcing immigration law at sea. As part of its migrant interdiction mission, Coast Guard personnel board vessels that are used for alien smuggling and arrest and detain those responsible for human trafficking. In many instances, Coast Guard personnel are able to intercept these vessels at sea, and ultimately transport them back to their host countries. This proactive maritime policing saves the United States billions of dollars that would be otherwise spent in social services. Additionally, given that some of these vessels are poorly constructed to withstand ocean travel, the interdictions ultimately prevent the loss of life.
The Coast Guard also plays a lead role in fisheries enforcement at sea. Working closely with federal agents from the Fish and Wildlife Service (FWS) and the National Oceanic and Atmospheric Administration (NOAA), the Coast Guard captures maritime poachers, protecting a $24 billion American industry. In a similar vein, the Coast Guard coordinates its patrols with its law enforcement partners to protect endangered species and marine mammals from harm.
In 2003, the Coast Guard was transferred from the Department of Transportation to the newly formed Department of Homeland Security. That makes Coast Guard personnel technically federal law enforcement officers, although they maintain a hybrid status as both civilian and military personnel. During times of war or by Executive Office command, Coast Guard personnel come under the direct control of the Navy and are often deployed outside of U.S. waters.
The Coast Guard includes an Officer of Law Enforcement and it also employs special agents in the Coast Guard Investigative Service (CGIS). These dedicated law enforcement officers are responsible for conducting internal and external criminal investigations, and also provide security services and protect the wellness of Coast Guard personnel. CGIS plays a critical role in DHS's law enforcement complement and has both civilian and military special agents.
On August 25, 2005, after Hurricane Katrina devastated the Gulf Coast, Coast Guard law enforcement personnel, including CGIS special agents, were responsible for rescuing more than 33,500 storm victims. More recently, the Coast Guard deployed immediately as law enforcement first responders after Hurricane Sandy impacted the NY/NJ region. Coast Guard personnel augmented security for the waterways surrounding New York City to help prevent any terrorist or criminal opportunists from exploiting storm-induced vulnerabilities. The Coast Guard's brave men and women did a formidable job protecting the "City That Never Sleeps" by maintaining their "Always Ready" posture. Without a doubt, the United States has the best maritime cops in the world.