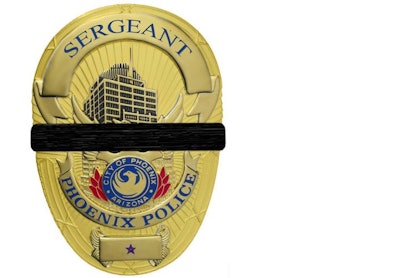 Phoenix Police officers began wearing a shroud over their badges Monday to honor the 19 firefighters who perished Sunday fighting a 6,000-acre fire in northwest Arizona.
Chief Daniel Garcia authorized his officers to wear the shroud covering a strip in the middle of the agency's badge for the firefighters killed in the Yarnall Fire. In an announcement on its Facebook page, the agency cited its "special kinship with the fire department."
On Monday, the bodies of the fallen men were transported in a somber caravan to the Maricopa County Medical Examiner's office, reports the Arizona Republic.
"The loss of so many firefighters in a single event is horrific and strikes at the heart of first responders everywhere," according to a Phoneix PD statement. "Our thoughts and prayers go out to the families, friends, and co-workers of these fallen heroes."