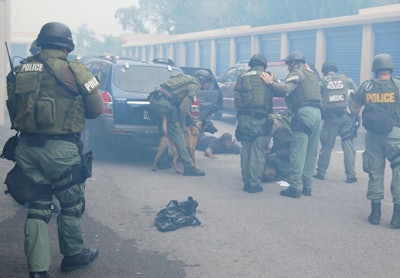 One of the oddly memorable photos from the Boston Marathon bombing manhunt came during a moment following the capture of 19-year-old Dzhokhar Tsarnaev. A Massachusetts trooper snapped a photo of a Bureau of Alcohol, Tobacco, Firearms and Explosives (ATF) medic working to save Tsarnaev's life while FBI agents pulled up his shirt to check for a suicide vest.
The photo showed the gloved medic placing an oxygen mask over Tsarnaev's mouth as he lay on his back handcuffed. Streams of blood streak Tsarnaev's nose and cheek. The medic, who has not been identified, works on his knees, while wearing a ballistic helmet and external vest marked "ATF POLICE." A medical kit rests in the grass nearby.
Tsarnaev had been taken into custody after Massachusetts Bay Transportation Authority SWAT officers pulled him from a backyard boat in Watertown, where he had shot it out with officers. The blood on his face likely resulted from a round that sliced through his neck. It missed major arteries and his windpipe, but profuse bleeding from his left ear, neck, and thigh could have been fatal.
The ATF medic was in the right place at the right time to save Tsarnaev's life, so the suspected terrorist could face 30 federal counts stemming from the bombing and the killing of MIT Officer Sean Collier. The photo cast a spotlight on a member of one of law enforcement's elite tactical trauma-care programs.
Born From Tragedy
This year, ATF's Tactical Medic Program celebrates its second decade of operation. Born out of the deadly Waco raid, the unit now counts 70 special agents (about 3% of sworn ATF personnel) who are also certified as EMTs or paramedics. They're embedded with ATF Special Response Teams (SRTs), and their mission is to save lives on the urban battlefield.
In the months following the raid of the Branch Davidian compound on Feb. 28, 1993, ATF leaders began diagnosing flaws in their raid planning. The agency had lost the element of surprise, after hiring a private ambulance company to provide medical support. An employee leaked the details to a television reporter who had asked a postal carrier who was also David Koresh's brother-in-law for directions to the compound. To prevent such security lapses in the future, the agency decided to set up in-house medical support for search warrants, arrest warrants, and vehicle assaults that would preserve operational security for ATF tactical operations.
Waco also showed the shortfall of planning a major raid with limited medical resources. The ambulance waited near Mount Carmel on standby, but medical personnel were unwilling to enter an active gunfight to treat wounded agents. Only two of the ATF agents involved in the raid were trained in tactical medicine. They provided life-saving care to many of the wounded. One of those two agents, Timothy Gabourie, had served as an operating room nurse before joining the agency. Gabourie, who is still an active agent and medic, spearheaded the founding of the tactical medic program so SRT operators could be given immediate battlefield care.
When the program was first established, medics were assigned to one of the ATF's five regional SRTs based in Washington, D.C., Detroit, Miami, Dallas, and Los Angeles. Medics can now be called to wherever they're needed whether with the SRT, arson and explosives investigation team (National Response Team), or with their own investigative groups.
Battlefield Medicine
Since 2007, the program has been under the supervision of a medical director at the Johns Hopkins University School of Medicine who oversees the "care under fire." While the program is based on military Tactical Combat Casualty Care (TCCC) guidelines for delivering combat care, it has been tailored for law enforcement, says Dr. Nelson Tang, the current medical director. All medical procedures must be approved, as well as any medical equipment the medics carry on missions.
"TCCC is one model that programs like ATF have looked at and adopted based on real-world field experience garnered from the military combat theater," Tang says. "While it is not the sole basis for what the tactical medic program does, it allows for ATF medics to respond quickly in a tactical environment."
The 14-page TCCC guidelines outline a plan for managing care for the wounded. First and foremost, medics must return fire and take cover. Medics work to stop life-threatening bleeding with a tourniquet and move the wounded operator to cover or a relatively safe position.
The TCCC protocol was based on lessons the military learned in Somalia. Military medics learned to provide care in a tactically sound way so they wouldn't get killed, says Josh Knapp, project officer.
"If there's still shooting going on, the person is required to take care of themselves," Knapp says. "During training, our medics emphasize applying a tourniquet to yourself and staying in the fight. Don't just treat it like a fake injury and belly-flop down. Everyone on the team should be shooting back. If the officer has a massive bleed, that bleed should be attended to. Otherwise, nothing else occurs until they are no longer receiving direct fire."
ATF tactical medics operate as a special agent EMTs with a life-saving skill set. They can perform classic trauma-care functions such as CPR, bandaging, splinting, applying oxygen, and spinal immobilization. They also utilize advanced skills such as medication administration, intravenous needle insertion, or inject directly into the bone marrow if veins have collapsed.
Tactical Medic Training
Members of the program have all been certified as EMTs in training sanctioned by the National Registry of Emergency Medical Technicians with some having taken the extra step of becoming a paramedic. Seven medics have cross-trained as SRT operators. But most medics are POAs, or "plain old agents," Knapp says. "All medics support SRT operations and training.
"We use the term medic in the same way the military uses it," adds Knapp. "Most of our members are not paramedics. Most everyone else is at the EMT level taught advanced skills tailored to the ATF mission."
Knapp rarely needs to advertise; agents often seek him out to apply. Agents who acquire EMT certification on their own get fast-tracked into the program. That usually requires 110 hours of classroom training. ATF's Special Operations Division often reimburses agents for the training.
Once they acquire EMT certification, the prospective medics take the ATF's Tactical Medical Operators Course, which is offered twice a year. The weeklong training provides real-world scenarios that teach medical care under the TCCC model. About 30 percent is devoted to firearms training. The balance involves force-on-force scenarios with Simunition rounds. Senior medics must retake the course every third year.
Medics also take an annual weeklong refresher course at Johns Hopkins taught by Tang and a cadre of specially trained emergency physicians. Aside from the expected trauma topics, additional lectures and hands-on training involve canine medicine, dental care, and wound care. Canine medical care is included to ensure the medics are prepared to care for ATF's apprehension dogs. That training covers giving intravenous treatment, CPR, and clearing an airway on a dog. It also teaches medics about the challenges of working with a wounded dog, especially if the handler is disabled or unavailable to assist.
A Model Program
Under the direction of Tang, the tactical medic program continues to grow by adding new techniques and tools. ATF issues each medic a medical pack with tools including a rescue hook for cutting clothing or seatbelts and an airway device, topical hemostatic agents, tourniquets, and various medications to treat pain as well as common medical conditions including cold and sinus, and gastrointestinal ailments.
The medics have also been trained to handle everyday maladies reported by agents. This "advanced sick call" work often takes up the bulk of their workload during non-tactical shifts.
The program has integrated medics deeply into tactical operations in a more comprehensive way than almost any other like it in the country, but Tang and Knapp continue to fine-tune it.
"ATF's tactical medic program represents the leading edge of how proactive an agency can be in developing these medical and trauma capabilities," Tang says. "We need to further increase individual officer and operator awareness to provide self-care and buddy care."
Integrating a medic into tactical law enforcement carries numerous benefits, including giving special operators greater awareness that they'll make it home to their loved ones following an operation, says Dr. Sydney Vail, a trauma surgeon, tactical medic, and instructor at the International School of Tactical Medicine.
"Tactical medical support can reduce liability for providing immediate on-site medical support to any injured person within a scene perimeter and give law enforcement a sense of confidence to complete their mission knowing that medical support is right there with them," Vail adds.
When ATF SRT operators move in to confiscate firearms from violators, they often enter a dynamic situation. Gunfire can be imminent. As a result, tactical medical care is often not a matter of if, but a matter of when.
Editor's note: This special unit profile is the latest in a series of career profiles on PoliceMag.com. Read more profiles of special assignments here.