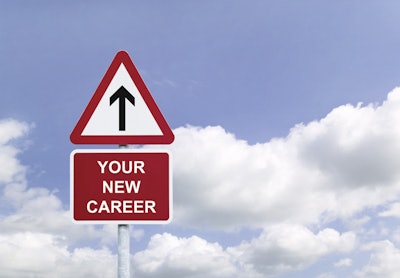 The sheer amount of discretionary time afforded by one's retirement can prove daunting for any man. Within the context of his famous comic strip, Calvin and Hobbes' creator Bill Watterson offered a decidedly different take, noting, "There's never enough time to do all the nothing you want." Perhaps this is truer for cops who, conditioned to the certainty of day-to-day uncertainty, may chafe at the prospect of being put out to greener pastures.
But while many in the workforce can reasonably plan on careers spanning 30 or more years, the wear and tear of law enforcement finds retirements coming sooner to some cops than others. For some, it is a physical setback that proves fatal to a career. For others, such as John Doogan, the psychological impact of an officer-involved shooting may signal the end. In Doogan's case, his PTSD did not diminish a life-long desire to help others and he gravitated to a second career in nursing.
"I'm a student, working toward finishing my degree," says Doogan, a former Carbondale, Ill., police officer. "In the meantime, I'm currently a certified nursing assistant and working toward my RN."
For those who finish their law enforcement careers, the breadth of experiences the profession avails them offers all manner of post-career options, and perhaps nothing so speaks to the heart of the adrenaline junkie as well as another round in the octagon of law enforcement.
When Mike Cochran retired from the Lauderhill (Fla.) Police Department, he accepted his dream job as chief of the Hanahan Police Department, a smaller community near Charleston, S.C., where he had spent a couple of years at the beginning of his career.
"It is a fabulous community with 34 officers in a slice of small-town America that just doesn't exist in a lot of places," says an appreciative Cochran. "I got sworn in at the city's Christmas Tree Lighting Ceremony and got to lead the 120-float Christmas Parade that morning as well—it was unreal."
For Cochran, it was an opportunity that was as much predicated upon the pension that came with his retirement as it was the retirement itself.
"Having the pension from Florida afforded me the financial flexibility to not be salary-focused on my future. In this case, it allowed me to be able to live where I always wanted to and to have the quality of life for me and my family that simply was not available in South Florida."
Retirement Comes Early
For most professions in the United States, the prospect of retiring at a relatively young age is hard to imagine. The Age Discrimination in Employment Act (ADEA) of 1967 made it unlawful for an employer to terminate an employee over the age of 40 on the basis of age. One major exception in the law, however, is that it permits state and local agencies to establish mandatory retirement for law enforcement personnel based on age or years of service. Many agencies also offer special early retirement incentives to help promote retirement. With such inducements, retirement among law enforcement officers often comes faster than they may have imagined.
Brian Fragodt was one who took advantage of an early retirement plan offered by the Hennepin County (Minn.) Sheriff's Office. Shortly thereafter, Fragodt was asked by a local police chief if he was interested in a part-time patrol position. To round out his time, he asked for and received another part-time position with another agency.
"A week or two later, a third agency asked me," recalls Fragodt. "A fourth agency asked me as well, but I declined their offer (even I have limitations). I have to say I enjoy working again. The part-time pay isn't exactly what I was making when I worked full time, but I've found that I care less what I make, now that I enjoy the job more."
The benefits of hiring former police officers extend beyond the individual officer. The Chiefs are thrilled to get a guy with 30 years of experience," explains Fragodt. "They know we aren't going to put them in the jackpot and often help keep their younger officers from getting complaints or lawsuits as well. We save the cities considerable funds that they don't have in the first place. Lastly, the young cops learn a helluva lot from a bunch of old-timers…they are also thrilled when we agree to take shifts that they desperately want to have off."
The Age Discrimination in Employment Act allows agencies to establish mandatory retirement ages, but it does not require them to do so. To the contrary, many agencies believe that having access to experienced officers outweighs the dangers that older officers may face.
Unfortunately for others, the decision to return to the fold after retirement can prove fateful.
Seventy-six-year-old Paul Rein was retired twice—once from the postal service and again as a cop—when he took a position as a deputy sheriff for the Broward County (Fla.) Sheriff's Office. It was during a prisoner escort when Rein took a 40-year old prisoner out of the transport van after the man complained about back pain. For his compassion, Rein was overpowered by convicted armed robber Michael Mazza before being shot and killed with his own firearm.
New Frontiers
Whereas some officers return to the profession or begin entirely new careers, others find careers that allow them to simultaneously exploit their skills gained as police officers while becoming immersed in a whole new field.
A broad exposure to the nuances of law enforcement lends itself to a variety of job possibilities, and those who have acquired unique expertise in particular aspects of law enforcement give themselves added credibility in their fields. Accident investigators have found themselves well subsidized in the private sector as insurance consultants. Arson investigators, too, have successfully transitioned their skillsets into such industries. Officers with supervisory experience may find their second careers in teaching, supervising or mentoring.
A meeting with actor Steven Seagal in 1992 set off a series of escalating job assignments for LAPD veteran Chic Daniel, culminating with his work as a technical advisor to the popular television show, "Southland."
Daniel, whose career encompasses stints in the first CRASH gang detail, Metropolitan Division, and SWAT, teamed with a friend who'd worked as a field team advisor for the movie "Under Siege" to form their own consulting firm to the film industry: "Real Deal Technical Advisors."
"In the entertainment business when you're new, it's not always easy to get work," notes Daniel. "One year you might work a week or two, the next year a little more.
"During my police career, a time when we received time on the books instead of paid overtime, I was able to pick up additional work as a technical advisor," he continues. "By exploiting the time I had banked with the department, I could take time off to work on a film or television show, which was great."
As Daniel's own retirement drew nearer, he found himself getting busier and busier—to the point that he decided to make the transition from the police department into full-time technical advising.
"There are some years when you're only working four or five months, but then there are other years when you're working 12 months. It's been a great transition," he says. "I had great jobs the whole time with LAPD and I left when I still loved being a cop. It was just a good time for me to leave, and everything has worked out."
That same kind of experience afforded 33-year law enforcement veteran John M. Wills a variety of options upon his retirement from the FBI in 2004.
"I'd heard from guys who retired that pulling the pin was difficult. I'd also heard that some guys can't make the break completely," reflects Wills. "Not so, in my case. Once I retired, I had no desire to hang around and shoot the bull with guys still on the job. I finally realized what the old-timers meant when they said, 'It's time.' You do know when the spark no longer lights the fire. That said, I spent my adult life chasing bad guys, being a SWAT/sniper dude, working undercover, and getting involved in a couple gunfights…and surviving. So I was not about to let those experiences turn into dust in the wind. I leveraged my two years in the Army, 12 years on the Chicago PD, and 21 years as an FBI agent to search for an activity that would pay—a second career, so to speak."
The many years he'd spent as a trainer made Wills a marketable commodity. He began to write articles for print and online law enforcement magazines; an Internet search for trainer-related opportunities led him to be hired by a firearms simulator/live fire training company on the West Coast. (Unfortunately, the company declared bankruptcy in March of this year.) The position allowed Wills to work out of his home.
"The company sent me jobs via email. I would fly or drive to the location, do a demo, or if the department had already purchased the product, I'd conduct instructor training," he says. "This was an ideal position, for as a former cop I had instant credibility and I was still doing something I enjoyed: shooting guns and instructing."
There are other inducements, as well. A new career may avail its practitioner better health care benefits, or the opportunity to save additional income for the day when an officer decides to completely retire.
The more than eight years Wills spent with the company were fruitful in many ways. He made a very good salary in addition to his government pension. He also had wonderful benefits with the company, e.g., health and life insurance and a 401k retirement plan. The additional health insurance meant he had no out-of-pocket medical expenses, and the 401k quickly grew.
"In other words, the second career not only allows you to do something you like, but it can also be quite lucrative," he says.
For Adam Pasciak, a desire for personal fulfillment drove his search for a second career. Pasciak's experiences recuperating from the effects of an on-duty shooting led to an interest in psychology. He completed his bachelor's degree in psychology while continuing to work for the Charter Township of Redford, Mich. Following his eventual retirement, Pasciak went on to earn both his master's degree and Ph.D. in clinical psychology from Walden University.
"Being a cop was the best experience in my life—I learned a ton and was constantly challenged to sharpen my skills. It was also a job that brought about a lot of negative changes that I was not initially prepared for. Increasing awareness for the challenges of dealing with traumatic experiences would have helped me understand what was happening and how I could better deal with it."
Pasciak now works as a clinical psychologist with Triad Associates in Oakland County, Mich., assisting individuals and families in dealing with trauma.
At a glance, the second career paths for retirees like Daniel, Wills and Pasciak may seem like studies in serendipity. But upon closer inspection they better illustrate the adage that fortune favors the prepared, as it was their considerable expertise that availed them their opportunities.
Planning Ahead
Studies have shown that human beings go through all manner of ideological changes throughout their lifetimes. Recognizing as much, younger employees should begin early planning for what they want from their post-career lives. To be sure, the earlier officers scan that horizon, the greater the likelihood they will successfully navigate its terrain when the day comes. There are a number of books such as "What Color is Your Parachute?" and consulting firms that can assist the officer to this end.
Wills suggests that officers take an honest inventory of their skill sets and interests and let the chips fall where they may.
"I'd advise anyone in law enforcement who is contemplating a second career after retirement to assess his or her skills and abilities honestly," he says. "If you think you're going to do something well in retirement that you didn't do well when you were with your department, you're probably going to be disappointed. I knew I was a good trainer. I honed my skills in several field divisions, and finally at the FBI Academy. Writing was not something I abhorred. On the contrary, I enjoyed developing lessons plans and creating a myriad of written missives typically required by bureaucratic agencies such as the FBI.
"As I continued to pump out articles that were well received, I expanded my talents and began to write novels. I created a fictional series, The Chicago Warrior Thriller Series, a trilogy involving two Chicago police detectives. Having been there, and done that, the writing was edgy and realistic," he says. "I've since had seven books published, including a couple non-fiction books. I've won awards for novels, short stories and poetry. My freelance writing and books hardly equal enough to pay the bills, but the extra money does help."
Retirement means different things to different people. Adherents of the Confucian "Choose a work that you love and you won't have to work another day" philosophy may dread the prospect of retirement. Hemingway asserted that "retirement is the ugliest word in the language." Pablo Casals went one further, postulating that "to retire is to die."
Police officers spend a great deal of time and training to prevent an untimely end to their law enforcement careers. They should not dismiss the importance of planning a timely transition into retirement.
Regardless of what color your parachute may be, it's always best to plan for a soft landing.