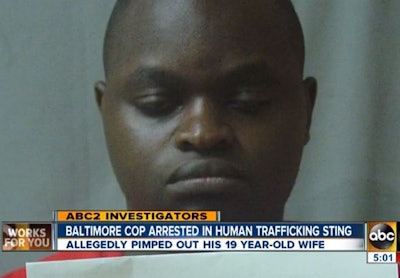 A former Baltimore Police officer facing state charges for prostituting his wife has been indicted on federal charges that he operated a call-girl ring with more than 300 customers.
A grand jury charged Lamin Manneh, 32, on Friday after a human-trafficking task force found him outside a hotel room where his 19-year-old wife had agreed to have sex for cash with an undercover Maryland trooper. Manneh was arrested in May and fired after less than a year on the force.
Manneh operated a prostitution business that provided prostitutes at an agreed location as well as locations specified by customers. He posted more than 50 advertisements for his wife and other 19-year-old woman on Internet websites; rented an apartment and hotel rooms; and drove the women to the locations, according to the indictment.
He also allegedly provided cell phones to the women and taught them how to use voice over Internet phone services. He carried his police-issued firearm and agreed to forcibly interrupt a sex transaction if the client was aggressive or non-compliant. He also supplied both women with synthetic marijuana.
Manneh collected all of his wife's earnings and took a percentage of the other woman's earnings, according to the indictment. He charged clients $100 for 30 minutes with his wife, reports ABC News. If convicted, Manneh faces five years in prison.