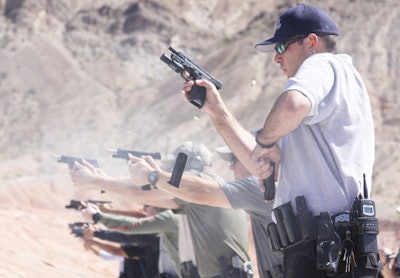 Wes Doss is a law enforcement and U.S. Army veteran who has been a training instructor for more than 20 years. He has a Master's degree in criminal justice and a doctorate in psychology with an emphasis on performance psychology, to boot. Through his Arizona-based company Khyber Interactive Associates, he provides instruction to the military, law enforcement officers, and tactical trainers across the country and abroad. What makes his class, "Lights, Sights, and Lasers," different is that it's completely free to law enforcement officers and it provides always evolving training that is otherwise often hard to come by.
Genesis
"Lights, Sights, and Lasers" came about in 2012 when Doss and his wife were discussing ways to provide training for the company XS Sight Systems. The company came up with the name. The course covers how and when to best use each device and includes tactical drills in realistic situations. But it almost didn't happen because Doss was worried not enough people would be willing to pay for the class.
"My wife, Hye Chong Doss, who is the vice president of our company and responsible for new business development, had an epiphany and suggested we get multiple sponsors to keep the program free to law enforcement," he says. "We marketed it like a concert tour. We told the people at XS Sights about it, and they loved the idea."
As of this year, the "Lights, Sights, and Lasers" program is fully run by Khyber Training, but XS Sights is still one of the top sponsors. And the overall training is the same, as is the sponsorship model.
It's a single-day class. The first half takes place in the classroom, and the second is conducted on the range. "The goal is not to provide a product demo event. We don't do any of that. It is purely training. The goal is to provide a free training class to law enforcement, military, security, and people involved in the training side of things, and bring it to as many people as possible," Doss says.
The idea behind "Lights, Sights, and Lasers," was to provide information and practical training for these three product categories that are often controversial and misunderstood. It was initially conceived of when law enforcement was experiencing extensive budget cuts and layoffs. But the training provided in the class is still needed, Doss says, because most officers still receive a limited amount of training in how to use these devices in bad situations.
A Free Ticket
Because sponsors foot the bill, the "Lights, Sights, and Lasers" class is free for certified and reserve police officers and those currently working in firearms training, tactical, or specialty unit assignments.
You need to bring your own ammo and flashlight and provide your own transportation to the event site. Other than that, you just sign up and show up. Attendees also get several bags of gear from the course sponsors, including a "tour T-shirt" and a stainless steel water bottle. "At the end of each night we do a fun shoot-off and the winner gets a package from our sponsors with up to $1,500 in free gear," Doss adds.
And you don't have to worry about getting rained out. If it's sleeting, snowing, if it's literally below freezing, the training will go on – unless doing so is impossible or poses a serious danger. Part of the reason is that Doss travels far and wide to conduct the training, so once he's there he wants to make the trip worth his while. But a larger part of the reason for this "the show must go on" philosophy is that you fight the way you train.
"In Alabama, sheets of water were coming down on us as we trained in the rain. But officers need to deal with bad guys when it's raining, snowing, and muddy," Doss says.
It's also important to Doss that everyone who signs up realize the benefit of the training, and not squander the opportunity. "If you sign up and fail to show up, you've kept somebody else from enrolling in this class," Doss says. "Be serious. It's a free class. If you sign up, come on out."
Touring the Country
The first year, Khyber taught "Lights, Sights, and Lasers" classes at 19 host agencies within nine months. A total of 2,500 students from 256 different departments attended. This year there will be 21 total stops, many of them new locations and new host agencies. And the team goes to many places most trainers don't go, including more rural areas and the non-contiguous states of Hawaii and Alaska. State, local, and federal agencies both host and attend the course. This means the trainers get exposed to different perspectives on training.
The class covers the essentials about first sights, then lights, and then lasers. Instruction focuses on the importance of a person's skill, before any device enters the equation. It also focuses on understanding the ways in which people react to certain situations based on physiology and psychology, especially as this relates to human performance in close-quarters confrontations. This includes drills that require officers to respond quickly to "attackers" in close quarters and in low light, testing their skills using their firearms along with their lights, sights, and lasers. These experiences can be eye-opening.
Doss says he often sees the lightbulb go on for officers who are learning something new, or in a new way. And in the ways that attendees react, Doss often learns more about what he needs to teach because of the training gaps that exist.
"Something unique about 'Lights, Sights, Lasers' is it evolves," says Doss. "I won't know what next year's will look like until October, but next year will be better than this year because we will include information we got from the road. We'll change things."
Doss says one side effect of his ever-changing and evolving curriculum is that this can make it difficult to get POST certification for the course. He has to keep resubmitting paperwork in all the different places he teaches when he makes alterations. But everyone who completes the daylong course receives a certificate of completion. "They have paperwork to take back to their agency and submit for credit," he says.
Effecting Change
Doss concedes that in the past he would get a lesson plan and teach exclusively from it without changing it. But as he experienced more aspects of law enforcement and spoke with more officers, he realized that there were things missing from the training he taught that he felt should be added. Now he's on a mission to open the minds of other officers and agency administrators to changing and updating training as needed, the way he does with "Lights, Sights, and Lasers."
He wants to promote discussion about training practices and trends, especially as they relate to the way officers use lights, sights, and lasers. "My goal is to get people thinking critically about how they conduct training and identify any shortcomings and make positive changes," Doss says. He feels there needs to be much more emphasis at law enforcement agencies on training in low light, shooting at shorter distances, and reacting to spontaneous acts as opposed to traditional range training purely for qualification.
"I want instructors to get excited about being instructors," Doss says." I want them to realize what they should change or update with current information, and say, 'I saw this drill at Lights, Sights, Lasers, and I think we should include it in our training.'"
Many law enforcement administrators he talks to don't understand how these devices can be used to benefit officers on the job, so they don't make a point of providing training in their use. At some agencies, chiefs won't even allow officers to use weapon lights or lasers on the job because they fundamentally misunderstand their function. For example, multiple chiefs have approached Doss and told him they won't allow the use of laser sights because they believe any "laser" will burn holes in metal and is therefore dangerous.
But with so many officers from so many agencies converging in one place to attend the "Lights, Sights, and Lasers" training in their region, they interact with and learn from each other, as well. And this can be very helpful in changing perspectives. "Sometimes there's no bridge between different agencies," Doss says. "We've been able to be that bridge, that conduit, several times."
However, the onus is on individual officers and agencies to alter their training programs. "The best I can do is provide information, show you how to change it," says Doss. "You need to effect your own changes."
And he's confident that officers who attend Khyber's "Lights, Sights, and Lasers" class will be able to do so if they approach the course with the right attitude.
"Expect to be challenged. That's really the goal. I throw information at you. I'm here to rattle your cage," Doss says. "Come have a good time. It's a fast-paced class with an open, relaxed atmosphere. I encourage an open exchange of information. Open your mind. Don't get stuck thinking your agency's way is the only way. There's a million ways to solve a problem."