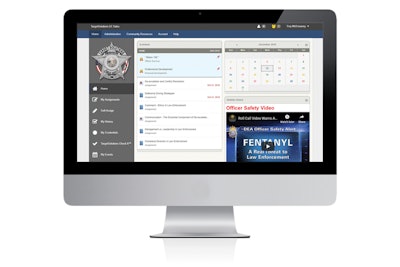 Since the late 1990s, TargetSolutions, a brand of Vector Solutions, has been providing training and compliance management tools for emergency responders, with a majority coming from the fire service. So its new focus on the law enforcement market seemed like a natural fit.
It was a natural fit but that does not mean the company just started selling its fire product to police agencies. Jonny Roberson, law enforcement product specialist for Vector Solutions, says the company had to learn a lot about police training before it could build a product to meet the needs of law enforcement. "Police and fire train very differently," Roberson says. "Our organization has been partnering with law enforcement agencies to mold TargetSolutions products for police."
The law enforcement version of TargetSolutions is a multi-faceted training and management tool that can be accessed on any web-capable device. It includes more than 240 training modules on a wide variety of topics created specifically for police such as arrest and control, use of force, and patrol vehicle driving, just to name a few. And it also includes training that is essential for any public safety agency such as sexual harassment response, workplace drug and alcohol abuse awareness, professional development, and OSHA requirements, according to Roberson.
The online training offered by Vector Solutions is designed to replace costly classroom instruction. Agencies can even push out their own in-house training to their officers, monitor when it is opened and when it is completed, and test the officers on the content. The records of the students' completion of the training and their performance are also managed by the TargetSolutions software.
Roberson, who retired from law enforcement with a background in both field and classroom instruction, says the TargetSolutions platform makes it easier for agencies to train their officers in new or amended policies and to make sure their credentials and certifications are up to date. Much of this information is currently managed in Excel spreadsheets or even on paper by some agencies, according to Roberson. And that can lead to major problems when the brass or defense attorneys are demanding training records after an incident. "When the wolves come knocking at the door and you have your records in TargetSolutions, you can quickly hand them a report on an individual officer's training," he says, adding, "One of the best ways to minimize liability exposure is through proper documentation of training."
The TargetSolutions law enforcement software is very versatile, and its capabilities can even be expanded with two additional options, TargetSolutions Scheduling and TargetSolutions Check It.
The scheduling tool is "extremely powerful," according to Roberson. "You can set up your own parameters such as minimum staffing level, and it will work with almost any days-off rotation," he says. The platform lets supervisors monitor their staffing levels on a mobile device app. The software even sends alerts to the supervisor if the number of officers working on a shift falls below minimum staffing requirements because of sickness or other unforeseen complications.
Vector Solutions also offers TargetSolutions Check It, which can be used on mobile devices via an app. It is a tool for inspections and inventory, including inventorying the contents of a patrol vehicle before hitting the streets. It can track equipment usage, manage important data like serial numbers and warranties, help agencies comply with maintenance schedules, and even set up service tickets.
TargetSolutions is a software as a service (SaaS) product that is cloud-based. It is sold on an annual subscription model.