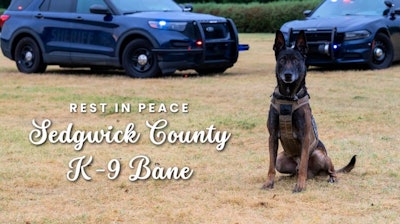 A Sedgwick County (Kansas) Sheriff's K-9 was killed in the line of duty Thursday afternoon.
K-9 Bane was reportedly killed in a struggle with a suspect inside a storm drain, KSN reports.
According to Wichita Police Department Lieutenant Aaron Moses, just before noon on Thursday, the WPD domestic intervention and violence reduction team was trying to locate a 24-year-old man suspected of robbery.
Moses said the suspect was found around 12:10 p.m., but he fled on foot and into a drain, through a creek, and under the road. He then barricaded himself and refused to come out.
After negotiations with the suspect failed, the Sedgwick County SO and the WPD sent K-9 officers into the drain. According to Moses, the dogs were on extended leashes and supplied with cameras.
"There was an altercation between the suspect and the Sedgwick County Sheriff K9, and at 1:34, the K9, the Sedgwick County Sheriff K9 dog, was pronounced deceased on scene," said Moses.
"It's obvious a struggle took place. We believe the suspect strangled our dog to death," said Sedgwick County Sheriff Jeff Easter.
The suspect was later taken into custody and appeared to have minor bite injuries.