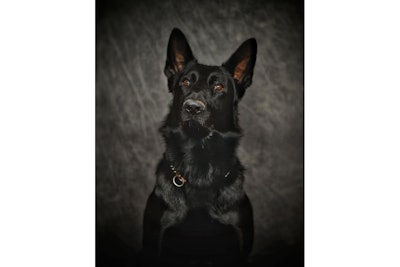 A Franklin, Ohio, police K-9 was killed in a wrong-way crash Saturday morning. Two officers suffered minor injuries.
Preliminary investigation shows the cruiser was headed southwest on South River Street near West Seventh Street around 10:40 a.m. Saturday when a 2015 Jeep Patriot began driving on the wrong side of the road at high speed, said Ohio State Highway Patrol Sgt. Bridget Matt.
The officer driving attempted evasive action but the cruiser was struck by the Jeep before traveling off the roadway and hitting a tree, according to the highway patrol.
K-9 Fury was taken to MedVet for his injuries but died at the vet around 11:30 a.m. Saturday, the Dayton Daily News reports.
The young German shepherd was a patrol K-9 trained in apprehension, tracking and drug detection. Fury would have turned 4 on Jan. 2.
Both officers, who were in the police vehicle Alex Butler and Eric Miller, had minor injuries and were sent to a local hospital for treatment and later released.
Michael Thomas Sims, 21, of Nicholasville, Kentucky, is held on $600,000 bail for two counts of felonious assault of a police officer, both first-degree felony offenses; and assault of a police dog, a third-degree felony, according to the Franklin Municipal Court clerk's office. Sims is scheduled for a Tuesday video arraignment on the charges in Franklin Municipal Court.