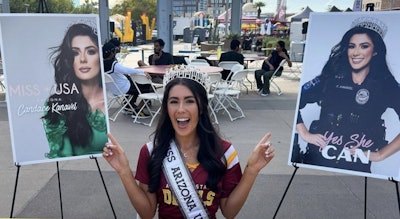 The first police officer to compete for Miss USA will represent Arizona on national TV on Friday September 29.
Officer Candace Kanavel, 27, serves with the Tempe Police Department in a variety of duties, including hostage negotiator for the SWAT team..
"A lot of the qualities that I have to have as an officer translate directly to my role as Miss Arizona USA and vice versa. I have to be a really good communicator. I have to be a leader. I have to be able to be flexible with whatever's going on and work through different situations," Officer Kanavel told ABC15.
Defying stereotypes, while helping other women feel strong, safe, and confident is all part of her platform, titled #YesSheCan.
"I started Yes She Can because of my own story, but also feeling like people constantly look at me as a very feminine woman and discount what I may be capable of," Officer Kanavel said. "I know that happens to so many women, especially being in my line of work as a police officer. I think people see femininity as weakness, and it's not."
To help Officer Candace Kanavel before the nationally televised pageant you can vote in the pageant's online People Choice competition, which will cost you $2 per vote. The winner will be guaranteed a spot as a semi-finalist at Miss USA.
The woman crowned Miss USA will represent the United States at Miss Universe.