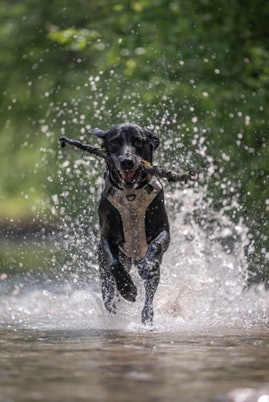 5.11 Tactical has announced the release of its new Mission Ready Dog and Aros K9 Collections. Designed for active and working dogs, and their handlers, these all-new collections feature harnesses, leashes, and collars that prioritize functionality, durability, and comfort.
"We have a goal to offer dependable gear that our customers can trust for all aspects and missions in their lives and that lives up to our Purpose-Built Gear motto," said 5.11 CEO Francisco J. Morales. "That goal, in addition to customer requests and feedback, led to the design of these new products that customers can depend on when they're joined by their K9s, whether that's for a weekend adventure or an active patrol."
The Mission Ready Dog Collection was created with active dogs in mind and is highlighted by the Mission Ready Dog Harness ($45). Built with lightweight 330D nylon, a padded chest panel and adjustable straps, it was designed to offer comfort for any dog. Meanwhile, a low profile quick-release buckle, dual V-ring attachment points, a grab handle, and a MOLLE loop panel offer added convenience for users.
Dog owners seeking a dependable collar can look to the Mission Ready Dog Collar ($20). It's constructed with nylon webbing, a low-profile Duraflex side release buckle and an aluminum V-ring for leash attachment that combines to offer long-lasting reliability.
The Mission Ready Dog Collection is rounded out by two great leashes. The Mission Ready Modular Dog Leash ($35) is built with 1-inch nylon webbing and a tubular webbing bungee system with a metal swivel hook for added flexibility and up to 7 feet of length. It can be used in handheld or waistband configurations with a padded handle and side release buckle that attaches to an accessory loop.
The Mission Ready Dog Leash ($30) offers 5 feet of 1-inch nylon webbing with a metal swivel hook for attachment. A padded neoprene handle, accessory loop, and secondary handle are incorporated to create added comfort and capabilities.
The Aros K9 Collection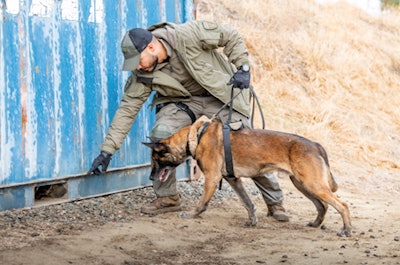 The Aros K9 Collection was built with input from professional K9 handlers to ensure functionality and reliability in even the most demanding situations. The Aros K9 Harness ($150) features a low-profile and minimalistic design that allows a free range of motion for K9s while the padded chest panel and adjustable straps distribute weight evenly to reduce strain and provide a comfortable, secure fit. Durability is ensured by nylon webbing with reinforced construction, a metal V-ring and an AustriAlpin Cobra buckle. Additional features include a lay-flat grab handle for control and a removable loop ID panel.
In addition to a harness, the Aros K9 Collection offers the Aros K9 Collar 1.0" ($70) and the Aros K9 Collar 1.5" ($80). Both options feature rugged construction with durable nylon webbing and reinforced stitching and AustriAlpin Cobra buckles. The Aros K9 Collar 1.0 offers a D-ring attachment point while the Aros K9 Collar 1.5 includes a metal V-ring for attachment. Additionally, the Aros K9 Collar 1.5 is designed with a lay-flat grab handle for maximum control from a minimal profile.