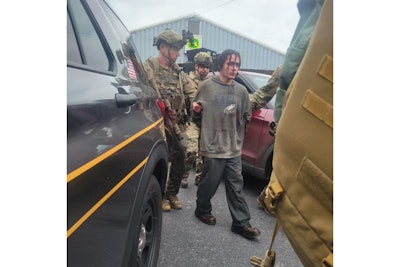 Tactical teams from the Pennsylvania State Police and the U.S. Customs and Border Patrol captured escaped nurderer Danelo Cavalcante as he lay in a wooded area of South Coventry Township on Wednesday morning.
The capture ended a manhunt for Cavalcante, a convicted murderer who escaped from Chester County Prison at the end of August and had evaded hundreds of law enforcement personnel for two weeks, CBS News reports.
Still armed with a .22 caliber rifle stolen from a homeowner's garage this week, Cavalcante tried to crawl away through the brush and escape from the tactical units closing in, officials said in a news conference Wednesday. Then a K-9 bit him and held him down, and he was taken into custody.
No one was injured in the capture and no shots were fired, Gov. Josh Shapiro said in a news conference Wednesday.
Among the first people to be notified about the capture of Danelo Cavalcante was the family of Deborah Brandao, the escaped prisoner's ex-girlfriend whom he killed in 2021.
Before his escape, Cavalcante was set to be transferred to a state correctional institution after being sentenced to life without parole for fatally stabbing Brandao 38 times in front of her two young kids in the Phoenixville area in 2021.