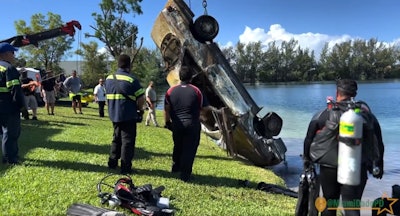 The Miami-Dade Police Department and Doral Police Department are recovering dozens of decades-old cars found submerged in a lake in Doral, Florida.
Divers working for a private company to investigate a missing person cold case said they found 32 cars while exploring a lake nestled in an industrial park west of Miami. They notified the police, which began pulling the vehicles from the lake Tuesday morning, USA Today reports.
The cars they removed Tuesday date back to around the 1990s and all have been connected stolen vehicles. They expect that many will help close decade-old stolen car cases, but they have not ruled out the possibility of finding new evidence linked to homicide cold cases. Without being able to confirm how many cars are littered on the bottom of the lake, police are likely to need several more days to finish the extraction.
The New York Times reported that some cars in the lake could have dated back to an international feud in the 1970s and 1980s between Colombian drug cartels and the United States government, a period known as the Miami drug wars.
Miami-Dade police representative Alvaro Zabaleta told WFLA some of the cars may have been dumped in the lake after joy rides.