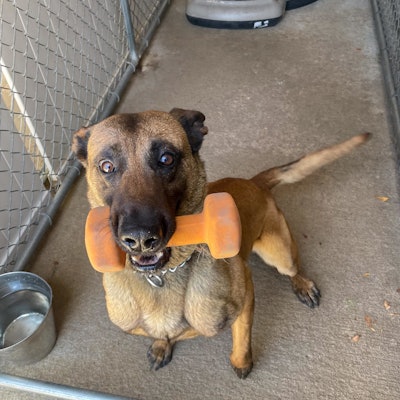 A San Diego Police K-9 was shot and killed Wednesday morning during an incident that also killed the suspect.
In a tweet at 4:57 a.m., authorities noted the police dog, K-9 Sir, "saved the lives of the officers and citizens" in the area of San Diego Mesa College in Clairemont.
SDPD says officers were investigating a possible road rage incident and located the male suspect driving his Tesla. Authorities say the man refused to pull over and then ditched his car in the parking lot.
Police say they spotted the suspect on the run further down the street, armed with a gun. Police say a K-9 officer was deployed at that point, Fox 5 reports.
"The suspect still had a handgun. They gave the suspect commands to drop the handgun. The suspect did not comply. A canine handler released his partner to try to stop the suspect. The suspect produced his gun — fired one shot — which prompted one San Diego Police officer officer to discharge his weapon," said Lt. Joseph Jarjura with the San Diego Sheriff's Department Homicide Unit.
K-9 Sir was fatally shot by the suspect, according to officials.
The suspect was killed in the exchange of gunfire.