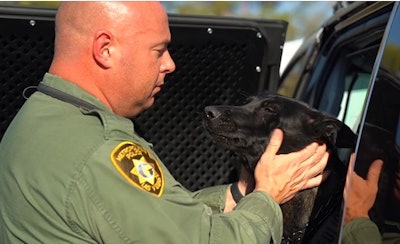 A Las Vegas Metropolitan Police Department K-9 that was stabbed in a 2020 attack died after a medical emergency Tuesday, LVMPD reports on Facebook.
K-9 Kimura, a 6-year-old Dutch Shepherd experienced the medical emergency at the LVMPD K9 Operations Center. "Despite the quick response from on-duty officers who rushed him to the veterinary clinic, he couldn't be saved," the department said.
LVMPD says Kimura displayed extraordinary bravery when he protected police officers during a "violent stabbing attack." He was awarded the agency's Purple Heart award.
"Kimura's exceptional career was filled with numerous accomplishments. Still, his loss is deeply felt by his handler, family, the LVMPD K-9 Section, LVMPD SWAT, Major Violators teams, and the grateful citizens he served each day," LVMPD said on Facebook.